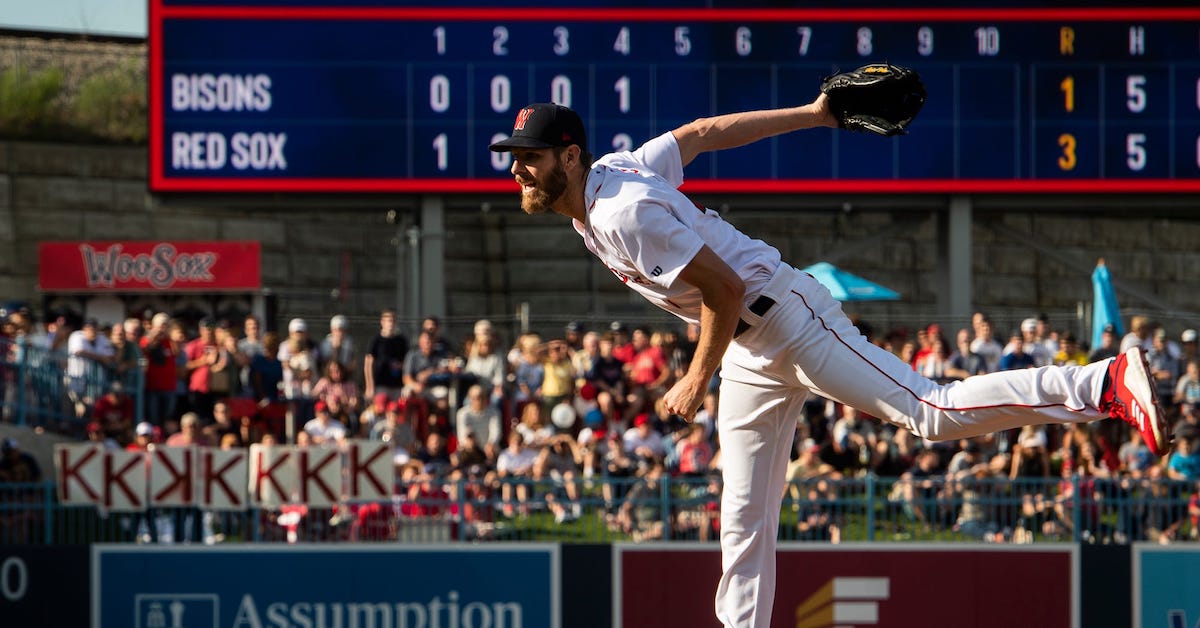 The Mets aren't the only team awaiting an ace's return from injury. Chris Sale is scheduled to start for the Red Sox's Triple-A Worcester affiliate on Wednesday, and if all goes well, the 33-year-old lefty could join the big club after that, in time to help a team whose rotation is looking rather threadbare as it heads into a crucial stretch of the season. While Sale pitches for Worcester, fast-rising prospect Brayan Bello — whose rotation slot Sale is filling — will debut in Boston against the Rays.
After winning 92 games and falling just two wins short of a trip to the World Series in 2021, the Red Sox stumbled to a 14-22 start, and were just 23-27 at the end of May. Though they went 20-6 in June, they actually lost ground to the Yankees, who went 22-6. After splitting their first four games of July, they're 45-36, 13 games out of first place, and while they now occupy the top AL Wild Card spot, they're about to face a major test. The three-game series they began on Monday kicked off a brutal 27-game stretch against teams .500 or better, with seven apiece against the Rays (44-37) and Yankees (58-23, a 116-win pace) followed by three against the Blue Jays (44-38), four against the Guardians (40-39), three against the Brewers (47-36) and three against the Astros (53-27).
That's a weighted opponents' winning percentage of .595 for that span, a 96-win pace over the course of 162 games, with all but Cleveland currently occupying a playoff spot. The good news for the Red Sox is that 17 of the 27 games are at home, but the bad news is that their rotation currently has three starters (Nathan Eovaldi, Rich Hill, and Garrett Whitlock) on the injured list and a fourth (Michael Wacha) whose status is in question after being scratched on Sunday, forcing manager Alex Cora and chief baseball officer Chaim Bloom to piece things together on a day-by-day basis. Hence the higher stakes when it comes to the progress of Sale and the debut of Bello.
Though the Red Sox have already used 10 starters (a total that's tied for ninth in the majors, two fewer than the Rays), the team is a respectable sixth in the AL in ERA (3.62) and fifth in FIP (3.93); adjusted for ballpark, their 90 ERA- is third, their 99 FIP- seventh. The three starters on the IL have accounted for 36 of the team's 81 starts thus far; throw in Wacha and the total is 49, about 60% of the team's schedule to date.
Sale hasn't pitched for the Red Sox this season, having been diagnosed with a stress fracture in his rib cage in mid-March and then sidelined by "a non-baseball medical issue" in May that added a couple weeks to his recovery. In fact, Sale has made just nine appearances, all starts, since being sidelined by elbow inflammation in mid-August 2019. He underwent Tommy John surgery in March 2020, missed all of the pandemic-shortened season, and didn't return until August 14 of last year. He pitched to a 3.16 ERA and 3.69 FIP while striking out 28.4% in 42.2 innings after returning, but he had just one effective start out of three in the postseason.
Sale made a pair of rehab starts for the Red Sox's Florida Complex League affiliate on June 20 and June 25, then one for the Double-A Portland Sea Dogs on June 30. In the last outing, he threw 52 pitches over four innings, allowing one run while striking out seven and recording 16 swings and misses. His four-seam fastball and sinker ranged from 91-96 mph in that outing. Cora told MLB Network Radio that if he feels well after the rehab start, his next start would be at the major league level.
Bello, a 23-year-old righty whom the Red Sox signed out of the Dominican Republic for $28,000 on July 2, 2017, made just one of the major prospects lists this spring (The Athletic's Keith Law had him at No. 86) after a season in which he struck out 32.8% of hitters in 95.1 innings split between High-A Greenville and Portland. Eric Longenhagen placed him at No. 8 on the Red Sox list in January as a 45 Future Value prospect, grading his fastball, slider, and changeup all at 55/60 but his command at 30/40. More:
After adding significant velocity in 2019 and '20, Bello continued that trend in '21. His fastball now sits 95-98 mph (no doubt aided by the muscle he added to his 6-foot-1 frame during the lost 2020 season) and touches 100 with occasional movement to his arm-side. And while it doesn't have the backspin necessary to create carry up in the zone, his approach angle allows his heater to play as though it does. Bello mixes the fastball with two plus secondaries… His delivery is reliever-y, but the stuff is good enough to give him the edge, and he's poised for a high-leverage setup role.
Last month, Longenhagen upgraded Bello to a 50 FV prospect (he's currently No. 52 overall on The Board) and offered this reappraisal:
I've long considered Bello to be a relief prospect due to the length of his arm action, but he's never generated excessive or role-altering walk rates, and when you look at the clusters of his pitch locations, it's clear this guy has feel for locating his stuff even though his delivery features a good bit of violence and effort. He has three impact pitches – a mid-to-upper-90s sinking/tailing fastball, a plus slider, and a plus changeup – and is on the doorstep of the big leagues, and I'm buying that he has the command to start.
Bello has pitched to a 2.33 ERA and 2.88 FIP with a 33.7% strikeout rate and a 63.1% groundball rate in 85 innings split between Portland (for whom he threw a seven-inning no-hitter on May 5) and Worcester. Cora has yet to clarify whether Wednesday's start in the slot vacated by Hill is a one-off, but obviously, this is at least an audition for an increased role in the not-too-distant future.
Hill left Friday's start against the Cubs with what was later diagnosed as a left knee sprain. Currently in his third go-round with the Red Sox, the 42-year-old southpaw has pitched to a 4.20 ERA and 4.05 FIP, a hair or two worse than league average. For a pitcher who has made more than 25 starts just twice in his 18-year career, he had been exceptionally durable of late, making 15 starts before the injury after answering the bell 31 times last year. Hill says that his knee injury is similar to the MCL sprain he suffered in the spring of 2019 while pitching for the Dodgers; the good news is that he missed only a month that time, offering hope that he could return around the end of this month. The bad news is that later that season, Hill re-sprained his MCL in his first start back from the IL following an unrelated flexor tendon injury; while he tried to pitch through it, he totaled just 7.2 innings over three late-season starts thereafter.
As for Eovaldi, before landing on the injured list on June 12 due to lower back inflammation, the 32-year-old righty made 12 starts, allowing three runs or fewer in 11 of those, and yielding just five runs over his final 26.2 innings before being sidelined. Eovaldi's peripherals don't support his 3.16 ERA; he's allowed a gaudy 2.11 homers per nine en route to a 4.53 FIP, 4.32 xERA and .513 xSLG — all of which point to a pitcher allowing too much hard contact. Still, he's been a reliable innings eater and sometimes much better than that in his time with the Red Sox. He's progressed to the point of throwing live batting practice, and might return for this weekend's series against the Yankees, or at most make a single rehab start.
The 26-year-old Whitlock began the year in the bullpen, making four appearances before moving to the rotation. He lasted five or more innings in just four of his nine starts, pitching to a 4.15 ERA and 3.60 FIP in that role before landing on the IL with hip inflammation on June 10. The Red Sox hoped to activate him a couple of weeks ago to start, but he wasn't ready, and since then their plans have changed. He'll return as a reliever, a role in which he flourished last year (1.94 ERA, 2.86 FIP, 27.2% strikeout rate in 73.1 innings).
The 30-year-old Wacha is pitching for his fourth team in as many seasons and has posted a 2.69 ERA, the lowest of any Boston starter who's taken more than two turns. Like Eovaldi, that ERA is well ahead of his FIP (3.97) and xERA (4.62); he's offset a meager 17.7% strikeout rate with a .240 BABIP, the sixth-lowest of any pitcher with at least 70 innings.
Wacha was scratched from Monday's start, but Austin Davis, Kutter Crawford, and John Schreiber rose to the occasion by combining on a two-hit shutout against the Rays, with Crawford delivering 5.1 innings and eight strikeouts as the bulk guy after Davis pitched the first two innings. The team is content that Wacha is merely battling fatigue and not something more serious:
Alex Cora on Michael Wacha who was scratched from his Red Sox start Monday:
"We don't believe it's something structural there. It's just kind of like dead arm, hit the wall. So hopefully we can push him back later in the week and go from there."

— Christopher Smith (@SmittyOnMLB) July 4, 2022
Believing that he can avoid a stay on the injured list, the Red Sox are targeting a return on Friday against the Yankees at Fenway Park.
Thus, the Red Sox rotation currently consists of Nick Pivetta, Josh Winckowski, hopefully Wacha, possibly Eovaldi, and at least one more TBD unless the team can convince Luis Tiant or Bill Lee to come out of retirement. Fortunately, the 29-year-old Pivetta is putting together the best season of his six-year career, pitching to a 3.23 ERA and 3.67 FIP, with staff highs of 94.2 innings and 1.8 WAR. Pivetta has traded some velocity for command, and batters haven't been able to do much with his four-seamer; where it averaged 94.8 mph last year and was hit for a .255 AVG/.435 SLG, this year he's down to 93.3 mph, but batters have hit it for just a .172 AVG/.314 SLG. He's gotten better results on his slider as well, and overall has trimmed his home run rate from 1.39 per nine to 0.95, and his walk rate from 9.8% to 8.3%.
Winckowski is a 24-year-old rookie who was acquired from the Mets in the three-way February 2021 trade that sent Andrew Benintendi to the Royals. Since debuting on May 28, he's made five starts, four of which have been good ones, albeit generally against weaker teams. Still, he's ridden his sinker-slider combo to a 56.1% groundball rate, a 3.12 ERA and a 2.96 FIP in 26 innings, and figures to stay in the rotation for the foreseeable future.
Bello has the chance to leapfrog Crawford and Connor Seabold, each of whom has made two starts for the Red Sox and could be in for more work this month. Seabold, a 26-year-old righty who was acquired from the Phillies in the same deal that netted Pivetta, has worked fewer than five innings in each of his two turns, one dreadful (seven runs against the Blue Jays on June 27), one good (four innings of one run ball against the Cubs on July 3). He was optioned to Worcester after the latter outing to make room for Crawford, a 26-year-old righty who started twice in June prior to his bulk appearance; he also made eight previous relief appearances and has pitched to a 5.04 ERA and 4.19 FIP overall.
Given so much uncertainty, the Red Sox will likely seek a starter prior to the August 2 trade deadline, though whether Bloom is willing to go big enough to land the likes of Oakland's Frankie Montas or the Reds' Luis Castillo remains to be seen. In the meantime, they'll have to hope that their patchwork rotation can hold its own against the stiff competition this month.