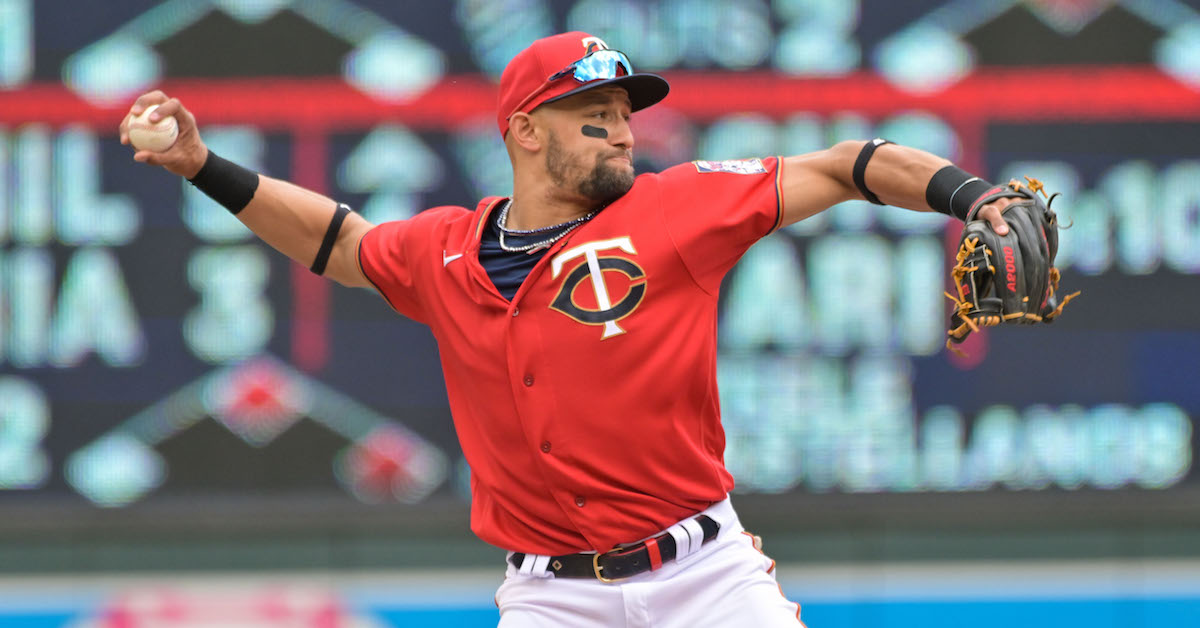 This season, Eric and Tess Taruskin will each have a minor league roundup post that runs during the week, with the earlier post recapping some of the weekend's action. You can read previous installments of our prospect notes here.
Jared Shuster, LHP, Atlanta Braves
Level & Affiliate: Double-A Mississippi Age: 23 Org Rank: TBD FV: 45
Weekend Line: 6 IP, 5 H, 1 R, 1 BB, 8 K
Notes
Shuster's velocity fluctuated wildly from start to start in 2021, and altogether he averaged just 89-90 mph last year, about three ticks below his typical velo in the lead up to the 2020 draft. It has been more consistent so far in 2022 but had still resided in the 88-91 mph range until Shuster sat 91-93 in his weekend outing. Except for that brief run up to the 2020 draft, Shuster has shown below-average fastball velocity, and while it's worth continuously monitoring for change (especially because things were up a tad in this most recent start), Shuster's history as a player points toward this velo band being where he'll sit for the long haul. His fastball has other characteristics that help enable it to punch above its weight, but it isn't a plus pitch at its current velocity. Instead, he continues to rely on his plus changeup, of which he has plus command. Shuster locates his cambio down and to his arm side with remarkable consistency, and it is by far his best offering. In part because of how well he hides the ball, Shuster's slider has some in-zone utility, especially against left-handed hitters, though he struggles to locate it in that enticing, off-the-plate location where most sliders play best. While Shuster doesn't have a tool for every situation, he is a lefty with a plus changeup whose fastball has sneaky utility despite medium velocity, the skillset of many a No. 4/5 starter.
Winston Santos, RHP, Texas Rangers
Level & Affiliate: Low-A Down East Age: 20 Org Rank: TBD FV: 40
Weekend Line: 7 IP, 2 H, 1 R, 0 BB, 10 K
Notes
A stout, quick-armed righty, Santos has built a pretty impressive low-level resume during his two pro seasons, with a 4-to-1 strikeout-to-walk ratio and 1.08 WHIP across 70 innings (he's throwing three to four innings per outing on average, with that trending up recently as Santos has seized a rotation spot in Kinston). He was sitting 93-96 mph early during 2022 but has settled into the 92-94 range and tops out around 96 now that he's taking a turn once a week. Santos' trapdoor-action changeup is his best secondary pitch, while his mid-80s slider shows bat-missing potential, but has inconsistent finish. Low-level right-handed hitters have still had trouble parsing it from his fastball, and they end up missing or staring at sliders finishing in the meat of the zone. Upper-level hitters may not be deceived quite as easily, but the sliders that Santos locates off the plate to his glove side have traditional looking finish and depth. Whether Santos can be a big league starter will hinge on how his slider command and shape develop. He doesn't have big physical projection, but he is a powerful, well-balanced on-mound athlete who throws plenty of strikes. There are many starter attributes here, and the potential for the necessary repertoire depth if Santos can polish his breaking ball, and especially if he can find a second one.
Austin Vernon, RHP, Tampa Bay Rays
Level & Affiliate: Low-A Charleston Age: 23 Org Rank: 28 FV: 40
Weekend Line: 5 IP, 4 H, 1 R, 1 BB, 11 K
Notes
The gigantic Vernon had a velocity spike late in his college career, and went from averaging 92 mph to averaging 94-95 and touching 98 over his final few outings with North Carolina Central. He struck out 13.5/9 IP during a pre-draft stretch on Cape Cod, but struggled with walks. The Rays drafted him in the 10th round. Vernon re-shaped his physique and seems to have better control of his never-ending limbs, and is also getting down the mound more than before. He's curbed his walks while deployed in a multi-inning relief role and has retained his peak 2021 arm strength, sitting 94-96 mph and typically topping out at 97. Adding to his fastball's playability is Vernon's deceptive delivery, which is a carbon copy of Chris Bassitt's, except that Vernon is 6-foot-8. Like Bassitt, Vernon has a bevy of pitches, mixing in two well-delineated breaking balls and a changeup that he commands with regularity. The changeup is a put-away pitch while the slider might still be. Given how many innings Vernon has thrown at a time, it's conceivable that the Rays could move him into a minor league rotation and try to develop him as a starter even though he doesn't look anything like one from a superficial delivery standpoint (though, neither did Bassitt). Or he could race through the minors as a multi-inning buzzsaw with two impact pitches and the potential for a third. He has been added to the Rays list.
Checking In on a Few Defensive Experiments
A few high-profile upper-level prospects have begun to spend time at new positions this season, which might enable them to impact their big league club soon and in a way that could meaningfully change their ultimate role. The highest-ranked prospect among them is Pirates shortstop Oneil Cruz, who has slowly been integrating left field into his duties. After he played left field just twice in April, he played it five times in May, including for three straight games at one point. Things have not been good out there. Cruz has broken in the wrong direction on several balls hit over his head and has dropped a few easy ones among his roughly two dozen total defensive attempts in left. He also isn't comfortable approaching the wall, both on flies and when he's pursuing balls hit into the outfield corner. It takes him a very long time to slow himself down near the base of the wall, bend and collect the baseball, and then find his cutoff man. Cruz's elite arm strength would certainly be a weapon out there, both in the form of hosing some runners and preventing others from taking extra bases for fear that they'll be sniped, but the early indications are that Cruz hasn't taken to the outfield like a duck to water.
Cruz is also still a work-in-progress at shortstop. He has struggled with throwing accuracy, and his hands are well below average. At times he'll drop accurate feeds from teammates or fail to pick short hops that good shortstops tend to field cleanly. Still, Cruz's acrobatics and his ability to play low to the ground at his size are both incredible, and he does some ridiculous things for a 6-foot-7 guy.
@genericaccount Oneil Cruz flashes of good defense pic.twitter.com/03QsEhmyTK

— FanGraphs Prospects (@FG_Prospects) June 1, 2022
His issues aren't the sort that have an obvious solution, as they would be if he lacked arm strength (go to second base) or range (go to third). They will either be remedied by some combination of reps, instruction, and his incalculable drive to get better, or he'll have to move to the outfield where his issues might be better masked. I buy that at Cruz's size, these things might still improve. It is generally held that long, lanky athletes like Cruz (who has grown close to four inches since signing, and who has lost reps to injury and the pandemic) tend to develop control over their limbs later than their peers. But Cruz also shows remarkable body control in other aspects of his defense, so maybe those things have already arrived and he'll be short-hopping the first baseman forever. The sheer possibility that he might be a singular talent at shortstop means the Pirates should give Cruz every opportunity to figure it out there. Plus, Cruz's (lack of) plate discipline becomes scary as soon as he falls down the defensive hierarchy. Liover Peguero (a slam dunk shortstop who is already on the 40-man) racing up from behind complicates things, and makes the timing and frequency of Cruz's use out there feel pretty sensible in case he has to move off of short. Winter ball might be the arena for a singular focus on playing the outfield.
Brewers shortstop prospect Brice Turang has been moonlighting in center field once per week throughout the season. He has only had to field about 20 fly balls and liners hit his way in center, and many of those have been routine, but Turang looks pretty comfortable out there considering how little he has played, and he has impressive gap-to-gap range. Turang is still an elegant infield defender with plus range, hands, and scene-stealing actions. His arm strength isn't typical for the left side of the infield, and there are instances where it is the difference between an out or safe call at first, but in most cases Turang gets rid of the ball quickly enough to lollipop it over to first base in time. He isn't the same level of shortstop defender that Willy Adames has become, which is likely part of why he's gotten some run in center field as we approach Turang's 40-man addition. The move puts Turang in position to spell Adames or Lorenzo Cain, whose deal expires after this season, should either of them go on the IL. Things are shaping up such that more of Turang's initial big league time might come in the outfield, though his long-term fit likely involves him playing a versatile up-the-middle role rather than one spot every day, barring an injury to Adames.
The nomadic shift of Royce Lewis' job description is currently on hold as he recovers from a bone bruise suffered in a collision with the outfield wall, but within the last two weeks, the Twins have begun to revisit what they started toying with in the 2019 Arizona Fall League, when the then-21-year-old Lewis began playing defense all over the diamond. Initially drafted and developed as a shortstop, Lewis started seeing time at 2B/3B/CF late in 2019, but was deployed only at short upon his return from an ACL tear suffered in February of '21. He made his big league debut as a shortstop when Carlos Correa missed a week with a minor finger injury earlier this year, then began playing 3B/LF/CF after he was optioned back to St. Paul. Lewis struggles to back strong, accurate throws when he's moving away from first base, and eliminating second base from his mix allows him to make more plays in front of him, while he's moving from right to left, and in on the infield, which puts Lewis and his somewhat strange throwing stroke in a position to succeed. Most of his 2019 non-shortstop reps came at third base. Lewis only played five games in center in the 2019 AFL and just two this season before his injury. Aside from the play on which he was injured, Lewis has only had to handle routine plays so far in center, which he has done with calm and comfort. He almost certainly would have been reinserted as the shortstop had he not gotten hurt right before Correa went on the COVID IL, and Lewis' seemingly likely versatility makes him a great "next man up" at all the positions he can play.