Despite having the generational talents of Mike Trout and Shohei Ohtani anchoring their roster, the Angels entered this offseason with plenty of question marks. They've squandered the majority of Trout's early career, making with just one postseason appearance since his debut in 2012 despite spending levels that were in the upper echelons of the majors for most of that time. They started this offseason with a bang, signing Noah Syndergaard to a one-year deal last week. That move comes with its fair share of risk, but the top of their rotation now projects to be much more solid. Yesterday, the Angels started addressing some of the question marks around the fringes of their roster. First, they acquired utility man Tyler Wade from the Yankees for a player to be named later or cash considerations. Then, they signed left-handed reliever Aaron Loup to a two-year, $17 million pact, including a team option for 2024 that includes a $2 million buyout.
Loup's addition addresses a much bigger need than Wade's. Raisel Iglesias rejected the Angels' qualifying offer last week, becoming a free agent and leaving a significant hole in their bullpen. While Loup isn't quite the reliever Iglesias is, he's been remarkably effective over the past two seasons. Among all qualified relievers during that period, Loup's park- and league-adjusted ERA ranks second in baseball, 63% better than league average. He led all qualified relievers in 2021 with a 0.95 ERA.
With an ERA that low, Loup obviously benefitted from some good luck. He allowed just a single home run all season long, stranded 86.3% of the runners he allowed, and ran a .257 BABIP. His ERA estimators all paint a less rosy, though still solid, picture: he ran a 2.45 FIP and a 3.37 xFIP last season. His FIP- ranked ninth in the majors and he enjoyed some positive growth in his underlying metrics. He struck out 26.1% of the batters he faced in 2021, the highest full-season rate of his career. He also produced an above average groundball rate after a one-year dip in 2020.
For the majority of his early career with the Blue Jays, Loup primarily relied on his sinker, routinely throwing it more than two-thirds of the time and sprinkling in his other secondary offerings. In 2019, he signed a one-year deal with the Padres but only made four appearances for San Diego before he injured his elbow, sidelining him for the rest of the season. In the 3.1 innings he did throw that season, though, his pitch mix looked drastically different: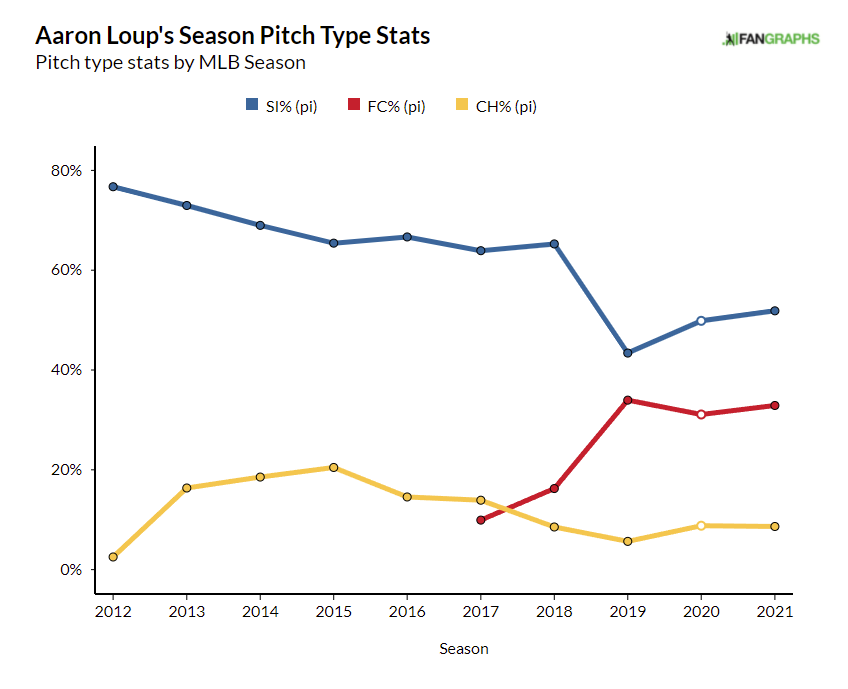 In the two seasons since his brief stop in San Diego, Loup has cut the use of his sinker down to around 50%, with his cutter making up most of the difference. Since he introduced that pitch in 2017, he's run a 28.4% whiff rate with it, a touch above the league average rate for cutters. Along with his above average sinker, it gives him a solid pair of pitches he can command well and use to generate swinging strikes.
After recovering from his elbow injury, Loup signed with Tampa Bay on a minor league pact but made the major league roster prior to the delayed start to the season. His pitch mix looked the same as it did in San Diego but his strikeout rate was merely 22.9% and his groundball rate looked out of sorts. The issue seemed to be where he was locating his cutter; the average vertical location of that pitch was 2.37 inches above the ground. In 2019 and '21, it was closer to two inches — the difference between the bottom edge of the zone and a belt high pitch: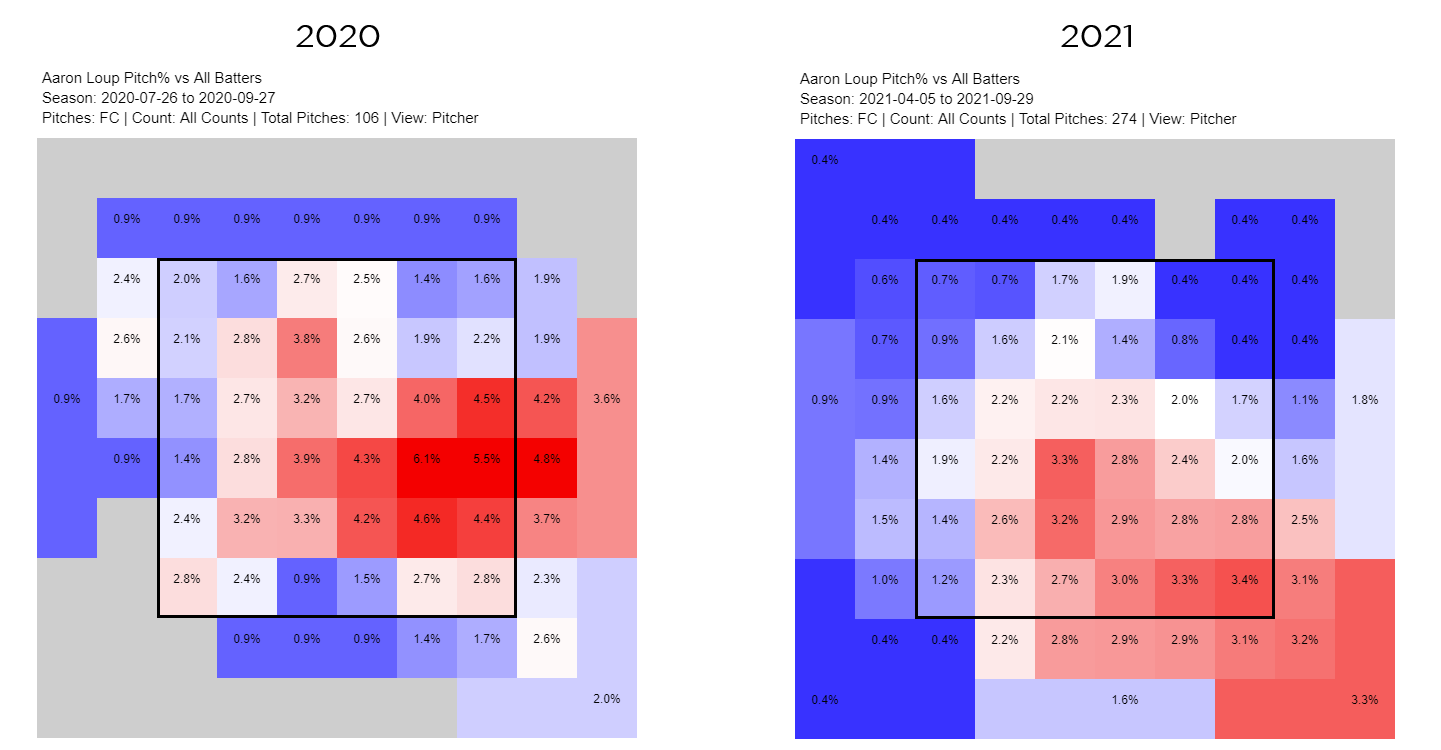 Because he was locating far too many of his cutters up in the zone, opposing batters had an easier time elevating the pitch, and swung and missed against it far less often. This season, he resumed throwing the pitch lower in the zone and it regained its effectiveness.
His cutter also gives him another advantage beyond the additional swinging strikes: it helps him neutralize his platoon split. As a sidearming left-hander with a fastball-heavy repertoire, he's proven adept at getting both right-handed and left-handed batters out. Over the last two years, he's held righties to a .260 wOBA, just 42 points higher than same-handed batters. He was used situationally early in his career but with the three-batter minimum in effect, he has shown he's capable of taking on a full inning no matter who is lined up to face him.
With very few left-handed relief options available on the free agent market, Loup was likely coveted by a number of teams looking to fill that role in their bullpen. We had Loup 46th on our top 50 free agent rankings. The $7.5 million average annual value of the deal he ended up signing barely edged out Ben Clemens' estimate and blew away the crowd's. Already entering his age-34 season, Loup doesn't have much more upside beyond what he showed in 2021. Still, he's a solid addition to the Angels bullpen and should fill a high-leverage role in 2022.
Wade, meanwhile, was designated for assignment last week, a victim of the Yankees 40-man roster crunch. In his five years in the Bronx, he played nearly every single position across the diamond, with the bulk of his work coming at second base and shortstop. He's shown a willingness to take a walk at the major league level, though his strikeout rate is a bit too high for his plate discipline to be a true strength. He doesn't hit for much power and rode a .378 BABIP to a career-high 92 wRC+ in 2021.
Right now, Wade is penciled in as the presumptive starter at short; if he enters the season with that role, something has gone very wrong during the Angels' offseason. Instead, he should provide solid depth for every infield position as well as the outfield corners. Los Angeles was sorely lacking that kind of depth in 2021, one of the big reasons why their season was sunk after so many of their stars were injured. Wade won't have the same impact as Loup will in the bullpen, but he's the kind of glue player that helps hold a roster together through the long season.