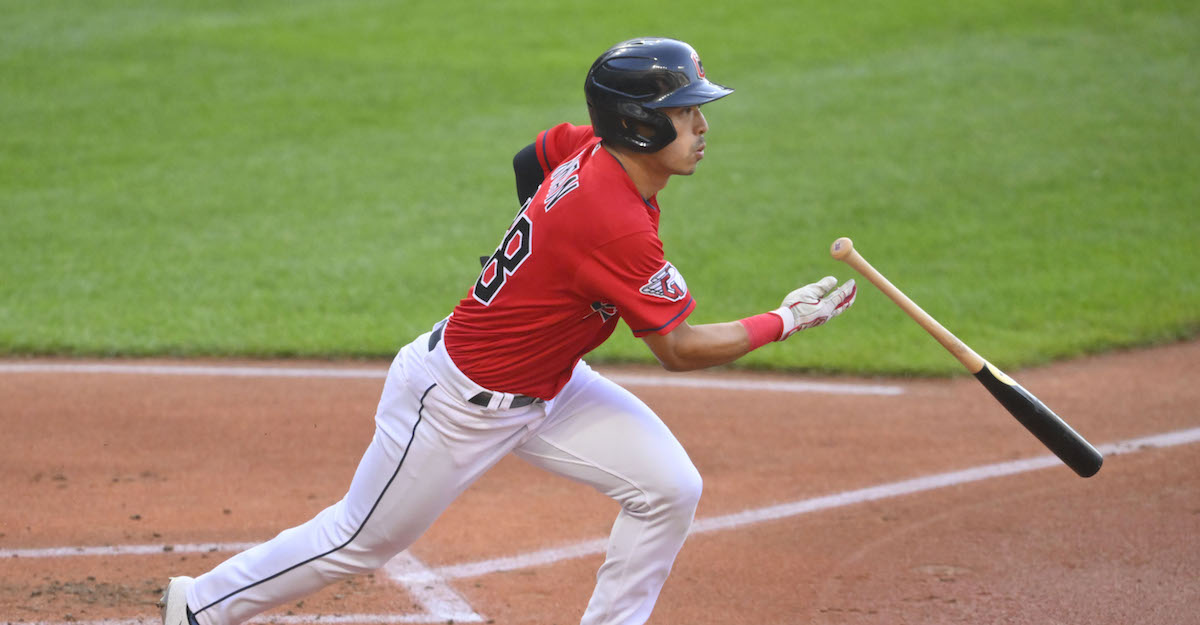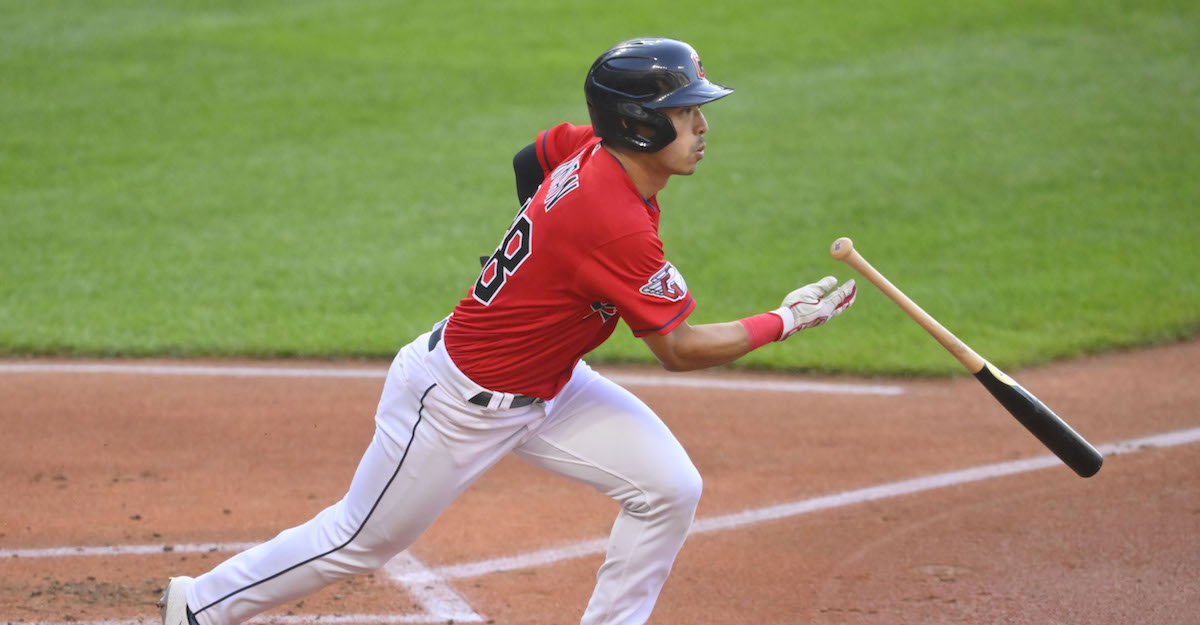 Steven Kwan is having an outstanding rookie season with the Cleveland Guardians. The 24-year-old outfielder is slashing .297/.370/.382 with a 118 wRC+, and he's doing so with elite plate discipline and contact skills. Kwan's 8.8% strikeout rate ranks second to Luis Arraez's 8.3% among qualified hitters, while his 22.6% O-Swing% is tied for sixth-best. Moreover, he's one of only a handful of hitters with more walks (36) than strikeouts (34). As Ben Clemens wrote back in April, "Kwan's phenomenal bat control is as real as it gets."
A 2018 fifth-round pick out of Oregon State University, Kwan came into the current campaign having emerged as one of the game's most intriguing young players. No. 57 on our preseason Top 100 Prospects list, the slight-of-build left-handed hitter was described as having "short levers and excellent hand-eye coordination." Brett Gardner was cited as his closest comp.
In the latest installment of our Talks Hitting series, Kwan discusses his innate ability to put the bat on the baseball and sneeze at pitches that aren't in the strike zone.
———
David Laurila: You got a lot of attention early in the season, almost exclusively for your elite contact skills. What does that mean to you?
Steven Kwan: "It's a compliment, if anything. I think hitter success is directly correlated to strike zone management — to swinging at strikes and not chasing out of the zone. I definitely see that as a compliment."
Laurila: To what degree are those qualities innate as opposed to learned?
Kwan: "They're pretty innate. I think it's hard to teach that kind of discipline. In the minors, it was told to me that plate discipline is kind of fixed, but that power ratings — power numbers — can go up. Basically, you can kind of teach power, but you can't really teach strike zone management and contact rate."
Laurila: At the same time, I'm sure the organization works with hitters to help them improve in that area…
Kwan: "Oh, yeah. I mean, there's lane training, and all those kinds of things. But for me, it's something I've always kind of had a step up on. I knew at an early age that I wasn't going to hit the ball out of the park, so I had to find different ways to impact the game."
Laurila: While not chasing is obviously important, a hitting coach recently told me that good plate discipline is more about waiting for, and attacking, pitches that you can do damage on.
Kwan: "For sure. I'm going to swing at the pitches that I could do something with. The way I perceive baseball… like, the balls that I can't impact well are going to be balls, maybe just the length of my arm. If I have to reach out of the zone — if I have to contort my torso to get to a ball — it's not something I want to swing at. I want something where I can stay tight, and through the zone. Those are the pitches that I want to hunt."
Laurila: Not all strikes are created equal. Some pitches in the zone are harder to square up than others…
Kwan: "No doubt. Where I'm looking for a pitch… I'm always trying to stay on the fastball. I can adjust on off-speed later on. I mean, if you're not on time for the fastball, you're just beat, in general. If I'm sitting on say, a slider, and then a fastball comes, it's over. At best I'm going to foul it off. Conversely, if I'm ready for a fastball and a slider or a curveball comes, I can land, keep my hands back, and still get extended on the pitch."
Laurila: Discipline and contact skills aside, to what extent are you a natural hitter as opposed to a learned hitter? Does that question make sense?
Kwan: "Yes. I've gone through different stances my whole life. Out of college, my first year, I had to change it. Through college, for two years I kind of had a toe tap. In the minors, I went to kind of like a set stance. Last year, I added a leg lift.
"So, it's basically a little bit of both. The eye-to-ball stuff is basically innate or self-taught — it's kind of hitter-esque for me — while manifesting that power, kind of getting some more pop, has definitely been learned."
Laurila: Can you elaborate on the leg lift?
Kwan: "It's how I feel most efficient in my body. In spring training of last year I was in a capture cage, attached to a couple of machines, and we kind of just tried some stuff out. It's something I felt comfortable with, so I took it into some spring training games and some backfield stuff. I found success with it."
Laurila: What is it like working with [Guardians hitting coach] Chris Valaika?
Kwan: "Val is awesome. I think it's important to have a hitting coach who is kind of like your homie. He'll kind of chat it up with you, but at the same time, if you need something from him, he's got the knowledge to back it up. He's great in both of those areas."
Laurila: Are you much into hitting analytics?
Kwan: "Not so much. I really just try to dumb it down. For me, see-ball-hit-ball is the best way to approach hitting. That's what I find works best."
Laurila: You mentioned "manifesting your power" earlier. Is that something you're working to do?
Kwan: "My approach right now is to not be too worried about it. I'm 5-foot-8, 170 pounds, and being a leadoff hitter, my job is to get on base. Power numbers are obviously really nice, but I have our best hitters behind me. [Josh] Naylor, [José] Ramírez, [Amed] Rosario… I mean, they're going to hit doubles, triples, and home runs. All I've got to do is be on base in front of them. That's my main priority."
Laurila: Any final thoughts on hitting?
Kwan: "Not really. I'm not a very loud guy with that kind of stuff. I'll always answer any kind of questions, but really, I'm just keeping my head down and going out there grinding. For me, hitting is just hitting."
——
Earlier "Talks Hitting" interviews can found through these links: Jo Adell, Jeff Albert, Greg Allen, Nolan Arenado, Aaron Bates, Alex Bregman, Bo Bichette, Cavan Biggio, JJ Bleday, Bobby Bradley, Jay Bruce, Matt Chapman, Michael Chavis, Jacob Cruz, Nelson Cruz, Paul DeJong, Josh Donaldson, Brendan Donovan, Rick Eckstein, Drew Ferguson, Justin Foscue, Michael Fransoso, Ryan Fuller, Joey Gallo, Devlin Granberg, Andy Haines, Mitch Haniger, Robert Hassell III, Rhys Hoskins, Eric Hosmer, Tim Hyers, Josh Jung, Jimmy Kerr, Trevor Larnach, Doug Latta, Evan Longoria, Michael Lorenzen, Gavin Lux, Dave Magadan, Trey Mancini, Edgar Martinez, Don Mattingly, Hunter Mense, Ryan Mountcastle, Cedric Mullins, Daniel Murphy, Brent Rooker, Drew Saylor, Trevor Story, Fernando Tatis Jr., Justin Turner, Mark Trumbo, Josh VanMeter, Robert Van Scoyoc, Zac Veen, Mark Vientos, Matt Vierling, Luke Voit, Jared Walsh, Jordan Westburg, Jesse Winker, Nick Yorke, Kevin Youkilis.