This will be a slightly shorter Razzball Commenter Leagues update than normal.  I'm currently on vacation with the family and just spent 12 hours walking around an amusement park/ waterpark and the sun may have cooked my brain a bit.  For that reason and the fact I couldn't spend the normal hour or two on RCL stats that I typically do, we're running an RCL Update-lite.  Next week will feature all the same data you're used to, fear not!  Let's jump right into the data we did collect this week for the week that was, week 10:
Each week we'll peek in at our resident 'perts to see who is laying claim to best "expert" RCLer in the land.  We'll take notes, check the standings and generally stalk them.  The heading is also hyperlink, so feel free to follow along as we go.
Son held onto the top spot for a second straight week as the two of us continue to trade blows at the top of the standings.  Interestingly, this week, Son is beating me in the league, but I snuck ahead of him in the Master Standings.  Just goes to show how close we are.  Malamoney and B_Don each moved up a spot this week while Grey and Cram It each fell a place.  Malamoney, Coolwhip, and Laura each gained 4.5 points this week, to tie for the lead there while Crammy and Grey tied for the most points lost, with four.  Laura led the league in ERA and WHIP, but failed to qualify for the minimum number of innings pitched.  Still, 37 IP with a .49 ERA and .486 WHIP is darn impressive.
TOP 10
For those too lazy to check the MASTER STANDINGS, I present to you, the current top 10
The top spot remains unchanged, with my DFSers squad still leading the way, but the rest of the top four changed out with DonkeyCorns, Scoboticus, and my 'Perts team moving up from fourth, seventh, and sixth, respectively.
Stechsjj remains in fifth this week and Son slides from third to sixth.
Hungry Like the Wolf falls from second to seventh this week and my ECFBL team moves up two spots from tenth to eighth.
Cheddar Goblins enters the top ten this week with a huge jump from 24th to ninth and FFB rounds us out, falling from eighth to tenth.
TRADES
All the trades that have gone down in the past week.  Public ridicule is not only allowed, but encouraged.
Just four trades this week and we get a peak at my TA trade that had me giddy.  I wouldn't trade Ohtani for very much, but a trade for Vladdy if I needed some power would get me thinking.  Still, I think I'd want a pitcher back as well.
WEEKLY LEADERS
The best of the best from the week that was.
R – 66 – VREDS22 (RCL 2022 (#23))
HR –24 – jerk_stoor (RCL 2022 (#42)) & Bud.Bud.Bud.Bud. (RCL 2022 (#35))
RBIs – 67 – jerk_stoor (RCL 2022 (#42))
SB – 17 – Laura Holt (RCL 2022 (#39))
AVG – .336 – spencenoste (RCL 2022 (#25))
K – 84 – TT Is The Way (RCL 2022 (#17))
W – 9 – Acuna'r Zuna (RCL 2022 (#20))
SV –  13 – Greetings from the Humungus (RCL 2022 (#9))
ERA (Min. 40 IP) – 0.92 – Pitch Slapped (RCL 2022 (#11)) (in 48.2 IP)
WHIP (Min. 40 IP) – 0.655 – TheBallBusters (RCL 2022 (#43)) (in 47.1 IP)
Greetings from the Hummungus set a new saves record this week with 13.  I saw so many low ERAs and WHIPs this week and I'm surprised we didn't set a new low in either category.  Laura's 'Perts league team would have set new lows in each had she come up with 3 more IP.  Laura also came within 1 SB of the weekly record.
TEAM OF THE WEEK
Our weekly shout out to the team that killed it the previous week.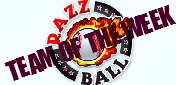 Team: razzkai
League: RCL 2022 (#21)
Stats:   AVG: .282, R: 61, HR: 21, RBI: 64, SB: 5
IP: 75.1, ERA: 2.51, WHIP: 0.85, K: 70, W: 7, SV: 3
Summary: I believe razzkai is our first repeat TOW performer, this time with their RCL 21 squad instead of their RCL 23 team.  A very impressive feat netting two awards before the midway point.  Razzkai was near the top of the leaderboard in Runs, HRs, and RBIs while also nailing some impressive ratios in 75.1 IP, including a sub 1 WHIP.  I am quite impressed.  Goldy and Ryan Mountcastle were the big performers on offense while Chris Bassitt and Nick Pivetta paced the pitching staff.  Kevin Gausman contributed nothing.
Want to be Matt's Twitter pal?  That's kinda creepy, but you can follow him here: @MattTruss