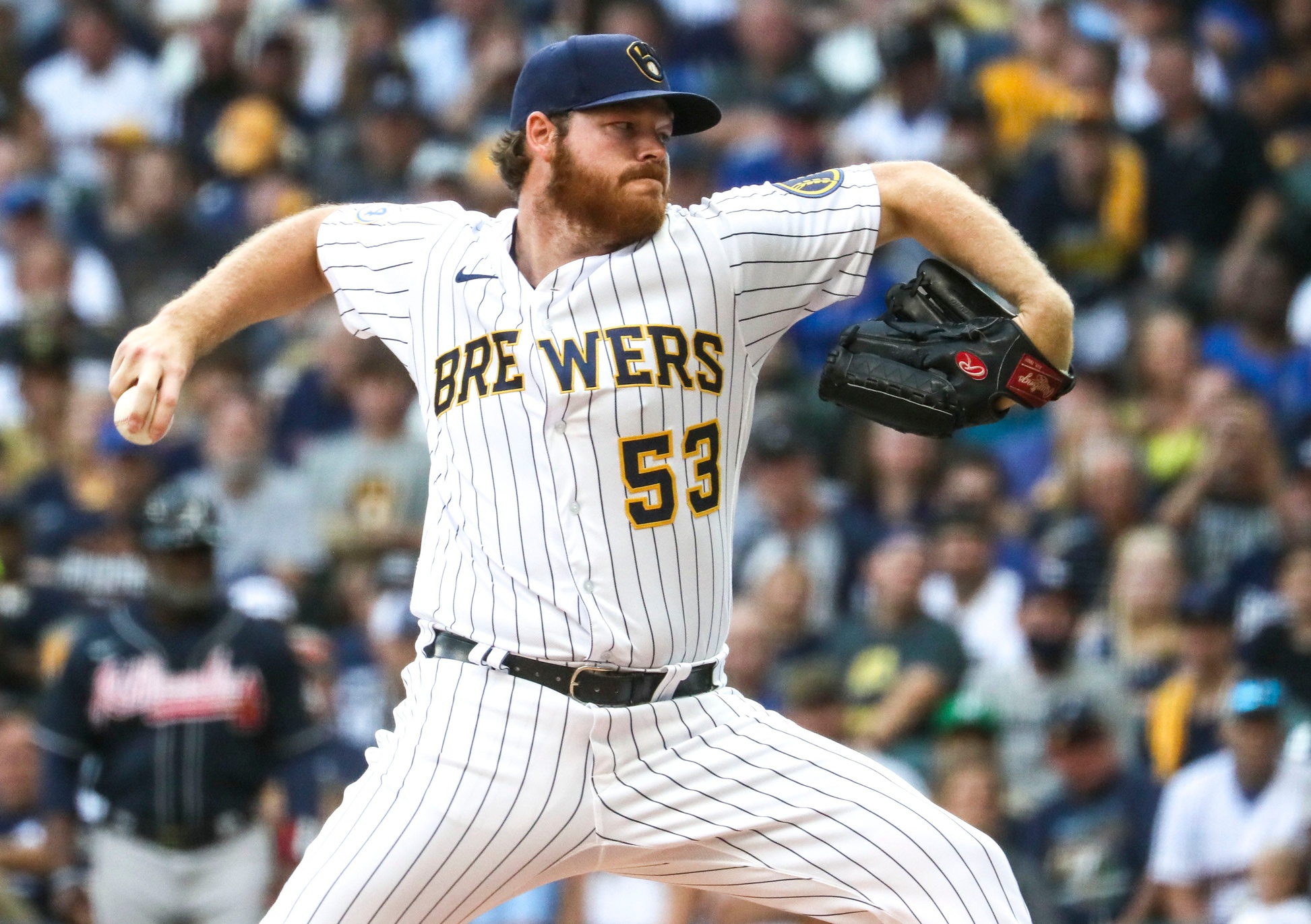 Here's my first run from New Year's Eve and those of you subscribed to the podcast's Patreon have had access to mine & Justin's ever-evolving rankings as the winter wore on (and thank you all so much for the support!). Now it's time to dive deeper into the SP pool. I won't have a comment on every single pitcher listed, but please feel free to ask questions in the comments about anyone – even if they have a comment!
ACES
The best of the best.
I understand the narrative of Cole and the sticky stuff ban because he had a 4.12 ERA from that point forward, but it came with a 3.39 FIP and 32% K rate. Even with a couple September duds mixed in, his FIP was 2.95 in the second half. The skills remain truly elite.
deGrom went #6 overall in the first Main Event and of the 3 MEs from Thursday, his low was #12. That #6 pick would remain his high after 10 more MEs over the weekend while he went as late as #15. It was only 2 innings in his spring debut last week, but it was all the confirmation many needed to feel confident in his health… well, as confident as you can feel about any pitcher's health.
I am the rare Woodruff-over-Burnes person or rather, I find them damn near interchangeable. In fact, outside of the two New Yorkers atop the board, this group can change order draft-to-draft. If I'm making a board of odds for 200+ IP pitchers, Woodruff is very high on the list.
Buehler is an emerging ace. Yes, the velo, K%, and BB% were worse compared to 2019 and yet he still had a 2.47 ERA/0.97 WHIP in a career-high 207.7 IP. You can't fake that. I'm just not sure how anyone watches Buehler and sees anything but an unquestioned stud.
Like Buehler, Urias had the reins taken off and exploded for a fantastic season. I trust both as premiere aces.
PREMIUM STUDS
Any of these guys can lead a fantasy rotation.
Nola was obviously super unlucky last year (4.63 ERA/3.26 SIERA) and no one is surprised by the lack of a discount for him this year. The defense isn't really any better than last year, but I'm still betting on Nola's skills. The same defense didn't preclude Wheeler from an amazing season (2.78 ERA/1.01 WHIP) so I think Nola can get back into the low-3.00s with an amazing WHIP (it was good last year at 1.13 despite the ERA, so it's not a huge stretch to see a good WHIP).
Musgrove has emerged and I see him building on his 2021 breakout with more excellent ratios, a huge K%, and a new career-high in wins (11).
Eno Sarris did a great job highlighting Webb's injury risk being higher than perceived, but it doesn't dissuade me from buying in on the breakout season and treating him as a true fantasy ace. The thing for me – and this isn't a pushback on Eno, specifically – is that even the guys who are currently healthy are severe injury risks. If you pitch, you are a colossal injury risk and while previous injury is a key marker for future injury, I just don't buy as much into the notion of
"safe pitchers" from a health standpoint and so absent that, I want the best skills and I'll take my chances with the health piece panning out. Webb's arsenal transformation and residence on one of the best teams in the league (both on and off the field) gives me a lot of confidence in him.
I've made my love of Fried well known throughout the offseason!
Alcantara has everything we look for in a budding ace which has made the pushback on him peculiar to me. Now I'm not saying everyone must blindly buy in and there can be no dissent, but rather that the dissenting opinion hasn't been terribly convincing. It mostly centers around his strikeout rate while ignoring or at the very least underplaying the elements that suggest said strikeouts are very much on the way, namely his premium stuff (upper-90s heat, 13% SwStr%, 4-pitch arsenal) and an in-season strikeout surge (29% K% over his final 10 starts) that suggests more are on the way. A 26-year-old pedigreed stud with everything we look for in a budding ace is someone I want on my team. I understand we are paying a premium for him, but that is just kind of the nature of fantasy baseball today as there are no edges on obvious breakout candidates, but that doesn't mean they aren't worth buying.
I would be fine with more of the same from Giolito, but I also like investing in players who are a slight tweak away from even more. If he can shave the HR rate down some, there is a sub-3.00 ERA season here.
Don't get too concerned about Rogers' 7 starts in the second half as it was a family emergency that cost him all of August. He got right back to dominating in September and he should be a strong candidate 175+ IP giving the Marlins an amazing 1-2 punch.
Montas will likely be dealt at some point this year and it will be hard to match or improve his park situation, but the inherent team context improvement should offset that difference. The skills are real.
Berríos dropped his best ERA, WHIP, and K% last year, pitching every bit as well with the Jays after the trade. He might not have yet another level beyond this, but it isn't hard to imagine him plateauing here and posting another excellent season.
STUDS WITH A CONCERN
All of these guys have the skills to pop a top 10 SP season, but one or more question pushing their draft stock down a bit.
I'm just really uncertain on Bieber. I can totally see an excellent full season rebound, but he lives on a thin margin with his velo and has always allowed a good bit of hard contact.
Verlander is returning from TJ at age-39 so I understand those who are simply passing, especially since he costs a premium, but I think he is a unicorn and gets back to a dominant level. He also has a 17-18 month recovery from TJ which should mitigate some of the normal volatility that comes upon returning from the surgery.
Morton is entering his age-38 season, but he has 30+ starts in the last 3 full seasons, including 33 in the last two.
Can Ray sustain his excellence, especially in a new environment?
It is so hard to rank Ohtani as an SP considering how little people actually use him there because of his excellent bat. In leagues with daily moves where you can leverage both aspects of Ohtani, he's the easy #1 overall pick.
Even with the Rays penchant for protecting their starters, McClanahan should be in line for 160+ IP, something only 39 pitchers achieved last year.
Snell recaptured his ace form down the stretch last year, can he build on the 8-start run? (1.83 ERA, 0.77 WHIP, 39% K, & 8% BB in 44.3 IP)
The underlying numbers (3.32 FIP, 3.65 SIERA) like E-Rod a lot more than his ugly ERA (4.74) and the team context change plus some natural regression could fuel a career-best ERA (3.81 currently).
I realize he isn't 100% the same guy he was in Baltimore, but I'm still nervous about Gausman returning to the AL East. Toronto's park isn't as dangerous with the humidor and Gausman is better than he was in Baltimore, but it's still a difficult division to tour from both the lineup and park standpoints.
Rodón's talent isn't in question, it all comes down to health. I want the talent. I don't want to take a less talented arm just because he is perceived to be a safer health risk.
UNCUT GEMS
There are some substantial movers in this group, and it is a situation where I am buying the premium talent in spite of the scant track records throughout this tier.
Cease is another command tweak from being a top 10 arm.
My only major question for Kopech is how many innings he gets this year. The reins will certainly be loosened, but can he get to 150+ after just 69.3 last year? The talent is evident and robust and the recent lowering of starter innings across the league means someone like Kopech can still put up a top-30 SP season even with fewer than 150 IP just as Rodón (9th SP), Peralta (13th), Suárez (15th), Bauer (23rd), Kershaw (28th), and Ohtani (30th) did last year. deGrom was also 6th with 92 IP, but that was a massive outlier season from one of the best to ever do it.
I wonder if Nick Pollack's anger at my Cease ranking will subside when he sees the Sandoval one! The stress fracture in his back is good to go and the talent is immense.
I want to just blindly love Manoah and buy in, but I can't ignore the questions: two-pitch arsenal which breeds a platoon split, tough divisional competition, and a bit of a HR issue. I'm likely to pass this year and observe (and cheer for him) from the bench. If he does pop off as many believe he can, I'll be in aggressively for 2023.
Valdez is a groundball god (70% in '21; 66% career) which definitely tamps down my concerns about his strikeout rate. That 26% K rate was a product of the shortened 2020 (there were no skill changes fueling it) and as such, he will likely remain a sub-25% guy without a legitimate change to his approach and/or pitch mix.
Houck and McKenzie are super surgers here and they epitomize my point about betting on the talent. Whether or not Houck was in the rotation was the key factor for me and we've got word that the plan is to start immediately:
Not the biggest Red Sox news of the day, but…

Tanner Houck is all but certain to have a rotation spot, Alex Cora confirmed. So Eovaldi, Pivetta, Houck locked in. Wacha, Hill and Whitlock in the mix. I'd guess the vets get the last two.

— Chris Cotillo (@ChrisCotillo) March 20, 2022
McKenzie showed flashes of his excellence last year, including an 11-start run with a 2.96 ERA, 0.73 WHIP, and 68 Ks in 67 IP. Home runs are a major issue when he's off his game (5 in L3 starts pushed his final season ERA to 4.95), but this is a growth profile. He has also overtaken Sale as my #1 body comp in the game as we are the same exact height (6'5) and weight (165)!
WHIP IT GOOD
Pretty straightforward here, these four will help your WHIP at the very least.
Bassitt gets out of Oakland during the teardown and still has a pitcher's park to support him plus a much better team context now.
There is no truth to the rumor that Means forced Baltimore to change the left field fence to improve his HR issue, but it will no doubt help. He had a 3.62 ERA despite a 1.8 HR/9 so imagine if he can shave that down to something like 1.2-1.4?
I still think Urquidy has a premium season in his arm, he just needs to find some consistent health. We have seen flashes throughout his 177.7 major league innings en route to a 3.55 ERA and 1.02 WHIP in that time, but the shoulder has been a consistent roadblock. Give me 140-150 innings and Urquidy can definitely put up a Bassitt-esque campaign (3.15 ERA/1.06 WHIP/25% K in 157.3 IP that was SP19).
Ryan's perplexing low velo/high deception fastball has generated some remarkable K rates and confounded the opposition throughout his pro career. He needs to reign in the HRs to have a special season, but I don't rule that out as he learns on the job.
I have consistently made the Ryan/Ober comps (just like everyone else, by the way, I'm not claiming originality there) and yet had them 30-something ranks apart which just didn't make any sense. My bad on that. Ober is also a control artist (5% BB in MLB; 3% MiLB) with gaudy K rates (30% MLB; 32% MiLB) and a HR issue that surfaced in the majors (1.9 HR/9). If they just curb the homers a bit, Ryan and Ober can be two of the biggest breakouts this year.
AN INTERESTING GROUP
There is no unifying theme with this group, but there are several interesting names mixed in.
Gray's move to Minnesota should benefit him substantially.
I guess I'm out on Eovaldi based on his ADP (SP32 in the 13 Main Events). I've been a mega fan since his prospect days with the Dodgers but maybe that's why I'm so cautious because I've been through all the ups and downs with him. Last year was great and healthy, but only the second time in his career that he qualified for the ERA title (162+ IP).
The Reds dismantled the team but couldn't get Mahle out of there? He has a 5.09 career ERA at home. Do we take the 5.63 ERA/1.48 WHIP to get the 98 Ks and five wins at home (those are his '21 home numbers) or should we consider Mahle more of a home/road streamer akin to a Rockies starter? If so, I'm not sure I want to pay that price for half a season.
Suárez needn't come anywhere near his 1.36 ERA or 1.00 WHIP from last year to have a successful season. I see something in the mid-3.00s for his ERA and a low-1.20s WHIP. The 26-year-old lefty has real talent and he extracted the best out of it in 2021.
DeSclafani was great last year and if you curated his starts a bit, sitting him against the Dodgers and in Coors, you got a 2.18 ERA in 132.3 IP. These aren't cherry picked starts, either, it is perfectly reasonable to think someone who drafted Tony Disco would see him as a streamer and avoid those potential pitfalls. He only gave up more than 4 ER once – the 10 ER dud against the Dodgers. Even though the price is higher this year, consider avoiding the Dodgers and Coors with him again.
Ryu took a big dip, but only because I was just a bit too high initially and I have moved a lot of high upside arms way up the board, not because I've had a change of heart on him as a pitcher. I actually could've put him in the WHIP IT GOOD tier because he still had a passable 1.22 despite so much going wrong last year.
ELEVATED INJURY RISK
As I mentioned in the Webb blurb, every pitcher is a health risk. Every. Single. One. That said, it's not a one-size fits all. I'm not here to deny the fact that some guys have a bigger risk profile than others, my main point was that those who are perceived as healthy aren't nearly as safe as many want to believe. These guys go the other way, they take the standard health risk associated with pitchers and amplify it a bit due to a multitude of reasons.
López is a favorite of mine, but I do wonder if the shoulder will just make him more of a 120-inning kind of guy, so I had to drop him.
I worry about Kershaw's IP output not so much due to more injuries occurring but because I can see the Dodgers massaging his workload throughout the season with an eye on October.
Castillo is already a WHIP killer and now a balky shoulder has put Opening Day in question.
Thor is one of just two risers here and it's mostly just a reshuffling of the rankings in addition to my pro-Thor bias.
Gallen is recovering from shoulder bursitis that will likely prevent him from being ready by Opening Day but isn't expected to keep him out long. Of course, these timetables always lean super optimistic so keep that in mind as you assess Gallen's outlook.
Sale has a stress fracture in his rib cage that has shelved him for the time being. I'm not drafting him in any league without IL slots and even then, there has to be multiple IL spots (3+).
Shoulder issues for Flaherty have completely spooked me out of him. Even though it was a whopping 2.3 IP across 3 outings in September, I was pleased that Flaherty finished the season on the mound and was eyeing him as an SP2-3 who could easily emerge to ace-level, but then the shoulder flared up and I'm out for now.
I try not to overreact to spring numbers on the high or low end, but Severino is a guy who has thrown 18 IP since 2018 and can't command the ball in his limited spring outings (8 H, 5 BB, 1 HR, 7 ER in 3.7 IP) which is enough to push me away. I might have found some interest at a better price, but he was SP47 in the 13 Main Events that have taken place. I would start to consider him in a league with IL spots around SP70.
The Giants got a heckuva season from one intriguing-but-oft-injured Alex last year, now they look to repeat the feat by bringing in Cobb. I trust the Giants and have no issues rostering either as their injury concerns are well covered in their depressed prices.
KEY RISERS
This pivotal group could deliver some of the season's biggest gamechangers, even if they aren't in the starting rotation immediately.
I love Megill. He was so impressive in his 89.7 IP last year with a 26% K, 7% BB, and 12% SwStr in his 18 starts. It is reminiscent of Luis Castillo's 2017 debut (27% K, 9% BB, 13% SwStr in 89.3 IP) which I wound up overvaluing as his full season breakout came a year later in 2019. Megill's lack of a guaranteed spot right now is helping keep my excitement in check (for reference, I had Castillo 28th going into 2018), but I'm still drafting him at the very fair 250 ADP.
Detmers is a huge spring riser as he appears in line to be one of the six in their rotation. After the 2020 draft, Detmers and Max Meyer were tabbed to be the quickest to the majors and both could make an impact
That Skubal was able to post a 4.34 ERA despite his 2.1 HR/9 is pretty impressive, but I still had to drop him a good bit because that kind of longball problem is no joke. It's fixable, but it will take work. He has swing-and-miss stuff, good control, and a deep arsenal.
Mize could be a breakout if these spring strikeouts are for real (9 in 5 IP). He is diving back into his splitter and that could be key to his strikeout success. He threw it just 13% of the time, though with just a 17% K rate, so it simply throwing it more won't automatically generate strikeouts, but if it is more like the college splitter, then it should become more of a swing-and-miss offering like it is for guys like Ohtani, Montas, and Gausman. Even if he remains more of a 19-20% K rate guy, he should have strong ratios 170+ IP.
Cortes is being overlooked despite having the inside track for the 5th starter role in New York. He excelled in a hybrid role that included 14 starts during which he posted a 3.07 ERA and 1.06 WHIP in 73.3 innings with 75 Ks. He probably won't get 30 starts, but I'm happy to draft him and use him while he is starting.
There is a lot of volatility to Hernández's profile, but if you watched some of his 85.7 innings in the majors last year, you likely came away impressed by his raw stuff. His strikeout rate did sink as a starter (SP: 16%, RP: 31%), but both of his breaking balls have whiff upside and the K rate should rise as he develops on the job this year.
Sharp stuff in Spring Training has pushed Luzardo's stock back up as he rapidly climbs draft boards. He has fanned seven in seven innings of 1-(unearned) run ball. His velo is up and he is generating a ton of whiffs in the limited spring action so far. Luzardo essentially appears to be picking up where 2021's hype for him left off, but at a much lower price point (242 ADP in Main Events).
I wanted to post these on Monday but I wasn't quite finished and in the interim, Greene has won a rotation spot! He was named the fourth starter for the Reds:
Welcome to The Show, Hunter Greene!

The Reds' 2017 first-round pick and current No. 1 prospect is scheduled to start and make his major league debut Sunday, April 10 in Atlanta. pic.twitter.com/6yllTK9lZw

— Cincinnati Reds (@Reds) March 30, 2022
The downside is that the price will soar, but the upside is that an elite prospect is breaking camp!
Both Patiño and Rasmussen will likely shift between the rotation and bullpen to keep their innings in check, especially with heavy October considerations in Tampa Bay. That lower expectation of their workloads is baked into their price so if you are willing to put in the effort to properly manage them and deal with some bouts in the bullpen, they can be solid pickups in the mid-to-late rounds (depending on league size).
—
At this point, the ranking of the pitcher in these groupings starts to take on a lot less value. Honestly, it probably starts shortly after 50 with that Elevated Injury Risk tier, but this is where things really open up and you should start picking guys that fit your build as opposed to following a list top-to-bottom. I'm totally fine if you want to argue that someone listed from this point forward belongs somewhere in the Top 75, but I'm less interested in debating whether Eflin is good at 98 or should be at 81. It's all the same tier and the talent discrepancies in these tiers aren't severe for me. These guys are ranked in the order I like them, but I won't vehemently argue if you want to switch that order within a tier.
—
TEAM STREAMERS
I coined this term just as a way of acknowledging that they are a cut above standard streamers in that you don't necessarily want to cut them after getting through the start(s) you're targeting. They are likely good enough to hold on your reserve instead of throwing back into the pool for someone else to pick up their next good stream(s).
I understand Gray had a better career ERA in Coors (4.54 home, 4.64 road), but I still believe getting out of Coors will be a major win for him. He has a couple sub-4.00 ERA seasons (3.67 in '17, 3.84 in '19) and he has a great shot at his third this year, but the big gain for him leaving Colorado will be in WHIP. His new home should be instrumental in beating his career 9.0 H/9 and it shouldn't be too hard to set a new career-best in WHIP which currently sits at 1.26 (from 2016).
Waino was amazing last year, and I think that fantastic defense will support him and his rotation mates throughout the season, but betting on another low-3.00s ERA feels dangerous. Batted balls are fickle and relying so much on defense can be nerve-wracking. I almost put him in the WHIP It Good group, but 2018-19 showed us how this profile can go sideways: 212 IP of 4.25 ERA and 1.43 WHIP. I love what Waino did for us last year as a late round/waiver pickup, but I'm more interested in finding the next Waino than paying up for him (SP61 in Main Events).
Matz was solid last year with a 3.82 ERA/1.33 WHIP in 150.7 IP and he could definitely repeat that in St. Louis, though the aforementioned elite defense could yield an even better WHIP. He is just one example of someone I'd rather buy over Waino (Matz is SP73). I over ranked him a bit initially but pulled back a bit when looking at his swinging strike and HR rates.
I love Greinke going back to KC. He was also a heavy consideration for the WHIP It Good group, but I'm not sure the Ks will return to his normal mid-20s so I easily favor that whole group ahead of him right now. That said, he is priced to buy (SP97) and it's worth noting that he still had a sharp 1.17 WHIP last year despite a lot of things going against him.
Gonsolin completely lost command of anything last year in an injury-riddled season (55.7 IP). His walk rate soared to 14%, twice as high as we had seen from him in his first 86.7 major league IP. He still missed plenty of bats (27% K, 13% SwStr) and I'm willing to believe that a healthy Gonsolin will be more in line with the 2019-20 version over the guy we saw last year.
Márquez decided to make life a lot tougher for those who draft him by being much better in Coors (3.67 ERA, 1.18 WHIP) than on the road (5.38/1.40) last year. I still think is a streamer who you mostly want to use on the road based on his career history (4.73/1.36 home; 3.85/1.19 road).
Civale, Plesac, and Quantrill aren't that different. I have a preference for Civale, but it is hard to find much split between 'em and if you are a believer in Cleveland as an organization – like I am – then you will be fine buying any of them as potential inning-heavy WHIP gems.
Carrasco still has core skills that can deliver 125-140 strong innings if his body holds up, but we can't fully ignore that the 35-year-old has been through a lot the last few years off the field and that 1.7 HR/9 is a bit alarming, too.
Odorizzi is a solid five-and-dive type who you can likely utilize for multiple good runs across a given year. He has a rotation spot and if you protect him against especially tough offenses and spots where his HR issue can get the best of him, you can definitely curate a sub-4.00 ERA from the 32-year-old right-hander.
Putting an early season focus on your late round picks is a great way to find some gems you wouldn't necessarily be interested in over a full season. That focus moved Gibson up my board with Oakland and a trip to Miami lined up as his first two starts. His third start lines up as a trip to Colorado, but instead of just cutting him, I will simply reserve him and slot him back into the lineup when Colorado visits Philadelphia five days later. Of course, you can only map things out so far as weather, skipped starts, and injuries will start to jumble things up very quickly, but I'm comfortable betting on that OAK/at MIA duo to open Gibson's season.
Dunning is one of my favorites in this group! I've watched a decent number of his 32 starts a major leaguer and there is a path to a mid-3.00s ERA and strong WHIP output. Eno Sarris mentioned that both he and Gray are learning sweepers and if you an Athletic account that allows you to read that article you will learn how devastating these sweepers can be which could fuel some increased K totals from both Dunning and Gray. I'm not averse to a Texas two-step later in my rotation, especially with Dunning being SP122 in Main Events (Gray is more expensive at SP60, but far from cost-prohibitive).
Maybe pitching coach Pete Walker can get the best out of Kikuchi's arsenal which does have some impressive elements, but I'm at a point where I have to see something before buying back in again.
Mikolas is right there with Waino and Matz as only his IP count holds me back a smidge. Although, at age-33 there is a real chance they just let him go as much as his arm will allow if healthy. He threw 184 in 2019 and it's not impossible to envision another 184 in 2022 with similar ratios (4.16 ERA/1.22 WHIP).
Pineda was a solid depth pickup for the Tigers and the park move could be a boon, though I doubt it will improve on the 3.62 ERA from last year, but rather allow him to earn it more. And all I mean by that is his SIERA and FIP would be closer to his ERA as opposed to the 4.36 and 4.21 we saw last year. Both Target Field and Comerica Park have 98 overall Park Factors, but Comerica has an 83 HR factor to Target's 90 and those seven points could help Pineda as the long ball is his biggest issue.
Anderson – not Heaney – is the intriguing new Dodgers lefty for me! I'm only half-joking, by the way. Anderson is muuuch cheaper (SP127 v. SP85) and if the bet is on a Dodger transformation, I'm just not sure Heaney offers any more to work with than Anderson. Heaney is known more for strikeouts, but Anderson's K and swinging strike rates aren't all that different: 24% K, 12% SwStr for Heaney; 21% K, 11% SwStr for Anderson. Both have historical HR issues, but at least Anderson has Coors as an excuse for a lot of his (1.5 as a Rockie, 1.3 since; Heaney 1.6 career). Now one major difference is that Anderson will be in a hybrid role whereas Heaney could be more consistently starting. Of course, that could also be beneficial from a fantasy standpoint if Anderson piggybacks off some Heaney and Gonsolin starts to vulture some cheap wins.
Hendricks is the cheapest he has ever been so if you want to buy back in after the ugly 2021, at least you aren't being taxed to do so.
Corbin was unquestionably brutal last year and yet even in the midst of such a bad season, 16 of his 31 starts were still pretty solid. I realize how nerdy this is before I even type it, but one of the things I've learned from playing so much Out of the Park Baseball is that a 5.82 ERA over a full season (171.7 IP) isn't that many tweaks away from being useful. He actually had a career-high 92.5 mph velo and slider was legitimately great in spurts. I truly wouldn't be surprised if he delivered a 3.90-4.20 ERA across 30 starts this year.
DEEP GEMS
These have game-changing ability, but you need to be in a league of a particular depth to justify drafting most of them. A couple still hit the 10- and 12-team radar, especially since you can just cut them and move on if they don't pop immediately.
I really think Lorenzen can pull off the C.J. Wilson transition to SP. Wilson pulled it off at age-29 and it kinda came out of nowhere at the time as he had been a solid reliever and even closed a bit for Texas prior to the switch. He took to it immediately with a 3.35 ERA/1.25 WHIP in that first season and wound up with a 3.60 ERA/1.30 WHIP in 1150 starter IP. Let's see how Lorenzen does in his debut season before projecting that kind of success onto him, but he has the velo, depth of arsenal, and overall baseball smarts to make a clean transition into starting. He may only get 100-120 IP in this first season which makes him a much better fit for deeper formats.
Ynoa's outlook for the rotation was a looking a bit dodgier at the outset of spring, but now he appears to have a bead on a role. I love the raw talent, but he's a 2-pitch arm with a home run issue meaning the swings could be wild with him.
Brash has been having an excellent spring and could be in line for the 5th starter role in Seattle. He would be skipping Triple-A, but the Mariners might think the 24-year-old righty is ready based on how much development they saw in his 2020 alt site work.
Gray and Hernandez need to reign in their HR issues if they expect to have any sort of sustained success, but both miss bats at a strong clip when they aren't giving up moon shots.
Greene locking up a rotation spot does not rule out Lodolo winning a spot, too, because he is having an excellent spring (7.3 IP/1 ER/9 K) and the Reds are dealing with so many injuries (Castillo, Dunn, and Minor all nursing shoulder trouble). It wouldn't necessarily just be a temporary spot for Lodolo, either. If he and Greene hold their own, guys like Sanmartin and Gutierrez would have to pitch well enough to hold their spots as the other guys get healthy.
Because I'm so suspect on Hernandez given his HR issues, I included Meyer here instead of the upcoming Prospects grouping. He probably won't break camp, but I'm not averse to holding onto him a few weeks into the season in hopes that he is the first man up for injury/underperformance once the Marlins need a replacement.
Keller's velo has been a key focus this offseason and his spring performance is locking him into the rotation (8.7 scoreless IP with 7 K and 1 BB). The multi-time Top 40 prospect hasn't done a ton in 170 major league innings thus far with a 6.02 ERA and 1.73 WHIP, but if this added velo pushes his strikeouts up toward his minor league numbers (26% in 567 IP), then there is major breakout potential here.
Suarez is a sneaky-solid lefty that doesn't get a ton of attention on the Angels, but that excellent changeup gives him some swing-and-miss and keeps righties off his back. If he can find something to quell lefties, he can build on a decent 2021 showing.
Gore was rumored to be dealing with the yips last year which is why he threw just 50 IP and never got a call-up despite plenty of need at the big-league level. His early spring performance suggests he has worked his way past such issues with 11 Ks and one walk in his 9 IP of work. Obviously 9 innings don't completely erase any issues, but it is great to see the blue chip prospect throw well and get back on track.
I can't give you anything from Manning's 2021 as a reason to stay bought in, but I'm just not willing to discard the 24-year-old potential stud off just 118 innings split between Triple-A and the majors. I also don't think the Tigers would've called him up for a half season if they thought he was completely out of his element.
RP STUDS
This group is expected to start the season in the bullpen, but they could all find themselves starting at some point during the season and they all have the talent to deliver quality innings in such a role.
Ashby won't start the season in the rotation, but no team gets through the whole season with just five guys these days so despite the Brewers having a strong quintet, there will be opportunities for the excellent young lefty.
Whitlock could still nab the 5th starter's role, but I suspect he at least starts the season in the bullpen at least as a way of managing his innings before getting stretched out to start at some point in the summer. The Red Sox love the arm so if he isn't starting, he will be pitching leveraged innings out of the pen and possibly even closing. Because the upside is rich as a starter or reliever, he is draftable despite the uncertain role.
The Jays have cultivated enough depth such that they don't need Pearson starting right now and can afford to let him develop. There has always been reliever risk in the profile and if the control doesn't start to progress, he could find himself in the pen for good this year.
It is a rare year when the Dodgers don't have like 38 quality starters available to them and while they have added some solid depth since the lockout lifted, they aren't so set that White couldn't eventually wind up starting. He excelled in a hybrid role last year bouncing between MLB and Triple-A about 412 times and if they keep him stretched out in the minors, he could be one of the first replacements for the Dodgers.
PROSPECTS
These are some of the key prospects who could be key contributors this year. Some will actually start the season with jobs, others will be among the first wave of call-ups, and then some will have to perform well in the minors to secure a summer call-up.
Jake Woodford's presence on the 40-man roster gives him an edge over Liberatore, who I thought could possibly break camp as the 5th starter, but only with an exquisite spring that just made it too tough to send him down.
The Rangers could be a sneaky good team this year if a couple of these prospects break the right way for them. I already mentioned how I like Gray and Dunning and here we have four guys with real upside. Alexy didn't show much in 23 MLB innings, but showed plenty of swing-and-miss coming up through the minors. Neither Winn nor Otto are in line for a role out of camp, but they are my favorites out of this prospect group. Winn missed that pivotal development in 2020 that likely would've been spent in the high minors, but he showed an impressive four-pitch arsenal at AA/AAA in 86 IP last year. Otto came over in the Gallo deal and has nice strikeout and walk numbers, but a disastrous .423 BABIP sullied his MLB debut (9.26 ERA, 3.82 SIERA).
Cabrera and Sanchez have already shown flashes in the majors, but health has been a problem for both, too. The Marlins are incredibly stacked with arms so neither will be pushed to return, but once they are ready to pitch in the majors again, they should garner plenty of attention.
The Yankees might end up using these young arms to acquire a more established starter – Manaea or Montas perhaps? – instead of waiting for them to develop. Schmidt needs a third offering, Gil needs to sharpen his command and control, and Garcia just might not have the size for a full season of starts.
Rodriguez is the best prospect of this whole bunch, but it's about fantasy value for 2022, not overall prospect value and I'm not sure how much time he sees in the majors this year. I don't want the shortcomings of previous regimes to make me pre-judge Rodriguez so I'm trying to ignore Baltimore's historical failings with pitcher development when figuring out how good Rodriguez could be upon arrival.
Morris was a favorite deep prospect of mine in hopes that he could be the next big out of nowhere guy for Cleveland, but he has a major shoulder strain that will sideline him for about two months. Keep his name in mind, but no real need to draft him in redraft leagues right now.
STANDARD STREAMERS
Just standard streamers that you pluck off the wire for a start or two and then move on. Some of them have team streamer appeal in deep formats (15+ teamers).
A lot similar profiles with soft tossers who can get on roll when the contact is finding gloves consistently, but that reliance on contact management makes them super volatile.
I've been burned by Heaney enough which is why I favor Anderson over him and need to see something before buying back in. I realize I'll probably be on the outside looking in if he pops right away since he is being drafted even in most 12-teamers, but that's a risk I'm willing to take!
Gomber, Freeland, and Senzatela are obvious road streamers as Rockies, but all have been good enough at times to even risk some home starts against favorable teams. Be careful when doing that, of course, but the road starts can be super useful… unless you get Gomber'd because we didn't realize we were starting him against an eventual 107-win team!!!
If Brubaker reigns in his homers (2.0 in 124 IP last year), there is a lot of upside here. His 17% K-BB rate is good and helped him put up a 4.04 SIERA despite the 5.36 ERA. Keep a close eye on him, though I will point out that he has already allowed a couple homers in spring.
Copy-and-paste that Brubaker entry for Morgan with minimal changes. He had a 16% K-BB rate, but a 2.0 HR/9 left his 5.34 ERA much higher than his 4.51 SIERA. If Cleveland can get him back to his minor league HR rates (0.8), he could be their next pop-up breakout.
Flexen and Irvin showed the best of what their profiles can offer last year, but do you really want to be on a repeat when they had 4.70 and 4.85 SIERAs, respectively? Stick to streaming them for now.
Imagine if I had told you this is where Paddack would reside after that excellent 2019. Having a thin arsenal and a HR issue fuels his volatility, though I do respect the 4.05 SIERA last year and realize that he isn't too far from being very useful again.
I'm excited to see what Martinez can do upon returning from Japan, but he hasn't pitched in the majors since 2017 and his last season here was 111 innings of a 5.66 ERA.
Houser had a 7% K-BB rate to go with that 3.22 ERA… that doesn't add up and usually it's the ERA that catches up to the K-BB rate. Be careful as even SP106 might be too expensive for him.
INJURY ARMS
Currently or oft-injured arms who will test your mettle if you roster them but have the skills to offer substantial upside if they were to stumble upon some health. Stay tuned for news on them and act accordingly as they return. Some of these guys are definitely draftable if you have IL spots, but I'm personally not drafting any of them in NFBC formats that only offer 7 reserves with no IL designations.
—
THE FULL LIST
THE FULL LIST
| RK | STARTING PITCHER | TM | Last Rk. | Diff. |
| --- | --- | --- | --- | --- |
| 1 | Gerrit Cole | NYY | 1 | 0 |
| 2 | Jacob deGrom | NYM | 3 | 1 |
| 3 | Brandon Woodruff | MIL | 6 | 3 |
| 4 | Walker Buehler | LAD | 2 | -2 |
| 5 | Corbin Burnes | MIL | 4 | -1 |
| 6 | Max Scherzer | NYM | 5 | -1 |
| 7 | Julio Urías | LAD | 13 | 6 |
| 8 | Aaron Nola | PHI | 11 | 3 |
| 9 | Joe Musgrove | SDP | 15 | 6 |
| 10 | Logan Webb | SFG | 12 | 2 |
| 11 | Max Fried | ATL | 14 | 3 |
| 12 | Sandy Alcantara | MIA | 8 | -4 |
| 13 | Lucas Giolito | CWS | 16 | 3 |
| 14 | Zack Wheeler | PHI | 7 | -7 |
| 15 | Trevor Rogers | MIA | 22 | 7 |
| 16 | Freddy Peralta | MIL | 19 | 3 |
| 17 | Frankie Montas | OAK | 20 | 3 |
| 18 | José Berríos | TOR | 29 | 11 |
| 19 | Lance Lynn | CWS | 17 | -2 |
| 20 | Shane Bieber | CLE | 9 | -11 |
| 21 | Justin Verlander | HOU | 21 | 0 |
| 22 | Charlie Morton | ATL | 26 | 4 |
| 23 | Robbie Ray | SEA | 27 | 4 |
| 24 | Shohei Ohtani | LAA | 23 | -1 |
| 25 | Shane McClanahan | TBR | 24 | -1 |
| 26 | Blake Snell | SDP | 34 | 8 |
| 27 | Eduardo Rodriguez | DET | 33 | 6 |
| 28 | Kevin Gausman | TOR | 18 | -10 |
| 29 | Yu Darvish | SDP | 35 | 6 |
| 30 | Carlos Rodón | SFG | 52 | 22 |
| 31 | Alek Manoah | TOR | 36 | 5 |
| 32 | Dylan Cease | CWS | 38 | 6 |
| 33 | Michael Kopech | CWS | 47 | 14 |
| 34 | Patrick Sandoval | LAA | 68 | 34 |
| 35 | Framber Valdez | HOU | 40 | 5 |
| 36 | Logan Gilbert | SEA | 44 | 8 |
| 37 | Luis Garcia | HOU | 63 | 26 |
| 38 | Tanner Houck | BOS | 73 | 35 |
| 39 | Triston McKenzie | CLE | 58 | 19 |
| 40 | Chris Bassitt | NYM | 64 | 24 |
| 41 | John Means | BAL | 60 | 19 |
| 42 | José Urquidy | HOU | 37 | -5 |
| 43 | Joe Ryan | MIN | 46 | 3 |
| 44 | Bailey Ober | MIN | 78 | 34 |
| 45 | Sonny Gray | MIN | 62 | 17 |
| 46 | Sean Manaea | OAK | 50 | 4 |
| 47 | Nathan Eovaldi | BOS | 51 | 4 |
| 48 | Tyler Mahle | CIN | 43 | -5 |
| 49 | Ranger Suárez | PHI | 48 | -1 |
| 50 | Ian Anderson | ATL | 39 | -11 |
| 51 | Anthony DeSclafani | SFG | 61 | 10 |
| 52 | Marcus Stroman | CHC | 41 | -11 |
| 53 | Hyun Jin Ryu | TOR | 32 | -21 |
| 54 | Pablo López | MIA | 30 | -24 |
| 55 | Clayton Kershaw | LAD | 42 | -13 |
| 56 | Luis Castillo | CIN | 28 | -28 |
| 57 | Noah Syndergaard | LAA | 65 | 8 |
| 58 | Zac Gallen | ARI | 31 | -27 |
| 59 | Chris Sale | BOS | 10 | -49 |
| 60 | Jack Flaherty | STL | 25 | -35 |
| 61 | Luis Severino | NYY | 66 | 5 |
| 62 | Mike Clevinger | SDP | 67 | 5 |
| 63 | Alex Wood | SFG | 86 | 23 |
| 64 | Alex Cobb | SFG | 70 | 6 |
| 65 | Tylor Megill | NYM | 83 | 18 |
| 66 | Reid Detmers | LAA | 95 | 29 |
| 67 | Tarik Skubal | DET | 49 | -18 |
| 68 | Casey Mize | DET | 77 | 9 |
| 69 | Jordan Montgomery | NYY | 69 | 0 |
| 70 | Nestor Cortes Jr. | NYY | 97 | 27 |
| 71 | Carlos Hernández | KCR | 113 | 42 |
| 72 | Jesús Luzardo | MIA | 111 | 39 |
| 73 | Hunter Greene | CIN | 134 | 61 |
| 74 | Luis Patiño | TBR | 56 | -18 |
| 75 | Drew Rasmussen | TBR | 55 | -20 |
| 76 | Jon Gray | TEX | 72 | -4 |
| 77 | Adam Wainwright | STL | 85 | 8 |
| 78 | Steven Matz | STL | 53 | -25 |
| 79 | Zack Greinke | KCR | 107 | 28 |
| 80 | Tony Gonsolin | LAD | 105 | 25 |
| 81 | Germán Márquez | COL | 59 | -22 |
| 82 | Aaron Civale | CLE | 57 | -25 |
| 83 | Zach Plesac | CLE | 75 | -8 |
| 84 | Eric Lauer | MIL | 80 | -4 |
| 85 | Carlos Carrasco | NYM | 82 | -3 |
| 86 | Jake Odorizzi | HOU | 114 | 28 |
| 87 | Kyle Gibson | PHI | 88 | 1 |
| 88 | Marco Gonzales | SEA | 117 | 29 |
| 89 | Cal Quantrill | CLE | 76 | -13 |
| 90 | Dane Dunning | TEX | 101 | 11 |
| 91 | Yusei Kikuchi | TOR | 102 | 11 |
| 92 | Miles Mikolas | STL | 138 | 46 |
| 93 | Jameson Taillon | NYY | 81 | -12 |
| 94 | Michael Pineda | DET | 121 | 27 |
| 95 | Merrill Kelly | ARI | 175 | 80 |
| 96 | Tyler Anderson | LAD | 173 | 77 |
| 97 | Kyle Hendricks | CHC | 71 | -26 |
| 98 | Wade Miley | CHC | 87 | -11 |
| 99 | Nick Pivetta | BOS | 140 | 41 |
| 100 | Zach Eflin | PHI | 116 | 16 |
| 101 | Patrick Corbin | WAS | 164 | 63 |
| 102 | Dakota Hudson | STL | 147 | 45 |
| 103 | Michael Lorenzen | LAA | 143 | 40 |
| 104 | Huascar Ynoa | ATL | 84 | -20 |
| 105 | Matt Brash | SEA | #N/A | #N/A |
| 106 | Josiah Gray | WAS | 89 | -17 |
| 107 | Nick Lodolo | CIN | 161 | 54 |
| 108 | Elieser Hernandez | MIA | 132 | 24 |
| 109 | Kyle Wright | ATL | 188 | 79 |
| 110 | Max Meyer | MIA | 148 | 38 |
| 111 | Mitch Keller | PIT | 150 | 39 |
| 112 | José Suarez | LAA | 158 | 46 |
| 113 | MacKenzie Gore | SDP | 141 | 28 |
| 114 | Matt Manning | DET | 110 | -4 |
| 115 | Aaron Ashby | MIL | 74 | -41 |
| 116 | Garrett Whitlock | BOS | 92 | -24 |
| 117 | Nate Pearson | TOR | 93 | -24 |
| 118 | Cristian Javier | HOU | 91 | -27 |
| 119 | Mitch White | LAD | 144 | 25 |
| 120 | Garrett Crochet | CWS | 126 | 6 |
| 121 | Reynaldo Lopez | CWS | 185 | 64 |
| 122 | Tony Santillan | CIN | #N/A | #N/A |
| 123 | Ryan Weathers | SDP | 135 | 12 |
| 124 | Matt Liberatore | STL | 181 | 57 |
| 125 | Roansy Contreras | PIT | 119 | -6 |
| 126 | A.J. Alexy | TEX | 168 | 42 |
| 127 | Cole Winn | TEX | 190 | 63 |
| 128 | Glenn Otto | TEX | 104 | -24 |
| 129 | Spencer Howard | TEX | 152 | 23 |
| 130 | Edward Cabrera | MIA | 125 | -5 |
| 131 | Sixto Sánchez | MIA | 122 | -9 |
| 132 | Clarke Schmidt | NYY | 194 | 62 |
| 133 | Luis Gil | NYY | 96 | -37 |
| 134 | Deivi Garcia | NYY | #N/A | #N/A |
| 135 | Tucker Davidson | ATL | 142 | 7 |
| 136 | Kyle Muller | ATL | 156 | 20 |
| 137 | George Kirby | SEA | 171 | 34 |
| 138 | Johan Oviedo | STL | 193 | 55 |
| 139 | Grayson Rodriguez | BAL | 160 | 21 |
| 140 | Daulton Jefferies | OAK | 153 | 13 |
| 141 | Cody Morris | CLE | 145 | 4 |
| 142 | Daniel Lynch | KCR | 176 | 34 |
| 143 | Jackson Kowar | KCR | #N/A | #N/A |
| 144 | Cade Cavalli | WAS | 172 | 28 |
| 145 | Taylor Hearn | TEX | 127 | -18 |
| 146 | Andrew Heaney | LAD | 98 | -48 |
| 147 | Dylan Bundy | MIN | 133 | -14 |
| 148 | Zach Thompson | PIT | 118 | -30 |
| 149 | Austin Gomber | COL | 162 | 13 |
| 150 | Brady Singer | KCR | 120 | -30 |
| 151 | JT Brubaker | PIT | 170 | 19 |
| 152 | Chris Flexen | SEA | 128 | -24 |
| 153 | Ryan Yarbrough | TBR | 163 | 10 |
| 154 | Adrian Houser | MIL | 99 | -55 |
| 155 | Cole Irvin | OAK | 131 | -24 |
| 156 | Nick Martinez | SDP | 139 | -17 |
| 157 | Luke Weaver | ARI | 103 | -54 |
| 158 | Madison Bumgarner | ARI | 180 | 22 |
| 159 | Kris Bubic | KCR | 112 | -47 |
| 160 | Mike Minor | CIN | 115 | -45 |
| 161 | Chris Paddack | SDP | 137 | -24 |
| 162 | Kyle Freeland | COL | 130 | -32 |
| 163 | Eli Morgan | CLE | 157 | -6 |
| 164 | Ross Stripling | TOR | 149 | -15 |
| 165 | Brad Keller | KCR | 167 | 2 |
| 166 | Vladimir Gutierrez | CIN | 177 | 11 |
| 167 | Reiver Sanmartin | CIN | 189 | 22 |
| 168 | Antonio Senzatela | COL | 191 | 23 |
| 169 | Zach Davies | ARI | 198 | 29 |
| 170 | Lance McCullers Jr. | HOU | 54 | -116 |
| 171 | Corey Kluber | TBR | 109 | -62 |
| 172 | Rich Hill | BOS | 106 | -66 |
| 173 | Chris Archer | MIN | 200 | 27 |
| 174 | Taijuan Walker | NYM | 100 | -74 |
| 175 | Shane Baz | TBR | 45 | -130 |
| 176 | Stephen Strasburg | WAS | 108 | -68 |
| 177 | Tyler Beede | SFG | 154 | -23 |
| 178 | Domingo Germán | NYY | 90 | -88 |
| 179 | James Kaprielian | OAK | 79 | -100 |
| 180 | Michael Wacha | TBR | 129 | -51 |
| 181 | Matthew Boyd | SFG | 187 | 6 |
| 182 | Adbert Alzolay | CHC | 94 | -88 |
| 183 | Mike Soroka | ATL | 123 | -60 |
| 184 | Drew Smyly | CHC | 124 | -60 |
| 185 | Yonny Chirinos | TBR | 178 | -7 |
| 186 | Griffin Canning | LAA | 186 | 0 |
| 187 | James Paxton | BOS | 166 | -21 |
| 188 | Jaime Barria | LAA | 146 | -42 |
| 189 | Chad Kuhl | COL | 151 | -38 |
| 190 | Sammy Long | SFG | 155 | -35 |
| 191 | Danny Duffy | LAD | 159 | -32 |
| 192 | David Peterson | NYM | 165 | -27 |
| 193 | Erick Fedde | WAS | 169 | -24 |
| 194 | Justin Dunn | CIN | 174 | -20 |
| 195 | Caleb Smith | ARI | 179 | -16 |
| 196 | David Price | LAD | 182 | -14 |
| 197 | Jordan Balazovic | MIN | 183 | -14 |
| 198 | Johnny Cueto | FA | 192 | -6 |
| 199 | Touki Toussaint | ATL | 195 | -4 |
| 200 | Paolo Espino | WAS | #N/A | #N/A |
| 201 | Jakob Junis | KCR | 197 | -4 |
| 202 | Sam Hentges | CLE | 199 | -3 |
| 203 | Justin Steele | CHC | #N/A | #N/A |
| 204 | Kolby Allard | TEX | #N/A | #N/A |
| 205 | J.A. Happ | FA | #N/A | #N/A |
| 206 | Justus Sheffield | SEA | #N/A | #N/A |
| 207 | Kohei Arihara | TEX | #N/A | #N/A |
| 208 | Griffin Jax | MIN | #N/A | #N/A |
| 209 | Brent Honeywell Jr. | OAK | 196 | -13 |
| 210 | Wil Crowe | PIT | #N/A | #N/A |