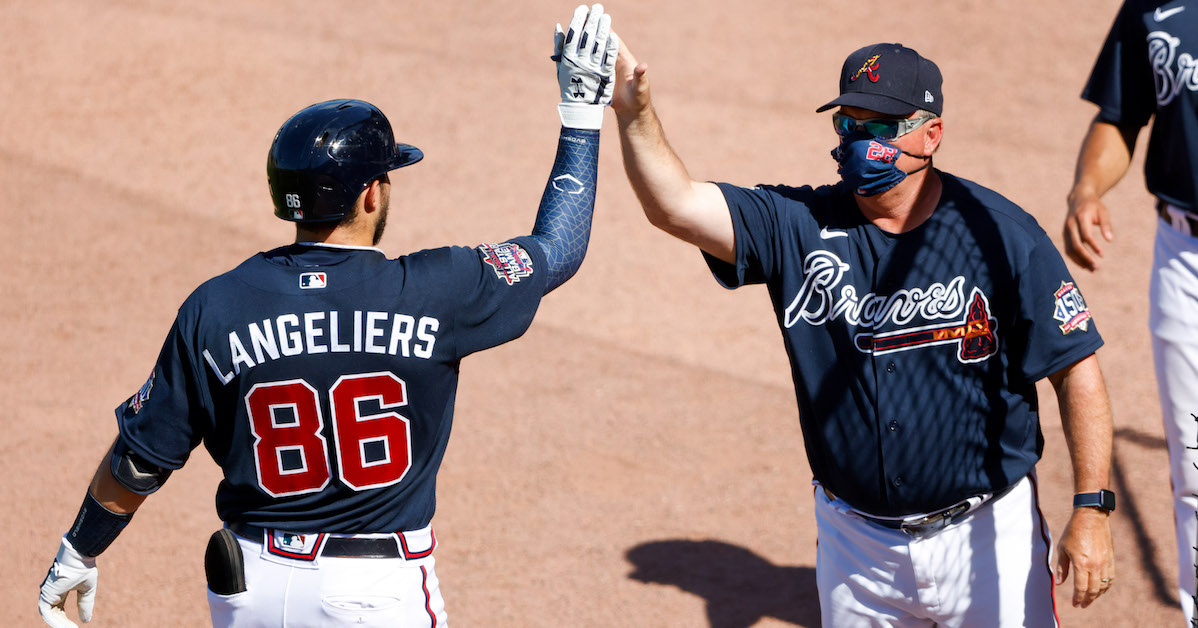 Today, the Oakland Athletics traded star first baseman Matt Olson to the defending champion Atlanta Braves (analysis of the Braves' side of the deal, courtesy of Dan Szymborski, can be found here) for a sizable package of prospects, including two from baseball's Top 100. Coming back to Oakland is catcher Shea Langeliers, center fielder Cristian Pache, power-armed relief prospect Ryan Cusick, and polished teenage righty Joey Estes. All four new A's prospects have been added to the team's prospect list, both in the article and over on The Board.
In our opinion, the best of that group is 24-year-old Shea Langeliers. Ranking 70th overall and eighth among the catching prospects on our recently published Top 100, Langeliers combines plus or better defense with a power-over-hit game when he's at the plate as opposed to behind it. His raw power blossomed into game power during the 2021 season, and while Langeliers isn't an especially instinctual hitter (he projects as a sub-50 bat with contact issues), he has the potential to deliver 20-plus home runs per year. He has Gold Glove potential, with great hands and mobility to go with a strong, accurate arm that shuts down the running game. He also earns raves for his catching intangibles in terms of managing the game and working with pitchers. Theoretically, he's lined up to start the year at Triple-A, be added to the 40-man after the season, and debut in 2023. His future in Oakland is tied closely and directly to that of incumbent star Sean Murphy, who reaches his first year of arbitration in 2023. We think Langeliers' presence makes it more likely that Murphy is traded in the next 18 months.
The other Top 100 prospect Oakland acquired is center fielder Cristian Pache, who was once considered one of the 20 best prospects in baseball. In fact, there were scouts who came away from the 2018 Fall League preferring him to a young (and, at that time, very out of shape) Vladimir Guerrero Jr. Pache rolled that into his 2019 peak, which saw him hit .278/.340/.474 as a 20-year-old at Double-A Mississippi. But in subsequent seasons, Pache struggled to crack the Braves' outfield even amid their many injuries, and the club prioritized giving at-bats to Abraham Almonte, Guillermo Heredia, and other players acquired via trade.
Pache has struggled to make contact in limited big league time and hit just .265/.330/.414 at Triple-A in 2021. He was still just a 22-year-old, and that line was on par with the Triple-A average. Additionally, Pache's swinging strike rate came down from his concerning 2019 levels; he had a 17% swinging strike rate then (if we 20-80'd swinging strike rates, that would be a 30) versus 13% in 2021, just a little worse than the big league average. There were times last season when it appeared that Pache had made a swing change, with an emphasis on getting his front foot down earlier, but it isn't consistent on tape. His walk rates have been near the bottom of the scale for many years now, but Pache's chase rates, per Synergy Sports, were also close to the big league average while he was at Triple-A.
Of course, we're burying the lede here. Recall that Pache's carrying tool is some of the best center field defense on the planet. Even though he sometimes appears to be in middling physical condition, his reads and lines in center are virtuosic, and as soon as he gets regular time there, he'll be a Gold Glove contender. It is going to be loads of fun watching him patrol Oakland's cavernous outfield. He has the raw power to pull out 20 annual homers, and if he can do that toward the end of his pre-free agency years, he'll be an above-average regular, but we anticipate he'll be a glove-only, nine-hole hitter at the start. He'll likely get an immediate big league opportunity in Oakland, especially with Ramón Laureano suspended to start the season.
The other two prospects coming back, righties Ryan Cusick and Joey Estes, are a little further away in all likelihood. Coming out of the pitching factory that is Wake Forest, Cusick had some of the best stuff in the 2021 draft, but also had severe issues with walks. He walked nearly a batter per inning in the shortened 2020 season and one every other inning in '21, meaning he not only had severe relief risk but overwhelming relief probability.
Even in a bullpen-only role, though, Cusick could move through the minors like a hot knife through butter because his stuff is so good. He'll touch 101 mph and had a comfortably plus breaking ball in college, its quality only wavering when it wasn't located well. You'd see an occasional changeup and slider, but Cusick often wouldn't get himself into favorable counts where he could deploy those pitches. After the Braves drafted him, Cusick made six starts ranging from two to four innings in length. He was totally dominant and struck out 34 hitters in just 16 total innings, albeit at Low-A where all but a few hitters had no chance against his fastball. The notable change during Cusick's post-draft run was the huge uptick in the velocity of his breaking ball. It averaged just 81 mph before the draft, but sat 87 afterward, so Braves player dev likely implemented some kind of change there, though probably just to Cusick's mentality rather than a grip overhaul. He really only utilized the fastball and slider post-draft. Cusick's body, delivery, and command have us projecting him in a high-leverage relief role.
In Estes, Oakland acquired one of the Braves' breakout players from the 2021 campaign. A 16th-round pick in 2019 out of a California high school, Estes signed for a bonus of just under $500,000, and that investment looks to have paid off handsomely after he put up a 32% strikeout rate in his full season debut. Estes doesn't blow you away with his stuff, but all three of his offerings are average to a tick above. His fastball was up and down much of the season, as he sat in the low-90s in some outings and was more 93-95 mph at his best. His low-80s slider ranges from fringy to plus, as he'll show occasional ability to put big sweep on the pitch, while his changeup is a bit firm but features good tumble. The three-pitch mix is made all the more effective by unpredictable sequencing and command of the entire arsenal that is well advanced for a pitching prospect who doesn't turn 21 until October. Estes has a back-end starter ceiling, and only injury should prevent him from reaching that mark.
We've officially entered the firehose portion of Oakland's anticipated rebuild, as they've added six relevant prospects in the last couple of days and seem poised to continue to add more in short order if they move Sean Manaea, Frankie Montas, and perhaps Matt Chapman. It might make sense to retain Chapman to start the season and give him an opportunity to outperform his 2020-21 stats, increasing his potential trade return.
While our mathematically-derived farm system rankings won't go live until all of the prospect lists are done, rough use of Craig Edwards' methodology indicates that Oakland has moved from being near the very bottom of our rankings at the end of the 2021 season to being in the bottom of the middle third of teams, close to where the Cardinals were at the end of year. They likely won't crack open another prospect piñata quite as large as the Olson trade, but Montas (two years of control left, an estimated $5.2 million salary in arbitration) will likely fetch a better return than Bassitt (one year, estimated $8.8 million salary in arb) did, while a potential Manaea return (one year, estimated $10.2 million salary in arb) should be about the same. While the error bars around a Chapman trade are bigger because his performance has been mixed for the last two seasons, Oakland's system will likely be in the very middle of the pack within the next few months.
The A's seems to have a penchant for adding near-ready prospects via trade. That may be because they have more info on those players and feel better about what the hit rate on those prospects will be, which would make sense because the intense budgetary restrictions put on the front office by the team's ownership gives them less margin for error around prospects. That the A's seem intent on rebuilding this way likely means they'll return to respectability, if not contention, pretty quickly relative to teams like Baltimore and Pittsburg, which have tended to target prospects who are further away from the big leagues.