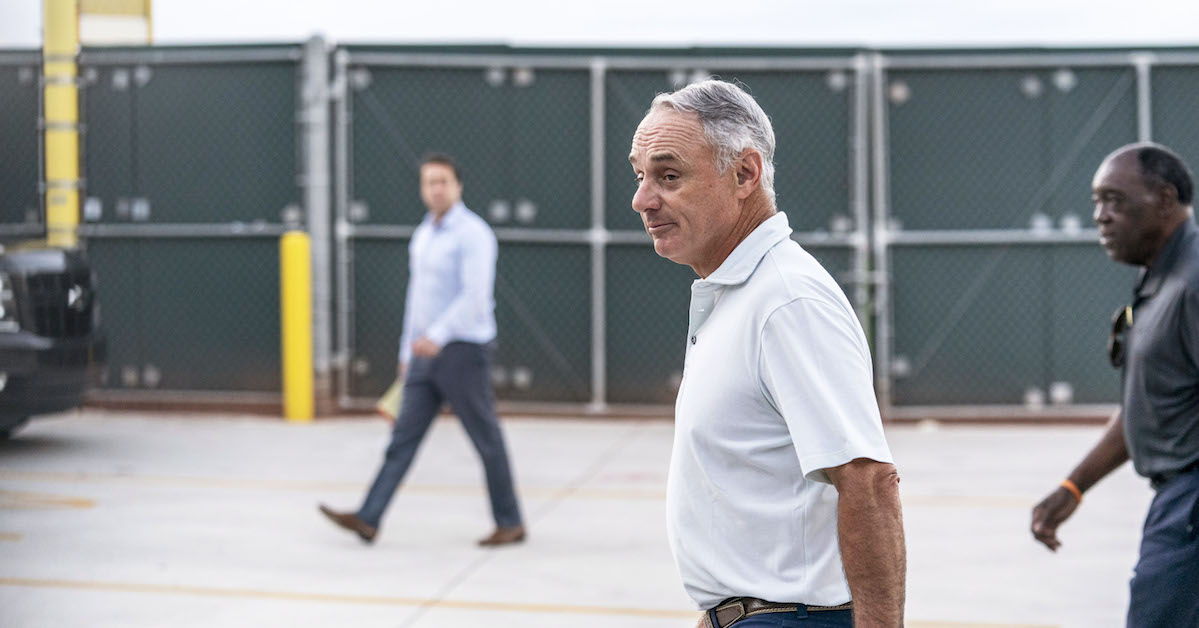 On the day that commissioner Rob Manfred set as a deadline for the completion of a new collective bargaining agreement that would end the owners' self-imposed lockout and keep a March 31 Opening Day on schedule, no deal was reached. For the eighth consecutive day of negotiations, representatives for the owners and the players' union met at Jupiter, Florida's Roger Dean Stadium, going back and forth so many times over the course of 16 1/2 hours that the calculations of steps traveled strained FanGraphs' servers, to say nothing of the brains of the handful of reporters staked out outside the gates. Enough progress towards a deal was made before the two sides broke for the night at 2:30 AM ET that Manfred agreed to extend the artificially-imposed deadline to 5 PM ET on Tuesday.
While nothing has been finalized, the reports of where the key components are heading do not paint a particularly pretty picture for the players' side. After a decade in which they have largely been shut out of massive revenue growth, with new television deals falling into place, they appear to be improving the lot of their rank and file — no small matter in an industry where 47% of all service time went to players making the minimum salary — but while achieving only modest gains in areas where they initially sought more radical change.
Based upon the drips and drabs that have emerged from various reports, the battle to expand the postseason has loomed large, with MLB presenting alternative proposals based on whether it's 14 teams (their preference) or 12 (the union's preference).
Sources: Deal not close, but not impossible. CBT thresholds, prearb pool big issues, among others. MLB has proposed two choices:

A: 14-team expanded postseason, minimum of ~$700k, ~40m into prearb pool

B: 12-team expanded postseason, ~$675k minimum, ~$20m into prearb pool

— Evan Drellich (@EvanDrellich) March 1, 2022
The 12-team format appears to be the route this deal will take, though according to the New York Post's Andrew Marchand, the gap between the two formats amounts to only a $15 million difference in what ESPN is offering ($100 million for a 14-team format, $85 million for a 12-team one). Whether the "ghost win" concept — giving the division-winning team that does not receive a first-round bye a one-game-to-none advantage in a best-of-five series — survives is unclear at this writing.
As of Tuesday morning, MLB's latest proposals have been reported by USA Today's Bob Nightengale and The Athletic's Evan Drellich, without parallel reporting of the union's counter proposals or full details of the five years covered by the new CBA. All of these figures should be regarded as fluid, and where the numbers end up will be the subject of continued negotiations. What the owners have offered is a minimum salary that starts at $675,000 for 2022 (up from $570,500 in 2021, a 17.4% gain relative to the year before and a 26.2% gain relative to 2017, the first year of the last CBA) and climbs by $10,000 per year; a pre-arbitration bonus pool of $25 million (the players were seeking $115 million as of last week); and a Competitive Balance Tax with thresholds that run from $220 million in 2022 (a gain of 2.8% relative to last year) to $230 million in '26 (a gain of just 4.5% over the ensuing four years, and 7.5% over 2021) and marginal tax rates in line with the previous CBA (20% on the first $20 million over the threshold, 32% on the next $20 million, and 62.5% on anything above $40 million). Neither side had proposed a repeater penalty in previous negotiations, so that may have fallen by the wayside, and likewise, it's not clear whether the league's current proposal includes draft-pick penalties; the players' proposals have not included them, but the owners' recent proposals included a second-round pick lost by teams that go over by $20 million to $40 million and a first-round pick by those over by $40 million or more.
Via Drellich, the union is willing to drop its proposal to expand the Super Two framework beyond 22% of those with between two and three years of service time "if [the] rest of [the] numbers work out." They had sought a full expansion and were at 75% last week, dropping to 35% over the weekend. The union hasn't fully given up on revenue-sharing changes, despite the owner's unwillingness to bargain on that issue. The two sides had agreed to some kind of draft lottery as an anti-tanking measure, with Drellich reporting on Tuesday that MLB has proposed including the top five picks, though no further details of the structure of either side's latest proposals have been detailed (ESPN's Jeff Passan previously outlined a plan from the players as of last Thursday that accounted for market size and revenue-sharing status). At last report, the owners had agreed to grant a full year of service time to players who finish first or second in their league's Rookie of the Year voting, as long as they are among the top 100 prospects and did not spend the full season on the big league roster. Drellich reported on Tuesday morning that the league still wants an international draft, and that it's willing to drop draft-pick compensation on free agents — both significant compromises, which isn't to say that they're equal ones.
All of these details still need to be ironed out, and it seems likely that the union will continue to push for higher tax thresholds (their last reported proposal used $245 million as their 2022 baseline) and a higher minimum salary (their last reported proposal started at $775,000) as the other components fall into place. Particularly given how central the CBT has been to their proposals, such meager gains on that front would be tough to swallow. What happens if there's no deal at 5 PM isn't clear, but any attempt to reduce the number of games below 162 and thus salaries, service time, and bonuses would be subject to collective bargaining, opening a can of worms that would probably throw everything that's been accomplished (such as it is) back into question. It's worth remembering that when the owners locked the players out of spring training for 32 days in 1990, the resulting settlement included an Opening Day pushed back by a week, a season end date extended by three days, and all but two of the 26 teams playing 162 games. There's at least some optimism that we will see a full season of baseball, but when it's all said and done, we may well wonder why there was so much fuss and so little gained — and that's probably a major win for the owners.