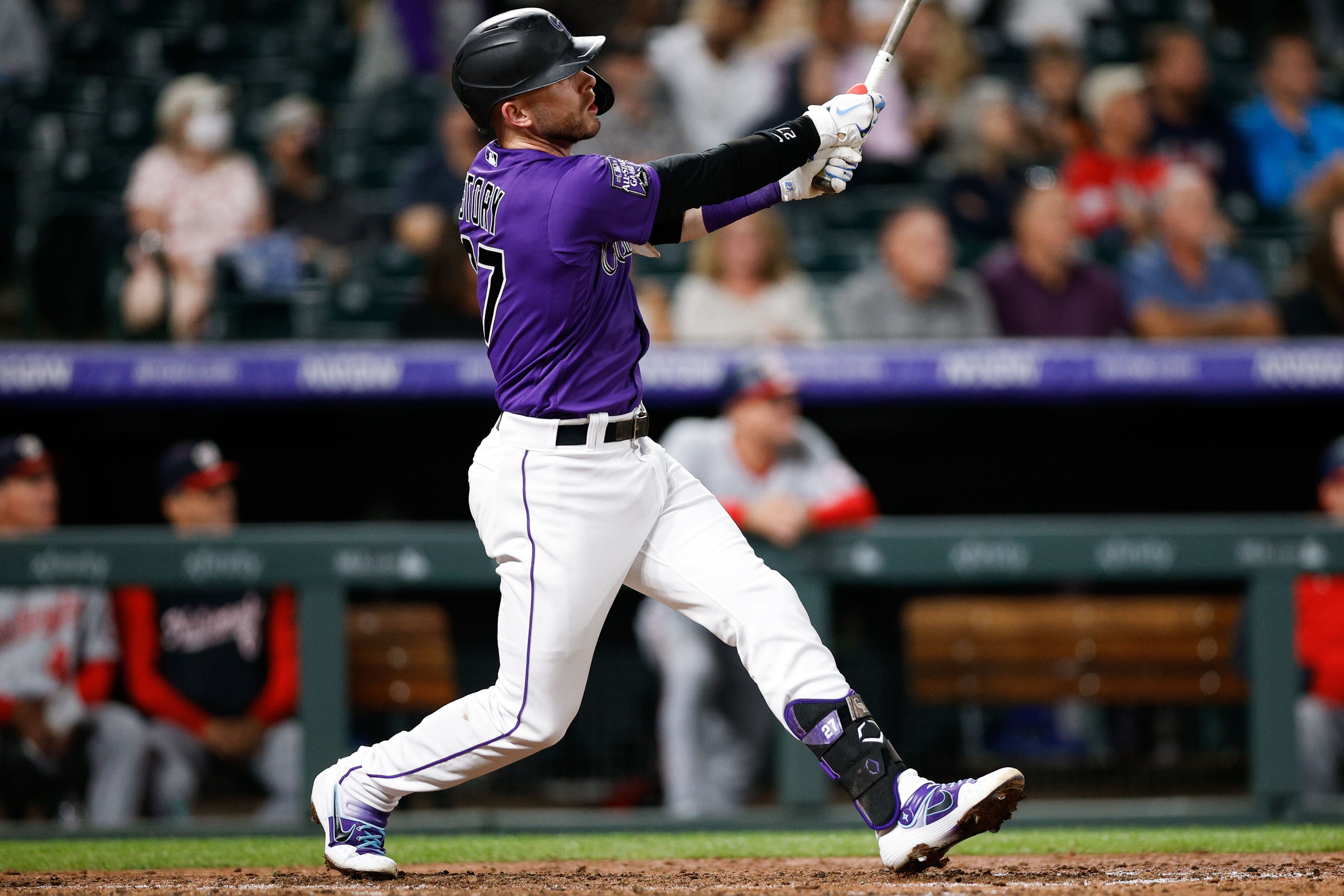 If you're just joining us, here are the previous ranks for first base, third base, catcher, and outfielders. We'll get right back to our regularly scheduled programming of shortstop rankings and all the tiers you're totally used to but first, a public service announcement.
There are many ways to improve your fantasy play, whether through strategy or player analysis but there are two (relatively) simple things that any player can do to dramatically up their game. They may not guarantee a championship but they will set you up for success by greatly raising your fantasy floor and helping shed any draft-day stress. And in your average home league with a normal distribution of fantasy expertise, this floor will often put you leaps and bounds ahead of the competition.
1. Turn Numbers Into Dollars
That is, you need to turn five numbers (or however many categories you're playing) into one number, regardless of whether it's an auction draft. You can use the FanGraphs auction calculator, SGP from JZ's own, "The Process", or one of the other myriad of popular options that the internet has to offer. Dealer's choice. But pick one, even if you're not totally sold on the idea of relying heavily on projections, as the value of those dollar figures isn't just the individual numbers that go into making them.
Each category you play is a different force that pushes and pulls on a player's overall fantasy worth. Creating a dollar value is the best way to see a summation of the tolls and boons that each one bears, taking you beyond the generalities of just approximating how many categories a player will contribute in. You can guesstimate how much "insert player that does one thing really poorly" will drag down his overall contribution to your team but I'd rather know more exactly – and make it straight cash, homey.
2. Track Your Categories
You've made it rain from number one but you can't just auto-draft the highest number on the board and expect a season full of rainbows. Well, I mean, against average competition, this will often still get you a good way down the road but a more focused approach will return larger dividends. There are many ways to do this but since I track my own stuff, I can't really recommend one. But the internet should again be helpful.
Projected standings are fun but also mostly pointless. What you really need to know is where you stand on totals and per-player averages, using them as guidestones to better direct your draft by comparing them to targets that have been historically successful. Once again, this doesn't require you to go whole-hog on trusting the projections – it's about best understanding the general outlook of your team's makeup prior to making each pick, as to not unknowingly get too heavy or light in particular categories. You can again guesstimate where you're at (I'm good on power, light on average, etc) but you're a lot smarter than me if you can get deep into drafts and still have a relatively accurate idea of where you're at in 10 different categories, some of which will be ratios that also need to account for total PA/IP.
A fantasy baseball team is a puzzle, with the whole mattering more than the parts. The pieces are made of each player's different categorical contributions and the puzzle has an infinite number of solutions. How you solve it doesn't matter, only that you do. And doing the two things above can better help you see all of the paths to success that exist.
Or, maybe this has all just been one long preamble for rationalizing Nicky Lopez.
Nicklaus Gaut's 2022 Shortstop Ranks + Projections
And how about mixing in a little color to add some context to the top-40?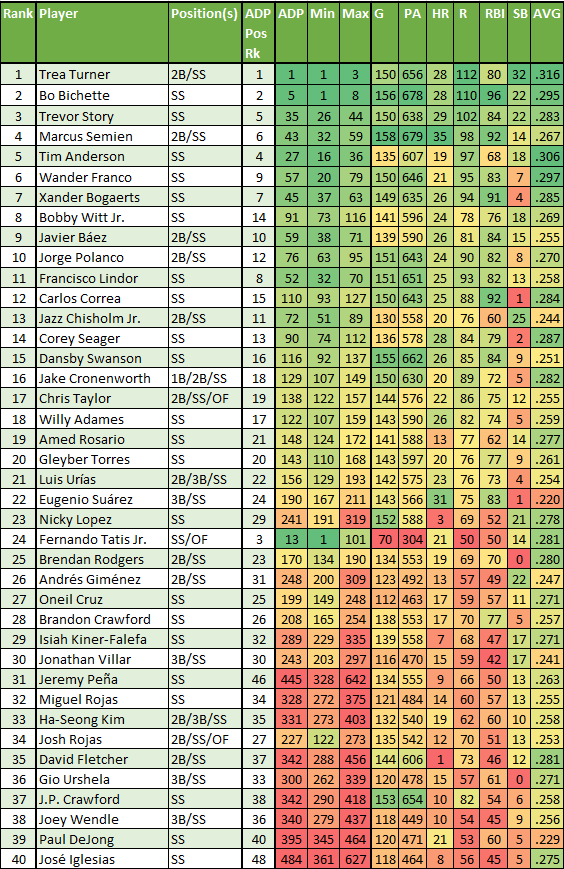 Tier: They  Call Me Anti-Fudd
Nicky Lopez, SS 23: 588 PA, .278 AVG, 21 SB
Isiah Kiner-Falefa, SS 29: 558 PA, .271 AVG, 17 SB
Miguel Rojas, SS 31: 555 PA, .277 AVG, 13 SB
David Fletcher, SS 35: 606 PA, .281 AVG, 12 SB
Homers, smhomers – I'm drafting sums, not parts, and hunting rabbits to keep, not eat, filling my belly with PAs, BAs, and some of those sweet, sweet steals. Turning stats into dollars will tell you the whole truth about a player's expected profile and tracking your categories will give you the confidence of knowing what sort of hits your team totals can take. And keep in mind where these players are being drafted. That late in drafts you should have an excellent idea of your team's categorical composition if you've been keeping track, and can quickly determine whether or not these are some of the puzzle pieces that can fit.
For example, last month I was in a 15-team draft-and-hold on NFBC and the competition was far from light, filled with high-volume NFBC grinders and a few of the names from the fantasy world that you know and love. AKA Shark tank. My first three hitters were Rafael Devers, Shohei Ohtani, and Aaron Judge, overloading me with early power and giving me a decent average with at least a start on speed. With that cushion, I wasn't exactly worried when I took Wander Franco, and when I got around to taking Joey Gallo, batting average also wasn't a concern.
Heading into the 15th-round, I was tracking well above my targets (I used the 80th percentiles from 2021's Draft Champions results, courtesy of Broc Miller on ($)FTN) in four categories but was only keeping pace in stolen bases. Knowing where I was at on everything and understanding the total value of our sweet rabbits, taking Nicky Lopez at #221 was a no-brainer. Particularly since I'd considered taking him 22 picks earlier but definately couldn't resist the siren's song of my guy, Patrick Sandoval.
I finished the draft with one no-power "bust" (Franco), an untenable batting average sink (Gallo), and two "one-dimensional rabbits" (Lopez and the always-divisive, Myles Straw). And yet, this rag-tag group of puzzle pieces left me with an offense that projected above all of my targets, both on totals and averages (and according to an aggregate of other projections, not my own). Hell, even the mysterious draft grades provided on NFBC gave me an A-, with strengths in HR, R, RBI – though you should take those with the biggest grain of salt.
Use dollar-based values. Track your categories. Draft without fear.
I've already written plenty about Lopez but my darling Nicky will still happily be your fantasy prince. And it all starts with the playing time because while he'll likely bat low in the order, due to the rapid ascension of Bobby Witt Jr., Lopez (and that ultra-slick glove) is going to play almost every day, barring an absolute offensive crash. And even then, the pine is no guarantee given the quality of his defense.
If Isiah Kiner-Falefa stays the Yankees everyday shortstop (and he should, given his elite defense and New York's dearth of options), he'll provide some of the best value available at this range of drafting. Good average and speed, with a run total that could be sneaky-high even from the bottom of the order, as the Yankees lineup will roll over to some combination of Anthony Rizzo, Aaron Judge, D.J. LeMahieu, etc. His discount is fading post-trade but it's still there. And hey, at Yankees Stadium maybe he can even break double-digits on home runs.
David Fletcher is the sweetest of all the furry creatures, hitting just two home runs in 2021, with a 0.0% Brl%. And no, that's not rounded down, it's a flat zero – as in, David Fletcher hit zero barrels in 2021 and only has three for his career. I think we can safely say that the power has stopped growing.
But what Fletcher does is make contact, with a 91.3% Contact% and 94.3% Zone Contact% for his career, and it looks like he'll get a chance to bounce back from a career-low .297 OBP in 2021, after a .376 OBP in 2020, and a .350 OBP in 2019. And if he does, Fletcher's average and speed could be buoyed with a higher run total than you might expect from the bottom order as he'll be followed by Shohei Ohtani and Mike Trout.
Tier: So We're Really Going to Say With a Straight Face That Wander Franco Has a Limited Fantasy Ceiling?
From the makers of "Vladimir Guerrero's lack of stolen bases makes it hard to build a balanced team after drafting him" comes "Wander Franco won't be a fantasy star because of his "limited" power". Really, people, this is what we're doing?
I get not going out of your way to target Franco, perhaps preferring other shortstops in this range (say Tim Anderson for more steals or Xander Bogaerts for more power), or just not wanting to burn an early pick on a deep position. But poo-pooing the future fantasy value of Franco, who (as of March 1st) only recently became able to legally drink alcohol in the U.S, seems a bit silly. My dude could run a .320 AVG with 110 Runs this season and no one would be that surprised. I'm more than happy to use him to build the good AVG/R base that I  love to solidify early in drafts in order to buy more flexibility later.
Tier: I Finally Exhaled Once Carlos Correa Signed With Minnesota
No, not because Minnesota's lineup is an excellent landing spot for Correa; rather that all of the Jeremy Peña's that I've been hoarding all season finally seemed to be on firmer ground.
The 24-year-old Peña has basically crushed every level of the minors, putting up a five-category profile with a plus-glove that is more than major-league ready. When a perennial contender (and one of the most analytically advanced teams in baseball) is comfortable with letting their homegrown star walk/willing to turn the job over to a rookie, we should probably pay attention.
Tier: Too Bad Oneil Cruz Didn't Spend the Lockout "Working on His Defense"
Because now it's apparently going to again be Kevin Newman-time (he of the back-to-back 54 wRC+ seasons), instead of getting to see a 6-ft-7 shortstop hit 200-mph missiles on the reg. You know, it almost seems like the supposed incentives to not manipulate service time will only be effective in very limited cases and really won't make a ton of difference in the big picture of ownership shenanigans. Huh.
Regardless, I'm a big fan of Cruz, and even at just 112 games, I have him producing enough to be worth near his current draft price. He's going to make a great Yankee someday.
Tier: You're Either In a Really Deep League or Your Draft Has Gone Horribly, Horribly Wrong
Basically everyone after the Sheriff of CompilerTown, J.P. Crawford
Unless you're using them as emergency seat-fillers in a deep draft-and-hold league, these final 18 should hold limited interest for a majority of players. Sure, maybe Tyler Wade gets a full-time role and steals 30+ SB, or José Iglesias goes bonkers at Coors, but those are some long darts.
Or, maybe Gavin Lux will go full-Harding on Max Muncy's UCL, getting a starting job and warming the hearts of his stans o'er the world, spinning fantasy gold in the process. Lux, after all, has slashed .233/.314/.368 over three years and 532 PA in the majors, with 12 HR and 7 SB, while the Dodgers have seemingly gone out of their way at every turn to ensure that he doesn't have a path to starting for them.
You know, when I say that out loud, it actually doesn't sound very positive.