Ahh, an April tradition like no other. With real baseball just scant hours away, it's time to fulfill the obligation that every good tout must provide for our loyal constituency.
Let's get weird.
Yasmani Grandal Finishes as the #1 Catcher in Fantasy
Before we get to Grandal's possible path to number one, my larger point is that he should be getting a lot more respect instead of being firmly entrenched in the fantasy zeitgeist as a large downgrade from Salvador Perez, J.T. Realmuto, and Will Smith. Because even without getting into best-case scenarios, I have Grandal projected for a line that puts his total value less than 10% behind Realmuto and Smith in 15-team two-catcher leagues, and ~15% in 12-team one-catcher leagues:
134 G: 543 PA – 29 HR – 79 R – 82 RBI – 1 SB – .243 AVG
Had he qualified, Grandal's 22.3% BB% would've led all of baseball in 2021 but wasn't just some mega walker, hitting 23 HR in just 375 PA, equal to .061 HR per PA, a new career-high rate for the catcher on the Southside. That topped the .041 HR/PA from 2020, and .044 HR per PA that he put up during the happy-fun ball days of 2019 when he hit a career-best 28 HR. And the rate of his power stayed strong the entire season, increasing from .057 HR/PA in the first half to .070 HR/PA in the second half, even after missing most of July/August with a knee injury.
This power increase was no fluke, as Grandal backed it up with significant gains in key exit-velocity metrics. His 13.3% Brl% (tied with Juan Soto, Austin Riley, and Manny Machado) was a career-high, as was a 98.3 mph Air% average EV that was the 9th-highest in baseball (min 200 BBE), and a 49.0% Air% (100+ mph) that was in the top-5%. Hitting the ball that hard in the air at Guaranteed Rate Field is generally a good idea and 30 HR isn't too lofty of a goal if he keeps it up in 2022.
Besides believing in the power, Grandal will give you a batting average that won't hurt you (relative to the position) and is fairly consistent. And while he might only be penciled in to bat sixth, the top half of the White Sox lineup looks electric and I'm also not sold on Yoán Moncada bouncing back and keeping his cushy spot all season. But whether batting fifth or sixth, Grandal should have plenty of ducks on the pond by being preceded in the order by Eloy Jiménez, José Abreu, Luis Robert, and Tim Anderson.
He'll need the power to continue and the White Sox offense to be superb in order to beat out the incumbent top guy, Salvador Perez. But if it does – and Perez doesn't again put up the videogame numbers he did last season – Grandal could be our new titleholder behind the plate.
Jordan Romano Finishes as the #1 RP in Fantasy
To finish at the top of the RP mountain, you're going to need a few ingredients, all of which aren't necessarily in a reliever's control.
1. Skills
2. Whiffs
3. Opportunity
There are paths to the top without blowing away the first two but you better pile on number three, as you'll need a huge bucket of saves to pull up the value of someone with shaky ratios or a low-K game.
Looking at the top-20 RP values on the Razzball player rater since 2017, the highest ratios were a 2.76 ERA (Will Smith, 34 SV, 2019) and 1.16 WHIP (Corey Knebel, 39 SV, 2017) – and that WHIP was an outlier, as the 2nd-highest was a 1.04 WHIP from Kenley Jansen in 2021. The lowest whiffery belonged to Alex Colomé (12 SV in the 60 game season), posting a 6.5 K/9 in 2020. Again, that was quite the outlier, though, as the second-lowest over that period was an 11.2 K/9 from Blake Treinen in 2018, and Kenley Jansen in 2021, each of whom finished with 38 SV.
Jordan Romano, however, has all three of the ingredients needed to cook up some five-star reliever value. He posted a 2.14 ERA and 1.05 WHIP over 63 IP in 2021, with a 33.6% K% and 12.1 K/9, after running a 1.23 ERA, 0.89 WHIP, 36.8% K%, and 12.9 K/9 over 14.2 IP in 2020. If you're not keeping track at home, that's a 1.97 ERA, 1.02 WHIP, 34.2% K%, and 12.3 K/9 over his last 77.2 IP, attacking batters with a classic reliever mix of a high-90s heater and high-80s slider, both of which get elite movement on the vertical plane.
Toronto has other strong relievers in their bullpen but the job is Romano's to run with and the leash should be long, giving him a hold on the first aspect of opportunity, that is, actually having the job. But while lots of guys will have a closing gig, not all will have one on a championship contender with an offense that is loaded for bear, and as such, Romano getting 40+ saves chances is certainly on the table.
The biggest obstacle to reaching the top, though, might be out of his hands, as Liam Hendriks and Josh Hader currently reside in their own god-level tier, and they'd likely need to come back to the pack some in order for Romano to keep moving on up to that deluxe ranking in the sky. But hey, at least he's kind of on the east side of Canada, so maybe there's a chance.
Aaron Nola Doesn't Crack the Top-30 of Starting Pitchers
In another timeline, Aaron Nola makes my bold predictions at the opposite end of the excellence spectrum, banking on the gods of baseball luck looking favorable upon his busted 4.63 ERA in 2021, as it had a 3.37 FIP, 3.37 xFIP, and 3.26 SIERA behind it. In that alternate branch, Nola would again run around a 30% K%, keep his walk-rate slashed to the 5.2% BB% he had last season, and would easily crack double-digit wins after being backed by a much improved Phillies bullpen and powerful offense. Alterna-Nicklaus would look at all this and see a starting pitcher with a very high floor and enough upside to crack the top-five in fantasy value.
Unfortunately, that is not our verse and our Aaron Nola will instead have to survive pitching in the FPEU of Earth.-17. And in this frying pan extended universe, the Phillies have thrown their gloves and defense to the wind, opting to instead win by seeing how many home runs they can crank out of Philadelphia's resident bandbox. But while bringing in sluggers Nick Castellanos and Kyle Schwarber to join Bryce Harper, J.T. Realmuto, and Rhys Hoskins could certainly help accomplish that goal, those clangs you hear won't be coming from the Liberty Bell – they'll be the sound of balls hitting pans.
Philadelphia's best defender can only do so much from behind the plate, Jean Segura and Rhys Hoskins are passable, and while Bryce Harper is certainly above average, he's also coming off a 2021 season where he posted a -6 Outs Above Average to go with his  2.0 UZR/150. And then there is the rest. Nick Castellanos (2021: -7 OAA, -1.5 UZR/150) and Kyle Schwarber (2021: -6 OAA, -6.3 UZR/150 as an outfielder) can't both DH every, unproven youth will be manning the left side of the infield and center field, while Didi Gregorius (2021: -18 OAA, -3.3 UZR/150) will be a straight liability any time he makes it on the field. Clang-Clang-Clang.
There are a lot of worlds where the high-strikeout ways help Nola mitigate some of the above issues by simply not letting the ball get in the field of play. But color me more worried about pitching with a poor defense behind you and in a home park where cans of corn can look like a moonshot. And not for nothing but Nola's 29.8% K% in 2021 was backed by a 12.8% SwStr% that was down a point from 2020, dropping from 13.2% in the first half to 12.3% in the second half. I'm still bullish on the strikeouts and don't see a big drop coming, as the stuff hasn't changed. But Nola is going to need every last whiff that he can get because every swing that connects will give the ball a possible future of getting kicked around like it's on an episode of the Three Stooges.
This Starting Five All Finish as Top-40 SPs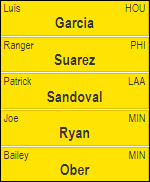 That's right, all! Because while the above might look a little yellow now, in six months they're all going to be gold, Jerry! Gold, I tell ya.
While I haven't crunched the numbers, I suspect that at least two of the above pitchers are on every team I've drafted this season but happened to get all five on this one, a 12-teamer on NFBC, with the added serendipity (for graphic purposes) of going back-to-back-to-back-back-back. Were they my first five pitchers taken? No, that's crazy talk – they were pitchers five through nine after I started with Dylan Cease/Justin Verlander and Josh Hader/Tyler Rogers. But that is similar to how a lot of my drafts flowed, at least with starters, getting one or two early guys and then hammering away at my guys from ADP 130-200ish, sweeping up as many as my team build could afford to.
As I've already spent a fair amount of time writing about these soon-to-be golden five, here and elsewhere, let's instead take it to the lightning round. But please, if there is someone else you'd like to see covered, just drop their name in the comments and Alex Chamberlain will get to it later*.
*I'm just kidding, please don't do that. Unless it's about Nestor Cortes Jr., Zach Thompson, or Reiver Sanmartin, in which case you can just subscribe to my NickStack and I'll send you way-too-long emails expressing the deep love I have in my heart for them.
Bailey Ober: He might have the lowest ceiling of the five but also the most affordable price, going well after a 200 ADP in most drafts. And that "low" ceiling label is really only because of the relative love I have for the other gentleman lovers on this list.
And putting hypothetical ceilings aside, Ober's skillset and team situation seems to give him a really high floor. A solid four-pitch mix with a fastball with specs that don't scream premium but was effective when paired with three really strong secondaries, all of which can generate lots of whiffs. But certainly don't poo-poo the four-seamer, as it finished with a 12.6% SwStr%, rising from 9.7% in the first half to 14.7% in the second half. And while his slider dropped from a 14.5% SwStr% to a 12.7% SwStr%, both his changeup (6.0% to 14.8%) and curveball (8.5% to 14.1%) took significant whiffs forward post-break.
But besides having a well-rounded pitch mix that can get him deeper in games, Ober's circumstances should set him up to get plenty of those "lucky" wins we're always fretting about in fantasy. The Twins have a powerful offense on paper after unexpectedly shifting into win-now mode for 2022, with a very talented bullpen that should be more than capable of locking down leads. Uncle Jeff might be the president of this Ober-natics fan club but damn it, he better at least give me treasurer.
Joe Ryan: You can go ahead and slap a big 'ol ditto on a lot of what we covered with Ober but the former Tampa Bay Ray seems to have a much higher strikeout ceiling after putting up a 30.0% K% over 26 IP in his first taste of big-league action after making batters look foolish at every other stop of his professional career:
Joe Ryan 2018-2021
| Season | Team | Level | G | IP | K% | SwStr% |
| --- | --- | --- | --- | --- | --- | --- |
| 2018 | TBR | A- | 12 | 36.1 | 34.7% | 13.7% |
| 2019 | TBR | A | 6 | 27.2 | 40.9% | 18.2% |
| 2019 | TBR | A+ | 15 | 82.2 | 35.9% | 16.0% |
| 2019 | TBR | AA | 3 | 13.1 | 44.4% | 18.3% |
| 2021 | TBR | AAA | 12 | 57 | 34.9% | 15.6% |
| 2021 | MIN | AAA | 2 | 9 | 50.0% | 14.9% |
| 2021 | MIN | MLB | 5 | 26.2 | 30.0% | 11.9% |
Some guys just get strikeouts and it seems clear that Ryan is one of those dudes. Oh, and did I mention that he showed up to spring with an extra tick of oomph on his fastball?  Well, he did.
Luis Garcia: You say seam, I say shifted. Seam! Shifted! Because Garcia waked and baked in 2021, with his seam-shifted cutter putting on a crown from whiffingham palace and driving his strikeout success in 2021. How much success, you ask? The prime whiffery of Garcia's cutter made even Corbin Burnes' vaunted cutter seem mediocre by comparison, finishing with a 23.4% SwStr% that was nearly seven points higher than Burnes's paltry 16.8% SwStr% sitting all the way back in second place. But honestly, I just hope you click on the above link so more people can read the thing that probably amused me as much as anything I've ever written. But to be fair, I am my comedic target audience, so that isn't exactly an unbiased opinion.
Patrick Sandoval: Another one of my seam-shifted darlings, Sandoval fine-tuned his pitch mix in 2021, posting a career-high 25.9% K% but more importantly, that new fancy K-rate came with an impressive 15.2% SwStr% which, if qualified, would've been right behind the 15.3% SwStr% posted by Lucas Giolito and Kevin Gausman – AKA top-five among starting pitchers. And yes, yes, I understand that the Angels are rolling with like a 12-man rotation (or six, probably) but do you understand that José Suarez, Michael Lorenzen, and the ghost of Noah Syndergaard are three of those pitchers? Call me not worried about how many starts Sandoval will make if he's pitching as advertised.
And then there is my sweet, sweet Ranger, who certainly deserves to have a more targeted prediction all to himself:
Ranger Suárez Finishes as a Top-Five Starting Pitcher in Fantasy
No, Actually Ranger Suárez Finishes as the Top Starting Pitcher in Fantasy and Wins the NL Cy Young
No, Actually Ranger Suárez Finishes a Hall of Fame Career Before He and I Move to Oregon to Open Up a Small-Batch Craft Cheese Boutique/Roller-Rama
I really like Ranger Suárez. Like, a lot. No seriously, like a lot, a lot.
But Nicklaus isn't that love tempered by Ranger existing in the same FPEU that you said could doom Aaron Nola?
Well, first off, how dare you bring logic and continuity into this hallowed bold and safe space? And B, our love is so strong that it'll treat those frying pans just like the Power Team did in countless high school auditoriums while blasting the latest in Petra mixtapes.
And thirdly, at least I'm not the only one:
Did Bill James and I just become best friends? pic.twitter.com/GnFCwoxkBF

— Nicklaus Gaut (@Nt_BurtReynolds) March 22, 2022
But in all seriousness, Bill, only 10th? If you ever truly expect to make it in Oregon as a full-fledged cheesemonger and join me and Ranger in this fromage à trois, you're really going to need to step up your convictions.
I'm totally kidding…Wanna karate chop some pumpkins with me later?