Draft season is getting in full swing so let's start going around the field. Below are the first run of my first base rankings, split into tiers and including my projections for the classic categories. But also, let's be real; we barely know each other and I doubt you'll be blindly trusting my numbers. However, they form the basis of the dollar values that I base my ranks on, so I might as well include them.
Given a (proper) level of projection hesitancy, I'll also be comparing my numbers to some of the reputable projection systems that you know and love, in spots where our gaps of disagreement are larger.  Not as a critique of them, mind you, but just to add context. But really, I think this is just the most efficient way to give everyone plenty of ammunition to roast me with later.
Without further ado, here are my top-28 1B for 2022.
*ADP taken from NFBC drafts over the last two weeks (n=25)
Nicklaus Gaut's 1B Ranks + Projections
Tier One-A
Since I'm physically unable to call Freddie Freeman a "Tier-2" player,  we have to put Vladito in his own god-level tier. My projections are more bullish for the raw numbers than other projections but the real difference is the PAs, as I'm calling for ~30 more. And considering that the biggest drivers of plate appearances are lineup spot and team offense, why not? Guerrero will still be batting third and the Blue Jays will still have a great offense, so I don't expect his plate appearances to take a significant dip.
Given health, I don't see any reason that Guerrero doesn't again reach 680+ PA – and that means production that'll look a lot like what we saw in 2021. And while he doesn't come with the speed that other choices at the top of the draft come with, I think those that he "falls" to, will be just fine.
Tier One-B
He may not be as sexy as Vlad but Freddie Freeman is still a Tier-1 player – and considering his metronomic levels of production, he's simply going way too late in 2022 drafts. It again looks like I'm heavy on the PA-side, compared to other projections – but I feel like I'm making a strong bet on history. Freeman has missed a total of five games in the past four seasons, racking up at least 690 PA in every year besides the shortened 2020 campaign (267 PA in 60 G). And his PA per-game average has stayed just as steady, averaging 4.36 PA/g (2018), 4.38 PA/g (2019), 4.37 PA/g (2020), and 4.37 PA/g (2021). Met. Ro. Nome.
Freeman has one of the safest floors in fantasy and is a steal just about anywhere in the second round, particularly considering the questionable quality at the rest of his position. He's not only a five-category producer relative to his peers but with piles of plate appearances at around .300 AVG, Freeman gives you a strong base early in a category that is of increasing scarcity.
Tier Two
The batting average situation at the slow corner will only get direr and Paul Goldschmidt is your last chance for plus production. Well, at least, according to me, because I'm projecting a .292 AVG that is much higher than the crowd of ATC (.277 AVG), BATx (.271 AVG), and Steamer (.274 AVG). And that elite average is the separating factor for players in the tiers below.
But again, I think history is on my side, as Goldschmidt has only finished under a .290 AVG two times in the decade since his rookie season – with one of those being a .286 AVG back in 2012. A .293 xBA in 2021 was top-7%, his .396 xwOBA and .467 xwOBA (on contact) were both in the top-6%, but were even more impressive in the second half, with a .414 xwOBA (99th percentile) and .488 xwOBAcon (97th).
If Paul was a Bond villain, they'd call him GoldRaker.
Tier Three
Insert one of those Spiderman memes for Pete Alonso and Matt Olson, fellow kids, because my values for both are nearly identical.
Olson will likely have a new home at some point in 2022 and his hypothetical new surrounding cast will almost certainly be better than what he's leaving. But the real upside lies with if he ends up in a better hitter's park then he'll be leaving in Oakland, which isn't exactly a high bar. So if the entire Yankee fanbase is right in thinking that Olson is already ticketed for New York, expect the big boy to feast even more.
Olson hit 27 balls in the air at home last year that went at least 325 feet and resulted in either an out or a double. Just for fun, here they are overlayed at Yankee Stadium: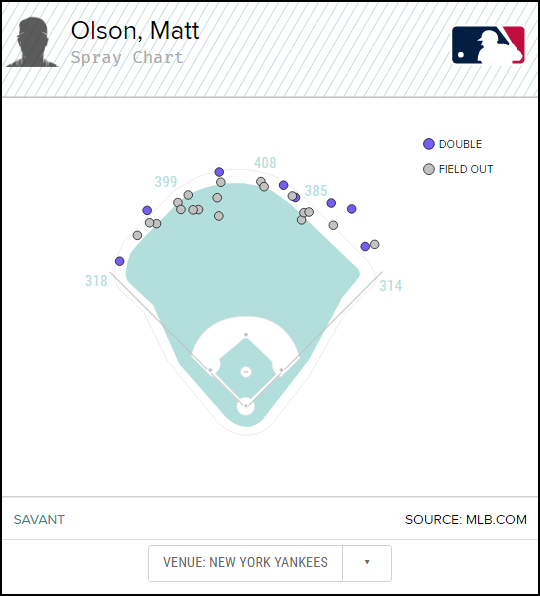 Everyone is down with the power but I'm a little more bullish in regards to Pete Alonso's batting average as he had a .262 AVG in 2021, backed by a career-high .271 xBA, and running a .274 BABIP. And even though he had a career-high 49.3% Swing% (up three points over his previous two seasons), a 76.5% Contact% was also a new high (up five points) and much of his newfound aggression was in the strike zone, with a 71.0% Zone Swing% that was up from 65.3% in 2020. When your stick has as much boom as Pete's, swinging at more balls in the zone is probably a good idea.
I also think at least some of the new strikeout rate can stick, with Alonso running a 19.9% K% in 2021 that was down from north of 25% in his previous two seasons. Not only did it come with a matching dip in SwStr% but he got better across the board when it came to whiffing against the tricky stuff:
Pete Alonso Whiff% per Pitch
| Whiff% | 2019 | 2020 | 2021 | +/- |
| --- | --- | --- | --- | --- |
| Changeup | 30.9% | 46.0% | 22.3% | -23.7 |
| Curveball | 27.7% | 38.5% | 28.6% | -9.9 |
| Slider | 41.0% | 44.7% | 34.8% | -9.9 |
Tier Four
You might know it better as the tier where I go little nanners on differing from other projections but it's not just monkeying around. Because I'm not just in on Joey Votto again because of the 36 HR in 2021; I'm also in again because of the 11 HR in 2020 that were hit at over double the rate as when he hit a combined 27 HR in 2018-19. After that outage, we were all ready to put Votto out to the slap-hitter pasture to wind down his career…And then put him down for good after a .226 AVG in 2020.
But the real reason I'm in again is this power surge isn't a fluke; Votto turning the way back machine is backed by two seasons of extreme swings back to the good on power-friendly exit velocities and launch angles while setting career highs in FB% and Pull%. A 17.2% Brl% (96th percentile) and 18.2-degree average launch angle in 2021 were both career highs by significant margins, as was a 96.9 mph average EV on balls in the air and a 45.5% Air% (100+ mph).
Votto has long been considered a hitting savant and is known to be a top-level crazy person when it comes to loving his craft and wanting to improve. When someone like that tells you in a multitude of ways that significant things have changed in approach and results, we'd be wise to listen.
Tier Five
I'm not very confident Jared Walsh can again push 30 HR, after seeing a decrease in his Barrel% for the third year in a row. Granted, the sample was small for his 13.6 % Brl% in 2019 (34 games) and a 12.6% Brl% in 2020 (32 games) but Walsh only had an 11.3% Brl overall in 2021 and just a 7.1% Brl% in the second half. And his Air% (100+ mph) took an even steeper cut, dropping from 46.5% to 31.0%.
Putting his bad EVs aside, Walsh was also brutal versus his fellow lefties, slashing .170/.208/.357 over 192 PA, with a .241 wOBA and 48 wRC+. And if that still isn't enough, the final nail in his ROI coffin should be that he appears to be following the controversial Hosmer method for launch angle success: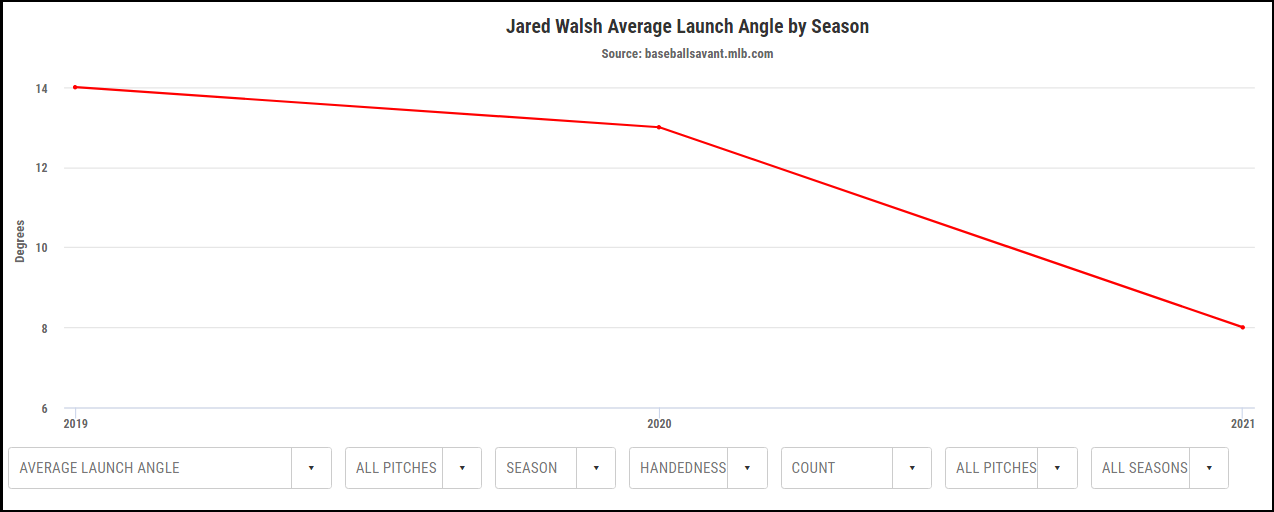 I do like the upside of his current price but Trey Mancini did struggle more in the second half of 2021 while seeing big dips in some key metrics. His 12.9% Brl% from the first half dropped six points in the second, and even though his Air% average EV stayed steady, Mancini's Air% (100+ mph) dropped from 42.5% (83rd percentile) to 31.2% (60th percentile). But I think we can cut him some slack if he wore down in his first year back from beating freaking cancer, right?
And while the news that Baltimore is moving back (and raising) the fence in left field isn't great news for right-handed hitters, it shouldn't take a big chunk out of Mancini's power potential. Here are the 32 home runs he's hit at Camden since 2019, with only one we can definitively say wouldn't have been gone with the new fences: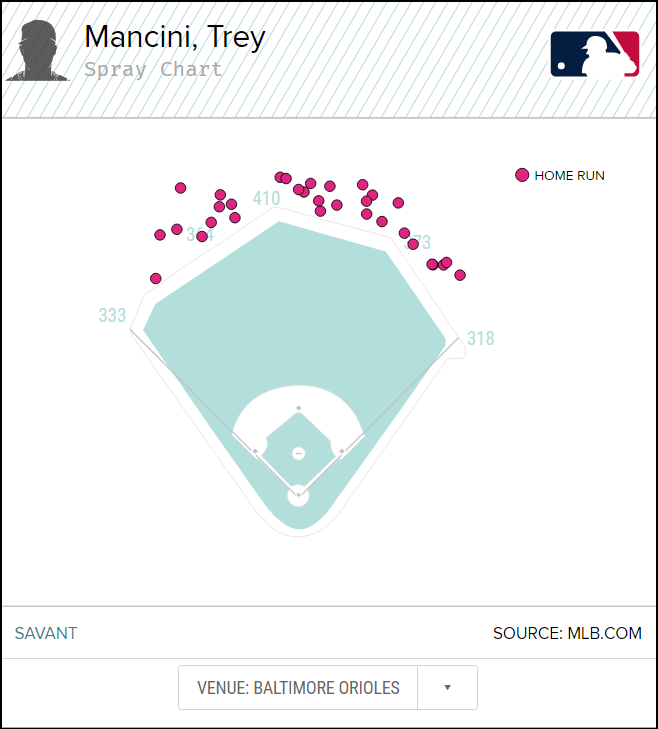 Tier Six
Many of my residual Votto feelings hold over for Brandon Belt, whose 29 HR  in 2021 beat his previous high of 18 HR. But even more crazy was that he hit them in just 381 PA, posting a per-PA home run rate that was second only to Fernando Tatis Jr. I'm not counting on him to reach those rate heights again but could get close to the same total if he can manage 500 PA. But that's the big question, isn't it, as Belt has only reached that mark once in the past five years.
I'm confident in Belt's power bump continuing, considering it's been backed by a 16.8% Brl% and 17.0% Brl% that were a far cry from his previous career-high of 11.3% and a lowly 8.7% in 2019. But with the playing time (and health) seemingly always in flux, this ranking is more suited for a 15-team league than a 10 or 12-team.
Tier Seven
The Rowdy Tellez ranking starts with a bigger belief in his playing time, as I'm projecting around 20% more PA than other projections. The Brewers could still sign another bat but looking at their roster as is doesn't bring a lot of fear that Tellez won't get the lion's share of playing time at 1B and/or the hypothetical DH. The main competition looks to come from Keston Hiura (whose struggles are well documented) and Mike Brosseau, who used to be a so-called "lefty-masher" but only posted a .321 wOBA and 109 wRC+ vs LHP in 2021. And considering he had a .172 wOBA and 8 wRC+ (yes, 8) vs RHP, I don't think he'll be stealing any playing time versus righties.
Given the above (and a likely NL DH in 2022), I'd rather bet on Tellez finally getting a shot as a (mostly) everyday player. In 174 PA with the Brewers last season, Tellez had 7 HR and 28 RBI, slashing .272/.333/.481, with a .814 OPS and .341 wOBA (.348 xwOBA). If he puts up similar production in 2022 over 500+ PA, his value will blow well past his current draft price.