Free agents
• Masahiro Tanaka will not be coming back to the MLB to play.
Right-hander Masahiro Tanaka's two-year contract with the Tohoku Rakuten Golden Eagles contained an opt-out clause this winter, but the team announced that Tanaka will return to the club in 2022 (hat tip to Yahoo Japan). Tanaka's comeback season in NPB went well, as he posted a 3.01 ERA with a 20.19% strikeout rate and a 4.65% walk rate over 155 2/3 innings with the Eagles.
American League
Astros
• Lance McCullers Jr. is still about a month away from throwing and may not be ready by the start of Spring Training.
The right-hander said that he is "about a month" away from beginning to throw, which represents a longer rest timeline than the six-to-eight weeks McCullers projected in late October.

Still, it would seem like McCullers is still tentatively on pace to proceed relatively normally during Spring Training, and then be ready for Opening Day
Mariners
• They have a loaded bullpen.
The Mexico native worked all the way back to a full recovery last season and made his Mariners debut in the final game of the regular season, throwing a forgettable two outs of a sixth inning in a 7-3 loss to the Angels. But by the point that the right-hander entered the game, it was mostly out of reach.

The Mariners view Muñoz as one of the key cogs to a bullpen that last year was one of the best in the American League, ranking fourth in the Majors with 7.0 wins above replacement, per FanGraphs. And he's not the only reliever that they are banking on coming back from Tommy John; All-Star Ken Giles, who in February signed a two-year deal with a club option for 2023, is fully healthy and will be a big part of a relief corps that already includes Paul Sewald, Drew Steckenrider and more.
Last season the team went with a closer by committee approach, so fantasy managers might want to stay away. If I was to add anyone, it would be Sewald since he closed some last season. More importantly, he's the best pitcher in that bullpen. If he's not getting Saves, he's at least not hurt a fantasy team.
Orioles
• The team signed Rougned Odor and muddled up the infield playing time situation.
My social media accounts predictably began blowing up Tuesday with the news the Orioles were about to sign infielder Rougned Odor to a one-year MLB deal.
While the Orioles aren't at the top of everyone's draft boards, Odor's signing causes a little confusion in the infield. Hopefully, he gets tried at third base and Jorge Mateo can stay at second. While Mateo is not a good hitter (.656 OPS projection), he could post 20 SB and 20 HR with a full season of plate appearances.
While I was looking into the situation, I wanted to see how Ramón Urías's rehab was going. The best I could find was this Tweet that he was supposed to play in the Mexican Winter League, but he hasn't yet.
El ligamayorista @ramonurias7 le ha asegurado a la directiva de los @verdesxsiempre que reportará al equipo en la segunda quincena de noviembre, de acuerdo al gerente deportivo CARLOS SOTO… pic.twitter.com/o2DQ43iksv

— Strikeout (@Rev_Strikeout) October 19, 2021
• Jordan Lyles is penciled in as the team's #2 starter.
At this moment, Lyles, 31, can be penciled in as the club's No. 2 starter behind staff ace John Means. Lyles has spent 11 seasons in the majors, appeared in 289 big-league games and started 182. He is 54-79 with a 5.21 ERA for six different big-league teams.
Obviously, this team's rotation is going to be horrible … again. Second, Lyles's profile is changing, but it's tough to know if it's for the better. First, his spin rate dropped (down ~ 250 rpm) with the enforcement of the foreign substance ban and never fully recovered.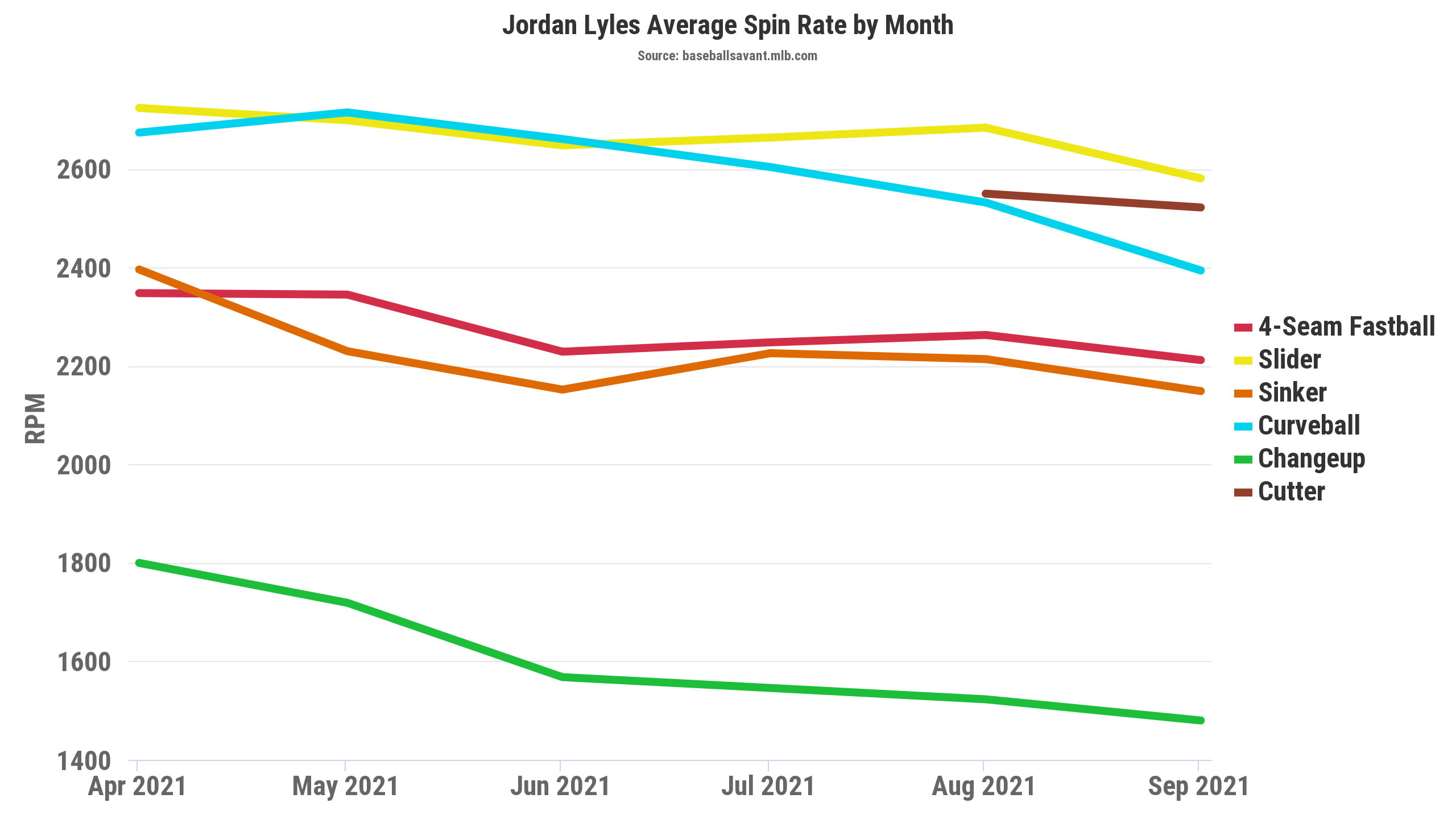 The results were horrible and he had a 5.63 ERA and 1.47 WHIP before going into September. In September, he finished an arsenal adjustment by throwing four-seamer and curve fewer times and his sinker and change more. He produced at a 2.87 ERA and 0.99 WHIP over that last month. The main reason for the improvement was his groundball rate going from 35% to 52%. If San Francisco had signed him, I'd be extremely interested, but for now, my interest is at best tepid.
Yankees
• The team has not talked to Brett Gardner about returning.
Brett Gardner's representatives have conveyed that the outfielder wants to play in 2022. Cashman said that the club has not spoken with Gardner's representatives since declining to exercise the 38-year-old's club option for next season.
If the Yankees haven't even talked to him yet, they seem to have no interest in bringing him back. So, it'll be another team taking a chance on a minimal contract It'll be interesting to see who, if anyone, gives him an offer and how little will Gardner play for. But with a 733 NFBC ADP, it's not costing fantasy teams much to find out.
• The team signed José Peraza.
Catching up on a minor league signing that flew under our radar last month, the Yankees signed infielder Jose Peraza to a minor league deal, per the transaction tracker at MLB.com.
The signing didn't matter, but then I saw this report on the Yankees not signing one of the remaining star shortstops.
Matthew Roberson of the New York Daily News reported yesterday that the Yankees were more likely to pursue a stopgap option than to play at the top of the market at the position based on the belief that [Oswald] Peraza and/or Volpe could take the reins in the not too distant future. If the Yankees were to eschew the star free agents at the top of the market, Andrelton Simmons or Freddy Galvis could profile as short-term options to stabilize the infield defense.
I could see a scenario where Peraza starts the season as the Yankees shortstop until one of the rookies are deemed ready.
National League
Dodgers
• Max Muncy has a torn UCL and it is unknown how much he'll play next season.
Originally described as a dislocated left elbow, Muncy called the injury a "torn UCL" in an interview with Alanna Rizzo on MLB Network's High Heat on Monday. The Dodgers have not confirmed that diagnosis.

"It's a little slow. I'm not recovering as quick as I would like," Muncy said. "But that's what happens when you do some serious damage to your body."

Muncy sustained the injury in the final game of the regular season when Brewers second baseman Jace Peterson, running to first base, collided with Muncy's outstretched arm. Muncy fell to the ground in evident pain and shortly thereafter exited the game. He ended up missing the entirety of the Dodgers' playoff run.
And the news comes two months after the fact. He's now off my draft board.
Mets
• Jordan Yamamoto may or may not have an option remaining.
The Mets could start the year with Tylor Megill, David Peterson, Jordan Yamamoto and Adam Oller (the club's minor-league pitcher of the year in 2021) all in its Triple-A rotation at Syracuse. (It's not yet official, but Yamamoto appears in line for a fourth minor-league option.)
The issue here is that if Yamamoto doesn't get that option, he may be forced into the rotation thereby pushes out Megill and/or Peterson. While I'd like to take a chance on Megill's talent, he won't help my fantasy team pitching in the minors.
Yamamoto was OK back in 2019 when he had two above-average non-fastballs, a cutter (13% SwStr%) and slider (17% SwStr%). After dealing with shoulder and forearm issues the past two seasons, he could return to form if he stays healthy. Monitor
Nationals
• The team signed César Hernández and shuffled the infield.
He'll offer some short-term veteran stability to a Washington infield that also features Josh Bell at first base and Alcides Escobar, Carter Kieboom and Luis García around the diamond. The 21-year-old García had been penciled in as the regular at second base. With the Nats retooling, it's unlikely they'll cut into his playing time. García has ample minor league experience at shortstop and could conceivably kick back across the bag to accommodate Hernández while relegating Escobar to a utility role.
The interesting news here is that Escobar moving to the utility role. Even our Roster Resources page have him as the everyday shortstop (currently only qualified at second base). I'm interested in seeing if Luis García gets full-time at-bats. While Garcia is far from being a star, the 22-year-old made improvements across the board last season with his walks up (4% to 5%), strikeouts down (21% to 17%), and groundball rate down (61% to 56%). He even improved during the season with .633 OPS in the first half and .691 in the second half. Nice late draft-and-hold target.
Padres
• For now, Drew Pomeranz could be in line for Saves.
Mark Melancon's departure does leave the Padres without an obvious favorite to close games. Pomeranz, the team's best reliever, is expected to be ready for a season that begins in April — the left-hander underwent surgery in August for a torn flexor tendon — but his injury history is worrisome.
With an NFBC ADP of 680, he's worth a stab for cheap Saves.
Phillies
• Corey Knebel is in position to be the closer.
"We think he can close games," Phillies president of baseball operations Dave Dombrowski said. "I think that's why he signed here. We did not promise him that. We just told him that he'd be a back-end person for us. But we think he has the stuff and he's healthy, and when he has been that, he has the stuff to do that and he has the makeup to do that. So that's how we would envision him being for us.
…
Knebel's fastball velocity jumped from 94.3 mph in 2020 to 96.3 mph last season, according to Statcast.
There is a chance the Phillies add another good bullpen now, but Knebel has well over a 50% chance of being the team's closer to start the season.
• The team signed Johan Camargo.
Phillies signed Johan Camargo for $1.4 million guaranteed.

— timdierkes (@timdierkes) December 2, 2021
With Alec Bohm's inability to play third base, I could see Camargo getting full-time at-bats by the season's end.
Pirates
• Even with the additions of Zach Thompson and José Quintana, the rotation no one penciled in it at this point.
Though the Pirates signed Jose Quintana and traded for Zach Thompson as part of the Jacob Stallings deal, GM Ben Cherington told reporters (including The Pittsburgh Tribune-Review's Kevin Gorman) before the lockout commenced that the Bucs are still looking to add another starting pitcher to their mix. There isn't much settled in a rotation that is short on experience apart from Quintana, and Cherington feels the Pirates' incumbent arms will have to translate their promise into performance to win jobs during Spring Training. "There was nobody that we assumed is in our rotation, but there are a lot of guys who have a chance to be," Cherington said.