General
• Charlie Morton talks about how rehabbing players won't have access to team training facilities if a lockout happens.
Yeah, I don't think many people have given much thought to how a lockout could affect things like injury rehab. Folks think mostly in terms of starting spring training and the season on time. But yeah, for guys rehabbing, it could be a pretty significant thing for them.

Yeah, because their life as a professional doesn't stop. I mean, you go from working out at the team facility — I mean, Acuña and Soroka, those guys are working out at the stadium and rehabbing with our PTs — and then you're on your own. Which I'm sure is probably pretty unsettling, especially if you have, like, franchise-caliber players involved.
It's tough to know if this situation should move back any player return timelines, but it's something to consider going forward.
Free Agents
• Aaron Altherr 알테어 could resign with an MLB team after playing the past two seasons in Korea.
Former Phillies, Mets and Giants outfielder Aaron Altherr, who has spent the past two seasons playing in the Korea Baseball Organization, is now a free agent and is eyeing a potential MLB comeback after a strong run overseas, MLBTR has learned. A jump to Japan's NPB is also a possibility.

Set to turn 31 in January, Altherr spent the 2020-21 seasons with the NC Dinos as their primary center fielder, helping the club to a Korean Series championship and posting consecutive 30-homer/20-steal seasons. In a combined 1,111 plate appearances, Altherr slashed .275/.356/.528 (130 wRC+) with 63 home runs, 39 doubles, nine triples and 42 steals (in 48 attempts). Strikeouts have been an issue (27.4%), though he's also drawn a respectable number of free passes (9.3% overall, including 10.1% in 2021).
American League
Guardians
• Bobby Bradley is penciled in to be the first baseman to start the season.
Bobby Bradley is the only first baseman. Jhonkensy Noel might eventually wind up there in a few years. Nolan Jones and Josh Naylor could enter the mix at first if Bradley falters. The club could acquire some competition (or an upgrade) for Bradley, too.
Mariners
• Adam Frazier should hit near the top of the lineup.
Frazier probably will end up hitting first or second in the lineup. The club liked what J.P. Crawford had to offer hitting leadoff in 2021. This sets up the rest of the lineup pretty well for hitters like Ty France and Mitch Haniger — and maybe some players who have yet to join the team.
I am not 100% sure how the lineup will work itself out. Dylan Moore is the only infielder with career OPS over .700 against lefties and could steal at-bats from the other three options.
Career Handedness Split (OPS)
| Name | vLHP | vRHP |
| --- | --- | --- |
| Abraham Toro | .577 | .693 |
| Dylan Moore | .718 | .666 |
| J.P. Crawford | .612 | .741 |
| Adam Frazier | .683 | .778 |
Orioles
• Keegan Akin, Austin Hays, and Ramón Urías all had offseason surgeries.
According to the Orioles, Keegan Akin (hip abductor), Austin Hays (core) and Ramon Urias (core) all had surgical procedures this offseason. All are going through required rehab and are expected to be ready for spring training. They're a few weeks away from normal offseason work.

— Dan Connolly (@danconnolly2016) November 15, 2021
Hays and Urias are projected to start, so monitor them to see if they are playing in Spring Training.
Rays
• Brendan McKay underwent thoracic outlet syndrome
#Rays announced LHP Brendan McKay underwent thoracic outlet syndrome decompression surgery Tuesday. Will rehab as a pitcher, and per team "is expected to resume throwing no later than early Feb. with goal to be in a throwing and mound progression at start of spring training."

— Marc Topkin (@TBTimes_Rays) November 25, 2021
Red Sox
• Michael Wacha discussed some of his 2021 changes to his arsenal.
"The curveball, it was a lot slower than the cutter, and so it felt like it was a big difference from my other pitches," Wacha said. "It kept hitters more off balance, ended up being a pitch where people would either take it and I'd steal a strike from them or it'd be a weak contact and then it helps that fastball play up. … Mixed in a little two-seam as well, just to play off the four-seam more. The two-seam had some arm-side run and got a few broken bats and some weak contact with that pitch."

Wacha's changeup always has been one of his greatest strengths, and his average fastball velocity in 2021 was the highest it had been in four years.
His changeup continued to be the only pitch with above-average results (20% SwStr%, 50% GB%).
Additionally, he finally felt healthy in 2021.
"Last year was probably the best my shoulder and elbow felt in my whole career," said Wacha. "I feel like I'm in a great spot right now with my health and where it's at."

…

"I would say 2020 wasn't a great year with the shutdown and getting back into it, I wouldn't say I ever got back to where I was in that Spring Training," Wacha said. "I felt like my velo ticked up this year, [which] was a good sign with my arm strength and how my body was moving. And I felt like the changeup was as nasty as it's been in my whole career, and so I feel like a new man out there. I felt really good this this past year and so looking forward to keep moving forward with it."
And Tampa was only able to get a 5.05 ERA from him in 23 starts. He needs at least one more average pitch.
• The rotation has three locks (Eovaldi, Sale, Pivetta) and three maybes (Whitlock, Houck, and Wacha).
That's a lot of rotation depth to replace, and though they might still sign a bigger-name starting pitcher this winter, they were inevitably going to sign a back-end starter and/or long reliever as well, and Wacha seems to fit that mold. He said he does not expect to go into spring training with a rotation spot to his name. The Red Sox already have Nathan Eovaldi, Chris Sale and Nick Pivetta. If they sign one more starting pitcher this offseason, Wacha could be competing with Garrett Whitlock and Tanner Houck for one spot.
Royals
• Josh Staumont lost 30 lbs from a COVID-19 infection and never recovered.
Somewhere between his trips, though, right before he headed to Surprise, he did, in fact, contract COVID-19. The symptoms began with fatigue. He would fall asleep at 5 p.m., then wake up at 7 a.m. and still feel exhausted the next day. He would then lift himself out of bed and hop in the shower. That activity was so tiring he would have to go back to sleep.
…
The virus tormented his body. Once he finally recovered, his frame had shrunk almost 30 pounds. His body fat had nearly doubled. Spring training had started, and he had a job to do, so there was no time to rebuild all that he'd lost. Instead, he found himself on a dirt mound in Surprise. He distinctly remembers his first pitch.

"One hundred miles per hour right down the middle," he says. "But at that point, I had no clue how fast my body would start to fatigue."
It was a down and sort of up season for him.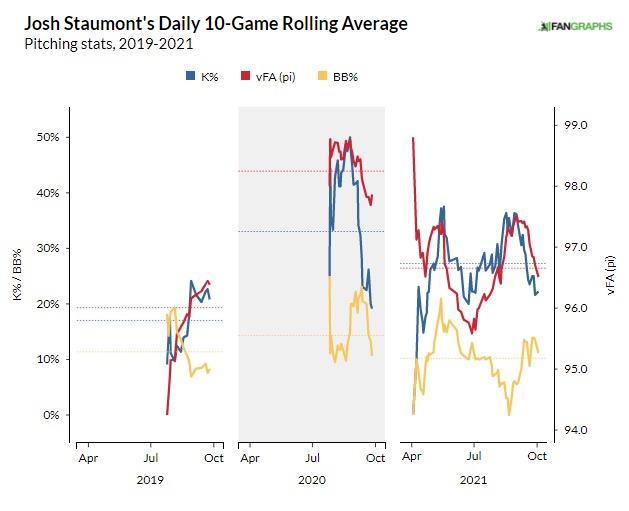 Twins
• The team doesn't consider Nick Gordon to be an everyday shortstop.
[Royce] Lewis remains a top-100 global prospect and the Twins' most likely shortstop of the future, but he hasn't played a game since November 2019 and missed all of last season with a torn ACL from which he's still rehabbing. Gordon was the shortstop of the future before Lewis, but now the Twins consider him more of a utility option lacking the defensive chops to play shortstop regularly.
I'm sure some managers will dream on the prorated 30 SB, but it sounds like the playing time won't be there.
White Sox
• Gavin Sheets and the team think he can hit lefties.
Sheets finished 2-for-18 against left-handed pitching in '21, but he doesn't view those numbers as indicative of his future production.

"At the end of the season, I had started to discuss with Tony that I felt like facing lefties for me actually got me in a really good spot to hit for righties as well," Sheets said. "I just felt that it helped me stay on the ball a little bit longer. There were a lot of benefits from it."
Maybe this trust will keep him out of a platoon situation.
• The team might transition Garrett Crochet back to starting.
All that gets us to the point of Garrett Crochet's next step in developing into a starter, colliding with the reality that even if he remains in the bullpen, the White Sox have half of the six pitchers Tony La Russa trusted in medium- to high-leverage down the stretch last season.

"There is a path that would have him starting in the minors for a certain amount of time and then maybe potentially joining the bullpen at some point later in the year — that's just one (hypothetical)," said general manager Rick Hahn.
National League
Braves
• Mark Bowman of MLB.com picked the best of Kyle Wright, Huascar Ynoa, Tucker Davidson, and Kyle Muller to join the rotation.
Let's just go ahead and throw Ynoa in the bullpen category. He has a chance to be a good high-leverage asset for many years to come. But until he develops a third pitch to complement his great slider, I don't see him being more than a No. 5 starter for a playoff contender.
…
So, I'm ranking Wright at the top of this list. Am I doing this based solely on the great 4 1/3 innings of relief he provided during Game 4 of the World Series? Well, of course. But more importantly, that sensational effort only strengthened the belief that he benefited from being left alone after he was sent back to Triple-A Gwinnett near the end of June.

There's never been a question about Wright's repertoire. Now that he was finally given a chance to complete his development without being yo-yoed back and forth between the Majors and Minors, I think we may see him rise toward his potential of being a frontline starter.
I would have had Ynoa first, well ahead of Wright. I dug a little deeper to see if I was missing anything.
Ynoa did struggle after returning from the IL (3.16 xFIP vs 3.54 xFIP) and the third time threw the order (2.94 xFIP to 2.84 xFIP to 6.31 xFIP). While he threw his fastball and slider over 90% of the time, his changeup was effective (16% SwStr%, 40% GB%). Ynoa isn't bullet proof, but he'll get another shot at the rotation.
As for Wright, I've not been a fan with all the walks he issues (7.1 BB/9 in 2021, 6.2 BB/9 for his career). Additionally, he's posting a 1.9 HR/9. And somehow Steamer projections have him at a 4.10 ERA. While he has a near-elite slider, his other pitches are way below average with their results. One pitch is not enough to overcome the walks.
• Charlie Morton doesn't know if he'll be ready by the start of the season.
So did they tell you that if all goes well, you should be OK for spring training? Or can the doctors say that this early?

Well, aside from complications there's no question that the bone should be healed by spring training. But I think the question is, do I have my legs under me by then? Am I in shape? Am I putting my arm at risk, or am I putting other parts of my body at risk, by just rushing back to throw? Because I'll be able to throw. I can go out and throw right now in the backyard, on my knee or something like that. But am I going to be ready to attempt to make 30-plus starts and throw 170-plus innings or whatever, 180-plus innings? It all depends on when I can get in the gym. I don't know. I'm not going to try to predict.
Brewers
• Supposedly Christian Yelich's back didn't bother him in the second half.
While back problems obviously robbed Yelich of time, Stearns said, "there were no physical limitations" once Yelich's struggles continued in the second half of the season.
After Yelich returned from the IL on May 18th, he didn't officially miss any time because of his back. The problem was that his power dropped to levels seen back in 2017 when he was still with Miami.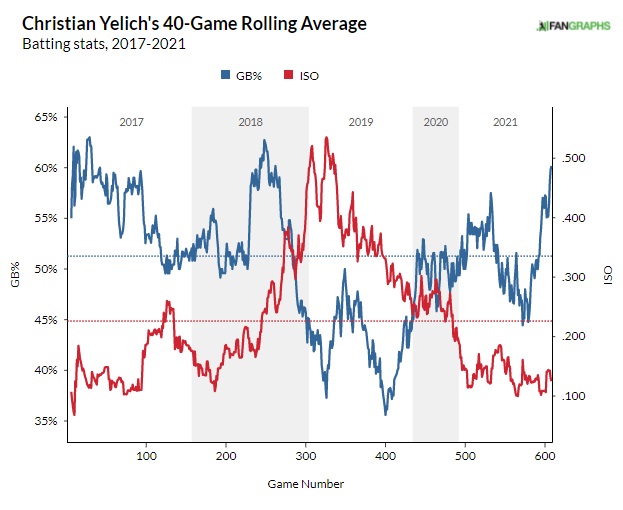 Simply, he needs to start lifting the ball.
• Devin Williams is on schedule for a normal offseason.
How is Devin Williams doing in his rehab? I've been thinking about him since around the time the World Series started because Stearns said if they had made it, he had a chance to pitch in the World Series. — Owen B.

Williams is progressing great with his rehab, according to a source, and is definitely on schedule for a normal offseason.
• They added J.C. Mejia from the Guardians.
The Brewers have acquired right-hander J.C. Mejia from the Guardians in exchange for a player to be named later or cash, the teams announced. Mejia was one of seven players designated for assignment in Cleveland last Friday as the Guardians set their roster in advance of the Rule 5 protection deadline.
Don't be surprised if he is moved to the bullpen and limited to just throwing his slider (16% SwStr%, 18% GB%) and sinker (7% SwStr%, 52% GB%).
• Mike Brosseau has been added.
If Brosseau successfully adjusts against the way pitchers attacked him last year, the Brewers' bench would be deeper; he could be a capable hitter who can play multiple positions.

Brosseau, a right-handed batter with two minor-league options remaining who isn't arbitration eligible until 2023, mostly made Mathias, another right-handed batter, more of a redundancy. Brosseau profiles as the top utility player on the Brewers roster heading into spring training.
While Brosseau will start the season on the bench, he has hit lefties better than Rowdy Tellez and Kolten Wong and righties better than Luis Urías.
Career Handedness Split (OPS)
| Name | vLHP | vRHP |
| --- | --- | --- |
| Rowdy Tellez | .755 | .775 |
| Mike Brosseau | .834 | .685 |
| Kolton Wong | .677 | .742 |
| Luis Urias | .851 | .619 |
Some platoon is likely to develop, but it's not exactly clear who will eventually be involved.
Cubs
• The team has signed Harold Ramirez.
The Cubs have acquired outfielder Harold Ramirez from the Guardians in exchange for cash, per a club announcement out of Chicago. Ramirez was one of seven players designated for assignment in Cleveland last Friday. The Cubs now have 38 players on their 40-man roster.
Ramirez has always hit the ball on the ground (53% GB% in 2021, 55% for his career). With how hard he hits the ball (85% AvgEV, 94% MaxEV), he just needs a bit more air to take off. Interesting enough is that the Cubs have a program in place to raise a hitter's launch angle as seen with Nelson Velazquez (57% GB% to 48% GB% to 37% GB% to 31% GB%). Late-round dart.
Dodgers
• Joe Kelly will not be ready for the season's start.
The Dodgers hold a $12MM club option with a $4MM buyout on right-hander Joe Kelly, but Jorge Castillo of the L.A. Times reports that the team is planning to pay him the buyout rather than pick up the net $8MM option. Part of the reasoning, according to Castillo, is that the biceps strain which caused Kelly to be removed from the NLCS roster is significant enough that he won't be ready for the start of the 2022 season.
Padres
• MacKenzie Gore looked better in the Fall League.
For now, the consensus from inside and outside the organization is that Gore appears to be on an upswing. Rival scouts described watching well-above-average stuff last month in Arizona. Anthony Contreras, who managed Gore with Fort Wayne and then with the Fall League's Peoria Javelinas, deemed the latest version of the pitcher "way more aggressive."
His stats weren't that great with a 6.4 K/9 and a 4.8 BB/9.
Pirates
• Yoshi Tsutsugo will take over at first base with Colin Moran being designated for assignment.
The main area of concern for Tsutsugo was his defense in the outfield. The Pirates tested him in right field following the release of Gregory Polanco, and Tsutsugo looked less polished there than his natural position at first base, where GM Ben Cherington said the team preferred him to start looking toward 2022.

"We put him in an uncomfortable position in right field, a place he hadn't played a ton of," manager Derek Shelton said on the final day of the regular season. "I think we saw growth there."

There is still no clarity on whether the National League will implement a designated hitter in 2022, but Tsutsgo would make a strong case to fit that role, too.
Tsutsugo turned around his season with Pittsburgh as noted by these great minds.
First consistent bit of playing time and we saw the guy he was advertised as when coming over. I'm intrigued and he is literally free (pick 518… 1B/OF elig.)

— Paul Sporer (@sporer) November 29, 2021
He did it by cutting his strikeout and groundball rates. If his time with the Pirates was prorated out to a full season (x4), he would have hit 32 HR, 80 Runs, 100 RBI, 0 SB, and a .268 AVG. That'll play.
• José Quintana signed with the team.
Given Pittsburgh's need for starting pitching, it seems likely that the Bucs will use Quintana in their rotation to begin the year and hope that he can regain some of his pre-2020 form as a reliable innings-eater. The Pirates don't have much big league experience in their projected starting five, and the team surely wants to avoid a repeat of 2021, when a plethora of injuries and trades resulted in the Bucs having to dig deep into their depth chart to cover starts. Should Quintana pitch well, Pittsburgh could also dangle him as a trade chip at the deadline.
This is one of those instances that there seems to be a possible path to him being a usable starter. The 8.23 ERA and 2.06 WHIP are ugly but they came with a .426 BABIP and 6.7 BB/9. He had career marks of .307 BABIP and 2.6 BB/9. It seemed like something has been off. As a starter last year, he had a 13.1 K/9 so it would be nice for him to build off of it. Even with the walks, his 14% K%-BB% was comparable to Rich Hill, Drew Smyly, Taijuan Walker, and Dane Dunning. None of them were great, but they weren't close to being as bad a Quintana. I know it's too many words on him, but just keep an eye on him for any changes and he's worth a shot in all draft-and-hold leagues to see if he can make a couple of tweeks.
Rockies
• Ryan McMahon is the most likely candidate to move to shortstop.
"(Moving McMahon) is something we have discussed," Colorado general manager Bill Schmidt told Saunders. "Ryan has good range and that's something we saw last year when he played third base with the shift on." While McMahon told Saunders he'd yet to hear anything from the organization about that possibility, he sounded amenable to the idea. "I'd like to think that I could work at any (position) and become at least a solid defender there," the 26-year-old said.

…

Were the Rockies to address the position internally, it seems McMahon is likelier to shoulder it than Brendan Rodgers. While Rodgers came up as a shortstop prospect, he's spent the bulk of his time at second base in recent seasons. That was primarily in deference to Story, but Schmidt reiterated when speaking with Saunders that the club would prefer to keep Rodgers at the keystone.
• Carlos Estévez has the stuff to be the closer, but the team will likely start the season with a vet in the role.
Estévez, 29 on Dec. 28 and owner of a four-seam fastball that averaged a well-above-average 97.1 mph, sacrificed his Spring Training and the early part of the regular year to developing confidence in his changeup, which played off his heater and hard slider. In his last 17 outings, Estévez converted nine of his 11 save chances, although the year ended on a down note — a blown save on a homer yielded to the D-backs' Josh VanMeter in the season finale.
…
The Rockies want to repeat the success of Greg Holland, whose 41 saves in 2017 helped lead to the first postseason trip in nine years, and Wade Davis, whose 42 saves helped bring a postseason berth in '18. Davis, though, struggled the next year and was released in '20 at the end of his three-year deal.
…
The net is wide. The source said the front office is researching Dellin Betances, who made four All-Star trips for the Yankees, to see if he is poised to reverse his recent struggles with the Yankees and Mets.