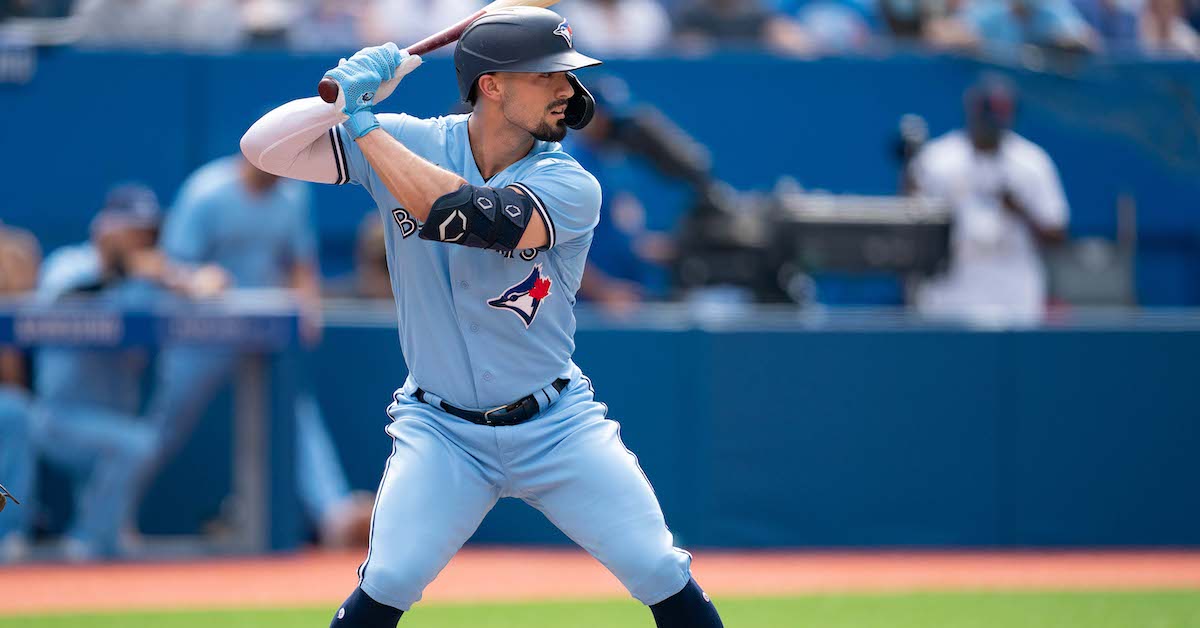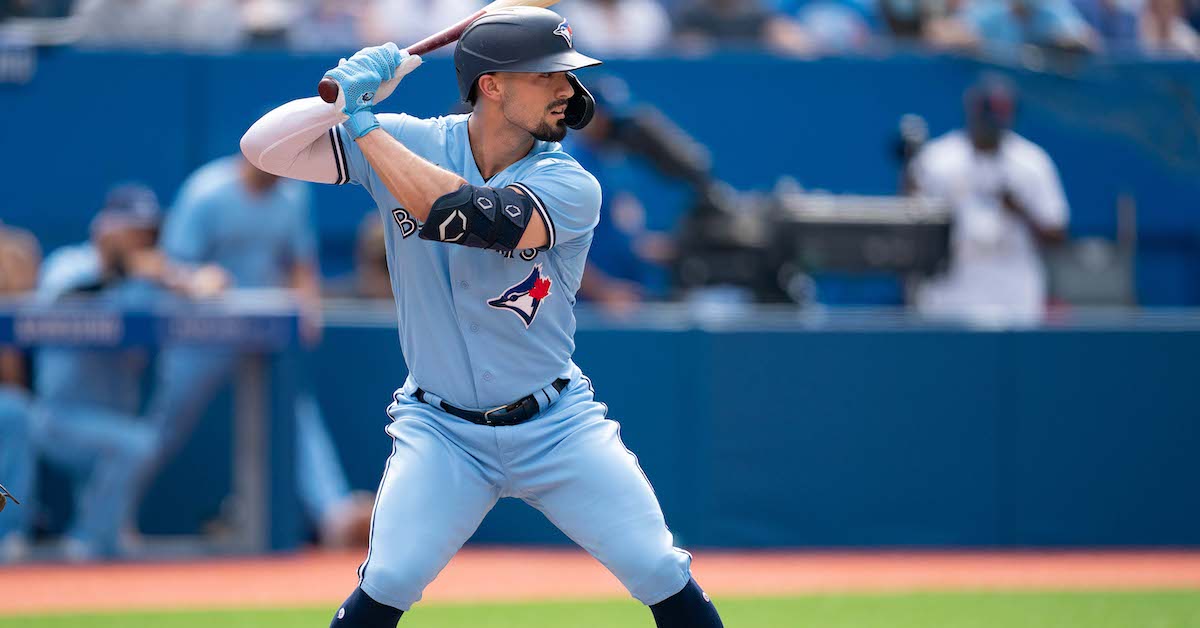 On Thursday morning, the Blue Jays and Rockies agreed to a trade sending Randal Grichuk and cash considerations to Colorado, with Raimel Tapia and minor league infielder Adrian Pinto joining Toronto. Rob Gillies of The Associated Press reports that the amount of cash is just over $9.7 million, which accounts for nearly half of the remaining salary on Grichuk's five-year contract. With this move, the Blue Jays get the left-handed outfielder they had been searching for, and the Rockies get another power hitter to plug into the middle of their lineup.
Grichuk signed that five-year extension (worth $52 million) after putting up 2.1 WAR in 2018, his first season in Toronto. He blasted 31 home runs the next year, but that power was the only positive aspect of his approach at the plate. Over the last three years, his offensive output has been nine percent below league average, and that's despite an ISO that sits a hair above .200. His biggest issue has been getting on base at a regular clip. His walk rate has been remarkably consistent, sitting around 5.8% over the last six years, though it dipped to its lowest point since his rookie season last year. With a batted-ball profile focused on fly ball contact, his BABIP isn't much better.
In the field, Grichuk has been a solid defender across all three outfield positions. Splitting his time between center and right field over the last few years, the advanced defensive metrics rate his work in the corner a little higher than up the middle. All three metrics were disappointed in his ability to cover enough ground in the field as the Blue Jays' full-time center fielder in 2020. But moved over to right in '21, he graded out as one of the better fielders at the position on a per-inning basis, accumulating 6 DRS and 5.5 UZR in just 330.1 innings.
A power-hitting outfielder who can passably play up the middle and stand out in the corners is a useful piece to have on a roster. The problem for the Blue Jays is that Grichuk's profile is a bit redundant on their roster given that George Springer, Teoscar Hernández, and Lourdes Gurriel Jr., all also right-handed power hitters, are lined up to take full-time roles in the outfield. That made Grichuk an expensive and limited backup. Blue Jays general manager Ross Atkins acknowledged this poor roster fit after the trade: "[Tapia is] just a better complementary piece. Randal Grichuk's a great baseball player. But his skill set was very similar to our other outfielders."
In Colorado, Tapia had been displaced from his starting gig in left field by Kris Bryant, but Grichuk should slot into the starting lineup by pushing Charlie Blackmon from right field to designated hitter. Blackmon's defensive chops in right were drastically better than what he was able to accomplish in center field, but making him the regular DH should help keep his 35-year-old body fresh for the entire season. With an enormous outfield to call home and considerable power, it wouldn't be surprising if Grichuk thrived in Denver; his batted-ball profile fits the park well, and if he hits for enough power, he could finally offset his on-base issues.
As for Tapia, even though he won't be guaranteed a full-time role, he can cover all three outfield positions and also provide contact and speed off the bench. As the starting left fielder in Colorado, he posted a 79 wRC+ over the last three years with a mostly empty .282 batting average. In that time, he slapped nearly 60% of his batted balls into the ground, helping him take advantage of his above-average sprint speed. Unsurprisingly, his batted-ball profile is heavily dependent on running high BABIPs; after posting a .392 BABIP and a career-high 97 wRC+ in 2020, that former figure dropped to .306 last year, cratering his overall offensive contributions.
To help maximize his contact-heavy approach, Tapia has tried to improve his plate discipline over the last three years. His strikeout rate has fallen year-over-year since 2019, all the way down to 13.1% last year, and his contact rate has correspondingly increased, though he isn't necessarily making better swing decisions. His chase rate was still rather high; most of the improvements were a result of a higher contact rate on pitches in the zone. But that additional contact came with a swing rate that fell eight points from 2019 to '20 and stayed at that lower level in '21. It seems like Tapia grew confident in his approach against pitches he could handle in the zone and stopped swinging as often to avoid making poor contact or whiffing.
Tapia earned solid defensive marks in left field but has seen limited time at the other two outfield positions; he's accumulated just 189.2 and 233.2 innings in center and right field, respectively. His speed should help him thrive no matter where he's lined up in the field, but his lack of experience might be a concern for a Blue Jays roster that suddenly doesn't have much depth in center.
Blue Jays Center Field Options
| Player | Innings | DRS | UZR | OAA |
| --- | --- | --- | --- | --- |
| George Springer | 2575.2 | 13 | 2.9 | 4 |
| Teoscar Hernández | 819.1 | -6 | -6.5 | -2 |
| Raimel Tapia | 189.2 | 3 | -0.5 | 3 |
| Cavan Biggio | 23 | — | — | — |
Springer has dealt with his fair share of injuries over the last few years, and he's entering his age-33 season. If he were to miss time, the Blue Jays would have to press Tapia into full-time duty in center field, though if that came to pass, he probably would continue to be a net positive in the field.
In addition to Tapia, the Blue Jays also received Pinto, a 19-year-old infielder out of Venezuela. Signed as an international free agent in 2019, he made his professional debut in the Dominican Summer League last year and earned MVP honors after slashing .360/.486/.543 and swiping a league-leading 41 bases. Despite the fantastic start to his career, he wasn't ranked on our 2022 Rockies prospect list. Scouting sources told our Eric Longenhagen that Pinto is short-levered with an athletic, loose swing and good bat speed and average hands and actions on the infield. He's likely a 35+/40 FV with the profile of a bench bat that can be plugged in around the infield.