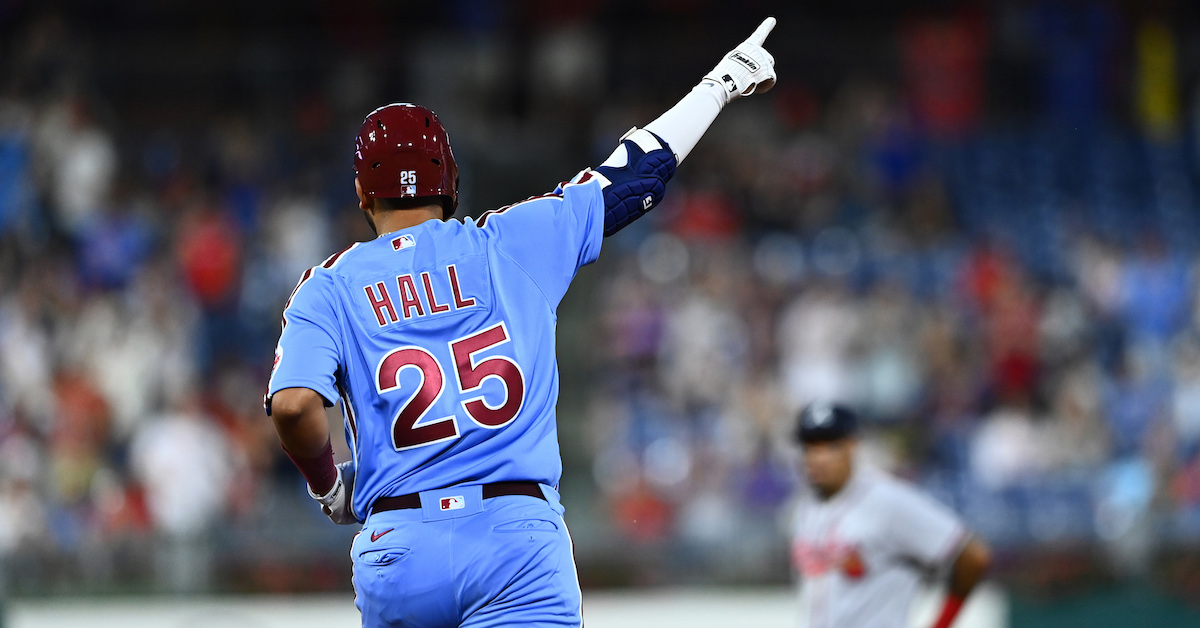 Darick Hall was an under-the-radar prospect when he was first featured here at FanGraphs in June 2018. A 14th-round pick two years earlier out of Dallas Baptist University, the 6-foot-4, 235-pound first baseman went into that season unranked. That part of his profile hasn't changed. Hall logged a 101 wRC+ in Triple-A last year, and came into the current campaign once again absent from most prospect lists.
He's proceeded to crush expectations. The now-26-year-old slugger earned his first big league call-up on Wednesday, this after bashing 20 home runs with a 132 wRC+ at Triple-A Lehigh Valley. Last night, in just his second game, Hall launched a pair of home runs in a 14-4 Phillies win over the Atlanta Braves.
Hall discussed his evolution as a hitter late in spring training.
———
David Laurila: How have you evolved as a hitter since we talked four years ago?
Darick Hall: "It's changed, but at the same time, it hasn't changed much. I had been learning how to hit line drives more. Coming into pro ball, if the ball wasn't up, I would drive it into the ground, because I would come over the top. Through the years, I've learned how to… I have a flat path, right? I don't really have that vertical barrel, up through, so I had to learn how to use my legs to go down and get level with that ball to where I can hit it on a line. Obviously, sometimes I'll drive it up for [home runs]."
Laurila: Has the actual bath path changed at all?
Hall: "Not really. The only difference is my legs. It's almost like I've got to use my knees to get down level with it. On a ball up, my body maybe looks more like it's just turning. When it's down, there's a downward move, and then a turn."
Laurila: When the pitch is delivered, your brain only has a fraction of a second to tell your body how to move…
Hall: "You can kind of train for it, for how you're seeing the ball come out. So I think it really just depends on how well you see the pitch. If you see it early, your body will just naturally kind of move to where it is."
Laurila: How do you tend to get pitched? As you know, a lot of pitchers are elevating fastballs on a regular basis.
Hall: "For me, a lot of times they pitch down. I'm a little different, as I'm a lefty who tends to like the ball up. That pitch is easier for me to elevate, so guys would throw me down, hoping I would beat it into the ground, and into the shift. They'd also pitch me away."
Laurila: You were in Triple-A last year — this after no 2020 minor league season — and while your numbers were OK, they weren't great. What were the biggest challenges at that level?
Hall: "I had a little struggle at first, and it was kind of an approach thing. They really stay out of the middle of the plate at Triple-A. It's kind of 'pick a corner and go,' and it took me awhile to adjust to that. What helped me is being able to hit that ball in."
Laurila: Pitches in, as opposed to down?
Hall: "Yes. They were bringing it in, and if I got long… I'm a big guy, and usually big guys like to get extended. If you get to extend on that ball, you hit a groundball, right? You kind of come out and across, versus staying short and going right to it. That was an adjustment I had to make — not necessarily a launch thing, but staying shorter, closer to my body, to be able to handle that pitch in."
Laurila: Ideally, you're able to handle pitches in all parts of the zone…
Hall: "I can swing it hard a lot of different ways. I have the bat speed. It's about being specific with your hands. It's almost like you're fielding a groundball. You don't want your hands sitting there with your body, and you move your feet. You've got to be able to move your hands to adjust to the ball, especially for a bad hop. It's no different when you're hitting. Obviously, you want that pitch in a good spot, but you're not always going to get it. A hitter is going to have a hot zone, but he needs to be able to handle pitches that aren't in your hot zone. "
Laurila: Do you see yourself as a power hitter?
Hall: "I do."
Laurila: Most of what you've been saying doesn't exactly scream "power hitter." That said, you clearly profile as one…
Hall: "I don't sell out for power. I want to hit the ball true. I do swing hard, but I'm a strong guy and that just comes naturally to me. Strikeouts are going to happen, but I try to avoid them as much as I can. I also feel that my plate discipline has gotten better, which has helped my contact rate. So what I'm really trying to be is a hitter. I want to handle any pitch. At the same time, I am a power hitter."