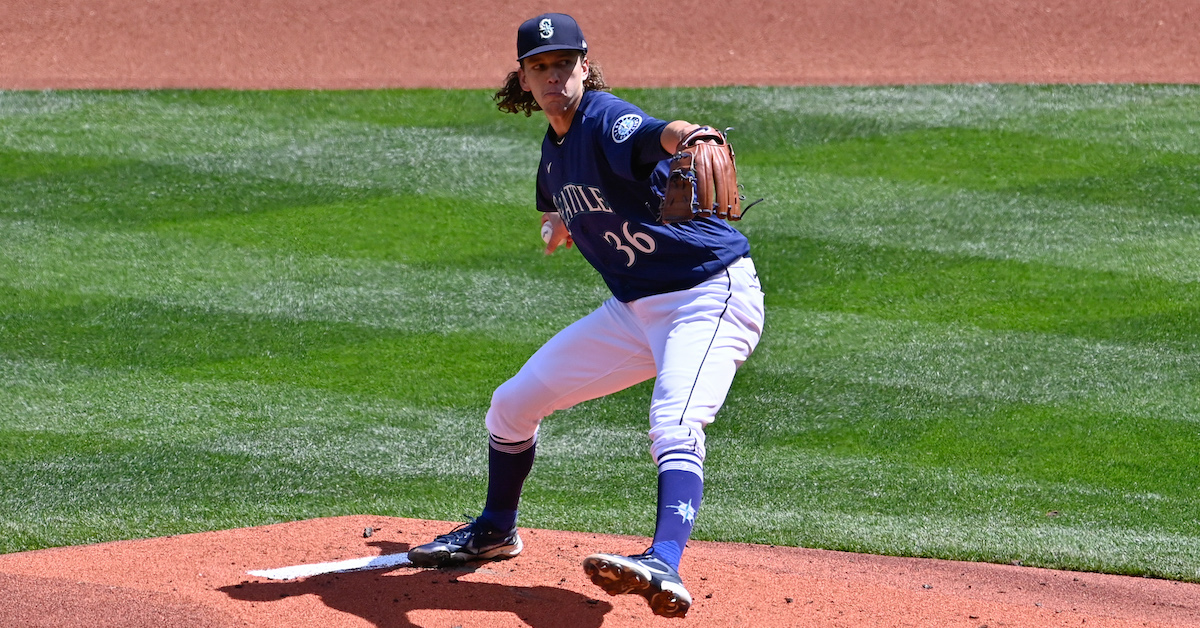 The Learning and Developing a Pitch series is back for another season, and we're once again hearing from pitchers on a notable weapon in their arsenal. Today's installment features a young Seattle Mariners right-hander, Logan Gilbert, and a sneaky-good San Diego Padres reliever, Nabil Crismatt, on their changeups.
———
Logan Gilbert, Seattle Mariners
"I changed the grip this offseason. I'd been throwing it a little more off my ring finger, and now it's more of a traditional circle change. I'm also trying to throw it more like my fastball, which has helped the consistency. I obviously wanted to keep good action on it, but also be able to locate it in the zone; I wasn't commanding the old one very well. More than anything, I was looking for something that I felt comfortable with.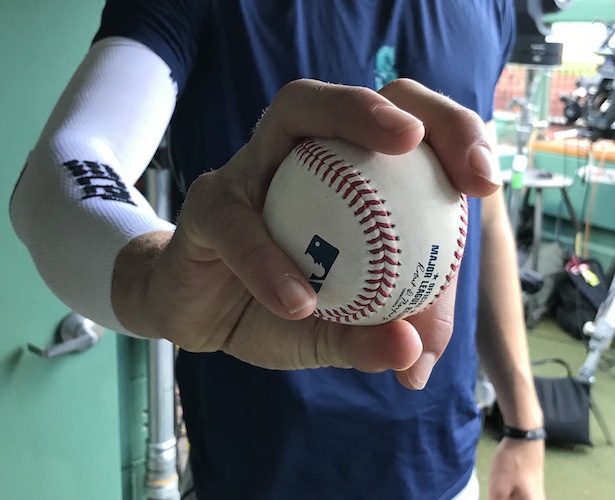 Logan Gilbert's changeup grip.
"I am [throwing it harder] and I think a lot of that is me trying to throw it more like a fastball, and having it play off of that. As much as possible, I'm trying to think fastball, just with a different grip. There's the arm slot, too. I'm trying to have everything come out of that same window, that same tunnel. Hopefully the hitter will pick it up a split second later, because they think they're seeing a fastball. Last year, the action was really good on it, but right away you could tell it wasn't a fastball.
"I'm not necessarily looking for [velocity separation]. The movement is primarily what I'm going for. You put a little natural tilt on the ball, depending on where it comes out. I'm trying to ride the fastball from up top, so if I throw my changeup in the same slot, it will naturally look like it's headed down, even though the movement also has the horizontal axis. It will get the depth and fade just from that.
"It does [have more horizontal than the old changeup], although I want to see that action down. I don't want to miss arm side. That's how I know I'm probably not throwing it like a fastball. But when I throw it right, I do still get the side spin that gets the horizontal. I'm also on the first base side, so it will naturally carry it a little bit that way. But for the most part, I just try to start it in my lane and have it move under the zone.
"As for the velo separation, some of the best starters are big fastball pitchers who have fast changeups as well. It works for them, because they're selling it well. Sandy Alcantara, Jacob deGrom, Zack Wheeler… I learn from watching those guys. Velo separation is important, but I think as long as I'm selling it, it will do the job.
"My [changeup usage] is around 8%, and I think I'd like to get it between 10 and 15%. I really like what it does, and it's definitely helped me out, especially against lefties. But it's a little bit tough, because I want to throw all of my pitches more. To throw one pitch more, I obviously have to throw something else less. I really like my fastball, so I don't want to just take away a bunch of fastballs. And I also like my curve and slider. Something would have to give a little bit.
"I guess I'd have to pick one, but I think it will sort itself out as I keep going. Swings will tell me a lot. That's something I've learned since being up here: the hitters give you a ton of information. They'll tell you what's working, what's not, and what you should maybe throw more. As I continue to progress, I'll just figure it out naturally."
———
Nabil Crismatt, San Diego Padres
"I'm from Colombia, but I was training in the Dominican Republic when I was 15 years old. I got signed there by the New York Mets when I was 16, and that's when I started learning a changeup. The Mets loved changeups. They tried to teach one to every single pitcher. One thing they said I had to do in order to get out of the Dominican was learn a changeup, so from that day, I started gripping a changeup in my hand. I did that until it started feeling comfortable — comfortable, comfortable, and then fun. It's the grip that has been helping me throughout my career.
"It's a two-seam changeup. I haven't seen too many guys gripping it like I do. My hands are really big, and I don't know if that helps a lot or not, but I'm comfortable with it. I don't pronate too much. I just work with my wrist. I feel that when you throw a good changeup, you have to hold your wrist really tight. If you open it, it doesn't do anything. So, I play a lot with my wrist.
"I don't study my changeup too much, but I love to ask questions to everybody. We've got a couple guys here that manipulate the ball really well. Yu Darvish; I talk to him a lot about the way he throws every single pitch, and about how everything comes from the wrist. I've talked a lot with Kyle Hendricks, who I've got the pleasure to know. I love his changeup. He agrees with me about needing to have the wrist tight when you throw it.
"I can manipulate my changeup. I can run it, or I can drop it down. It depends how you put the fingers on the ball. It's manipulated that way. I cannot manipulate the speed, but I can manipulate the shape how I want it.
"César Valdez throws a lot of changeups. I don't know him personally, but I played against him in the Dominican. Is it possible to throw too many changeups? I don't think it is. The big leagues is about getting outs. If you can do that with one pitch — get that guy out with one pitch — you do it. If I have to throw my changeup 20 times to get him out, I'm going to throw it 20 times. I'm never scared to throw my changeup. "