The following article is part of Jay Jaffe's ongoing look at the candidates on the BBWAA 2022 Hall of Fame ballot. For a detailed introduction to this year's ballot, and other candidates in the series, use the tool above; an introduction to JAWS can be found here. For a tentative schedule and a chance to fill out a Hall of Fame ballot for our crowdsourcing project, see here. All WAR figures refer to the Baseball-Reference version unless otherwise indicated.
The irony of graduating from being a virtual Hall of Fame voter to an actual one at this particular point in time has not been lost on me. Last year, my first as a voter but my 20th as an analyst, 18th while armed with the system that became JAWS, and 11th as a member of the BBWAA, featured a comparatively mediocre crop of first-year candidates, a few shocking discoveries about popular holdovers, and a whole lot of polarizing debate. The end result was the voters' first shutout since the 2013 ballot. Talk about an anticlimax!
As I noted at the outset of this year's election cycle, the possibility of another shutout has loomed large, and the arrivals of David Ortiz and Alex Rodriguez just as Barry Bonds, Roger Clemens, and Sammy Sosa reached their final year of eligibility guaranteed that everyone's favorite topic, performance-enhancing drugs, would remain at the forefront of discussion, not only during this election cycle, but so long as A-Rod remains on the ballot. See you in 2032?
In any event, the paper ballot fell into my hot little hands on November 24, and for all of the above, it was still much anticipated. Not only has the novelty not worn off, but the easing of traffic during the last two cycles has given a handful of candidates that I favor some room to build towards the magical 75% — if not this year, then sometime in the next few years.
While I've mostly known whom I planned to include, I went through my full process before finalizing this ballot, just as I've done with my virtual ballots. This year, that process was interrupted by a double barrel of fascinating Era Committee candidates and required some creative approaches to squeezing the major candidates in. I've still got a handful of one-and-done stragglers to cover in early January, none of whom are in serious consideration for space on my ballot, but their careers deserve a proper valedictory.
Despite last year's shutout, the record 22 candidates elected over the previous seven cycles eased what was once a nearly unmanageable backlog. Circa 2014, the ballot had 17 players who met or exceeded the JAWS standards at their respective positions, and 14 with a JAWS of at least 50.0 (or 40.0 for catchers), thus requiring all but the most small-Hall-minded voters to perform some kind of triage in order to winnow the field down to 10 candidates who could fit on their ballots.
Even with those numbers reduced to seven meeting or exceeding the JAWS standards and 10 with at least 50.0, there's still no such thing as a perfect ballot. With my annual exercise has always come an acknowledgement of the numerous subjective choices that go into selecting even the most objectively-minded slate. How much leeway to grant if one is using WAR and JAWS? How much emphasis to put on postseason performance, awards, and less quantifiable considerations? Where to draw the line on PEDs? What if we've learned things about these players' off-field lives that we can't stomach? Perfection may be unattainable, but that's not to say it's not worth pursuing, and if we don't get there… well, we do the best we can.
With that ample preamble out of the way, we turn to the actual slate. Over the past six weeks, I've analyzed the top 22 candidates on the ballot, the ones in serious consideration for my 10 spots. It's time to fish or cut bait.
Top 2022 Hall of Fame Candidates by JAWS Margin
JAWS Margin = difference between individual player's JAWS and position standard. For starting pitchers, standards and margin are relative to Peak WAR Adj. and S-JAWS. For relief pitchers, standards and margin are relative to R-JAWS. Yellow shading = meets standard at position.
As noted, I've used my experimental versions of JAWS for pitchers. The workload-adjusted S-JAWS for starters (see here) narrows the margin of those above starters relative to the standard and pushes Schilling past the adjusted peak standard. The leverage-adjusted R-JAWS for relief pitchers (explained here) doesn't push either Billy Wagner or Joe Nathan past the standards but makes them the top two relievers outside the Hall. While Jonathan Papelbon is closer to that standard in absolute terms (-6.1) than several other candidates are to theirs, his dearth of innings (just 725.2, 20% fewer than Wagner) and lack of support among voters to date almost guarantees he's one-and-done material, so I've excluded him above.
Seven candidates meet or exceed the JAWS standards at their positions, including five who top the career WAR and peak WAR standards as well. All of them make my first-cut list, as do the two players who top only the peak standards. Among those who don't meet any standards are five players I classify as "candidates of interest," namely Wagner, Nathan, Bobby Abreu, Gary Sheffield, and Ortiz, players who fall shy on JAWS but about whom I remain open-minded, for reasons explained below.
That's 14 candidates for a first-cut list; the rest, as far as I'm concerned, are along for the ride for reasons that, if not apparent from the table above, are explained at length in their respective profiles. If you want to know more about why I'm not supporting those particular candidates, I've got a few thousand words to that effect you can find via the widget atop the article.
As I've said repeatedly throughout this series, when it comes to PED-linked candidates, I distinguish between those whose allegations date to the time when the game had no testing regimen or means of punishment (i.e., prior to 2004) and those that came afterwards. With no means of enforcing a paper ban, and with players flouting such a ban being rewarded left and right amid what was truly a complete institutional failure that implicated the owners, the commissioner, and the players union as well as the players, I simply don't think voters can apply a retroactive morality to say that a Bonds or a Clemens or a Sosa shouldn't be in the Hall on that basis alone. I've done enough research to believe that this is a reasonable place to start, but there's no consensus within the electorate over how to handle the issue, and voters' views on the topic range from zero tolerance to complete indifference. This issue alone is the biggest impediment to a perfect ballot; some of us, voter or bystander, will never agree on how to handle the problem, and no solution will please everybody.
But for one final time, two spots on my ballot go to Bonds, the all-time home run leader, and Clemens, the best pitcher since World War II. As noted within this year's overview of their candidacies and my previous profiles of the gruesome twosome, the pair has seen their momentum slow since crossing 50% on the 2017 ballot, with Clemens gaining just 7.5% and Bonds 8.0% in the four cycles since; both were just shy of 62% last year. Though they're both polling at 78.7% from among the 89 ballots published via the Ballot Tracker as of 11:55 pm PST on Wednesday, they're not flipping enough "no" votes to "yes" votes to maintain that. They'll be the Today's Game Era Committee's problem starting next year.
Based on that same dividing line, I've crossed Ramirez and Rodriguez off my list. On a performance-only basis, both would get my vote, and likewise if their failing the supposedly anonymous 2003 survey test were their only PED-related transgression. A-Rod is one of six players with at least 3,000 hits and 500 homers, and he ranks 12th in WAR among all position players, but I can't overlook his full-season suspension for using PEDs bought from the Biogenesis clinic from 2010-12. Manny's one of the greatest hitters of all time — his 154 OPS+ ranks 20th among players with at least 7,000 PA — but I still can't get past the two failed tests, not when better players who never tested positive are being kept out. Maybe I'll change my mind on this someday, but not this year.
As for Schilling, I included him on most of my virtual ballots even while keeping the receipts for his long list of transgressions. Last year, when the litany expanded to include parroting thoroughly discredited claims of election fraud, calling for the President to declare martial law, and comparing Dr. Anthony Fauci to a Nazi, I left him off my ballot. His open support for the January 6 Capitol rioters doesn't change that. This isn't about his politics (as Schilling so often claims), this is about him using his sizable platform to spread hatred, intolerance, and disinformation. That platform will only grow if he's elected, and I refuse to take part in that. Besides, he asked off the ballot this year, remember? Good riddance.
Moving on, this quartet was on my ballot last year, and at least the last two of my virtual ballots. They're easy calls to return:
Scott Rolen (10th among third basemen in JAWS, 52.9% in 2021)
An exceptional but under-appreciated player on both sides of the ball, Rolen combined power and patience at the plate with some of the best glove work the hot corner has ever seen. Even in a career that contained numerous injuries and ended at age 37, he ranks third at the position both in fielding runs (+175) and in Gold Gloves (eight) and, depending upon your choice of metric, belongs among the top 10 or 20 hitters for the position as well. Particularly at an underrepresented spot — there are just 15 non-Negro Leagues third basemen in the Hall, compared to 28 right fielders and 19 to 21 at every other position besides catcher — he merits enshrinement.
Since debuting at 10.2% on the 2018 ballot, Rolen has surged, and at this point, he's polling at 71.4%. That share won't hold, but I'm hopeful he sets himself up for enshrinement in 2023.
Todd Helton (15th among first basemen in JAWS, 44.9% in 2021)
The 2020 election of former teammate Larry Walker opened up the road to Cooperstown for this denizen of Coors Field. An exceptional hitter who served as the face of the Rockies franchise, Helton put up huge numbers in the first half of his career, numbers that hold up once we adjust for his park and league scoring environment. Injuries caused his late-career fade, as he had just one good season out of his last four, but it's not out of the question that his time at altitude had something to do with that. His peak score ranks 10th among first basemen, about four wins above the standard, and with the recent election of Gil Hodges, his JAWS is now right at the standard.
After polling at 16.5% in his first year of eligibility, he banked big gains in the past two election cycles, and should cross the 50% threshold this year. Present company excluded, everybody who's reached that point has been elected eventually, though just as Hodges has exited that caveat, Bonds, Clemens, and Schilling are poised to replace him.
Billy Wagner (6th among relievers in R-JAWS, 46.4% in 2021)
The holder of the all-time records for strikeout rate and opponent batting average, albeit at just an 800-inning threshold, Wagner is short of the admittedly slapdash standard established by the eight enshrined relievers. Since I've never been entirely satisfied with how JAWS handles that small group, I've remained open-minded, seeking alternate ways to evaluate relievers; by my experimental R-JAWS, which incorporates Win Probability Added (WPA) and situational or context-neutral wins (WPA/LI) as well as WAR, he's the top reliever outside the Hall, trailing only Mariano Rivera, Dennis Eckersley, Hoyt Wilhelm, Rich Gossage, and Trevor Hoffman. After debuting at 10.5% in 2016 and gaining little ground in the next three cycles, his support has nearly tripled over the past two, and like Helton, he should clear 50% this year.
Andruw Jones (11th among center fielders in JAWS, 33.9% in 2020)
If 2018 Hall of Fame honoree Chipper Jones was the Braves dynasty's offensive cornerstone, Andruw Jones was its defensive one, an elite fly-chaser who won 10 Gold Gloves and ranks first at the position in fielding runs (+235). He could hit, too, bopping 434 career homers. His career collapsed at age 31, however; he played just 435 games over his final five seasons, disappearing from the majors at age 35, and so while he's well above the peak standard, he's short on the career one and in JAWS. I'm not so bothered by that, given his relative ranking and the fact that the standards in center and right field are a few points higher than every other position. After two years in the mid-7% range, he's more than quadrupled his support since, and appears to have a shot at eventual election.
That's six slots filled, and I've still got five candidates for four spots. Three of them are guys I voted for last year:
Sammy Sosa (18th among right fielders in JAWS, 17.0% in 2021)
A towering figure in baseball's return from the 1994 strike, and just the sixth player to reach 600 home runs, Sosa is nonetheless below the bar in JAWS, but above 2018 honoree Vladimir Guerrero (21st at 50.3). That matters more to me than the report that he was on the supposedly anonymous 2003 survey test, which as noted above, belongs to the "Wild West" era before the game had a coherent PED policy. What's more, commissioner Rob Manfred basically disavowed it in the context of celebrating Ortiz, on the grounds that some disputed results were never resolved because the threshold to implement testing had been reached. That doesn't mean Sosa was clean, but if MLB couldn't penalize him, I'm not going to.
Other voters haven't been so charitable. Sosa's share of the vote has been lower than any of the big PED-linked sluggers besides Rafael Palmeiro, the first star to fail a test, and while he's set new highs in each of the past two cycles after six straight years in the single digits, his candidacy looks like a lost cause.
Bobby Abreu (20th among right fielders in JAWS, 8.7% in 2021)
A five-tool player with dazzling speed, a sweet left-handed stroke, and enough power to win a Home Run Derby, Abreu was a stathead favorite thanks to his otherworldly plate discipline. He posted on-base percentages of .400 or higher eight times (.395 for his career) thanks to his ability to take a walk (100 or more eight years in a row). Yet despite routinely reaching traditional seasonal plateaus — a .300 batting average (six times), 20 homers (nine times), 30 steals (six times), 100 runs scored and batted in (eight times apiece) — he was ridiculously under-appreciated by the mainstream, making just two All-Star teams and winning one Gold Glove. He barely scraped by in his 2020 ballot debut with 5.5% but gained a bit of breathing room last year.
Gary Sheffield (23rd among right fielders in JAWS, 40.6% in 2021)
There's no denying Shef's skill with the stick. His total of 561 batting runs above average (the offensive component of bWAR) ranks 29th all-time, while his 140 OPS+ is tied for 48th; he's either alongside or ahead of numerous no-doubt Hall of Famers in those categories, and to that he added an aesthetic quality of sheer menace in the batter's box thanks to his lightning-quick reflexes and violent swing. It's his defense (-195 runs, second-lowest all time ahead of only Derek Jeter), not his BALCO connection or his penchant for controversy — two areas that require some digging in order to get a full and fair picture — that kept me from putting too much stock in his candidacy, as it knocks him below 50 JAWS, and nearly eight points below the position standard. Yet I'm troubled by the extent to which those outlying defensive stats, which date to the pre-batted-ball-type era, nuke Sheffield's value, and that goes double when they're compared to his defensive numbers via alternative methodologies. What's more, it's worth noting that 65% of his plate appearances came in the NL, where he didn't have the chance to serve as a DH. In 2020, I found room for him on my virtual ballot, and last year, he made the actual one. Other voters have been of similar mind, as his support, which meandered in the low teens from 2015-19, nearly tripled in the span of two cycles.
Collectively this trio went 1-for-15 on my virtual ballots, largely but not entirely due to crowding on the ballot. The lone vote went to the lowest-ranked player in terms of JAWS, though Sheffield is by far the best of the three offensively in terms of both OPS+ (Abreu and Sosa finished at 128) and batting runs (both are over 200 behind Sheffield), right on par with the two right fielders elected in recent years, Guerrero (140) and Walker (141) — but maintained over nearly 2,000 more PA than the former and nearly 3,000 PA more than the latter.
That leaves two newcomers in their first years of eligibility:
Joe Nathan (7th among relievers in R-JAWS)
Like Wagner, Nathan fares better via R-JAWS than by traditional JAWS. He's short on innings (923.1, just 20.1 more than Wagner) because he didn't stick in the majors as a reliever until age 28, and missed nearly three full seasons due to shoulder surgery (labrum and rotator cuff) and two Tommy Johns. But he's hardly short of high-impact innings, which is why he's fifth in WPA among pitchers who made at least half their appearances as relievers, and seventh in R-JAWS, just below Wagner. Among pitchers who faced at least 1,500 hitters in high-leverage situations (aLI > 1.5), his .592 OPS against (.200/.280/.312) is the lowest. While not as dominant as Wagner or Mariano Rivera, he did a very Rivera-like job over the 2003-13 stretch, posting a 2.24 ERA, 2.57 FIP and 30% strikeout rate while notching 340 of his 370 saves. Like Wagner, Nathan's postseason work wasn't much to write home about, but we're talking about 10 innings spread over six series, of which only two saw him throw more than a single inning; it's tough to ding him for such small samples.
David Ortiz (29th among first basemen in JAWS)
Because he spent 88% of his career as a designated hitter, and the rest as a subpar first baseman, Ortiz doesn't fare very well in WAR or JAWS; he's about 13 WAR behind 2019 honoree Edgar Martinez in the former, and down six points of OPS+ as well (147 to 141). Those metrics don't capture his central role in helping the Red Sox become a powerhouse, or the value of his postseason accomplishments. While there's no magically correct answer as to how to weight his .455/.576/.795 in 59 PA spread over three World Series — all victories — or his .289/.404/.543 with 17 homers in 369 PA for all the postseason, those are impressive numbers against top-flight competition, and he produced some indelible highlights while compiling them. He also set numerous counting stat records for DHs, and has only Martinez as a rival for the position's best ever.
When I wrote about Ortiz's career for The Cooperstown Casebook in 2017, I didn't envision voting for him on the basis of WAR and JAWS, but I've softened that stance with regards to several candidates.
In the end, the ballot status and current shares of the vote for this quintet offers a clear solution. Nathan has netted just one vote (!) from among the 89 ballots published in the Tracker, and while I've been led to believe more are coming for him via as-yet-unpublished ballots, it's clear that he needs all the help he can get even to remain in the discussion. If I'm not fully convinced he's a Hall of Famer, I'm 100% certain he deserves a longer look, and so he gets my vote.
Abreu, at 12.4% on the published ballots, is probably safe from slipping below 5%, but he needs my vote if he's ever to escape the ballot's basement. Sheffield, a personal favorite who is building momentum among voters (he's at 44.9% in the Tracker), gets a spot as well.
So it all comes down to my 10th spot. Ortiz is polling at 82.0%, the highest of any candidate, which strongly suggests he'll get into the Hall sooner or later, with or without my vote. Jason Sardell, whose probabilistic model has yielded the best election projections of anyone around, projected Ortiz with a 57% chance of getting in through the first 80 ballots received; by his model, nobody else even has a 0.5% chance based upon current returns. In other words, there's at least a 40% chance of another BBWAA shutout.
If my choice comes down to Ortiz or Sosa, who is in his final year and with just 22.5% clearly isn't getting to Cooperstown this route (and quite possibly not at all), I'm going with Big Papi. After a year with all Hall festivities postponed due to the COVID-19 pandemic, and then a muted Induction Day this past September, the current forecast for next year's Induction Weekend calls for a celebration of four deceased individuals (Hodges, Bud Fowler, Minnie Miñoso, and Buck O'Neil) and two who are 83 years old (Jim Kaat and Tony Oliva). For the sake of Cooperstown, I'm happy to help send an honoree whom people younger than 50 years old watched play, and in this case is a real fan favorite.
So that's my ballot: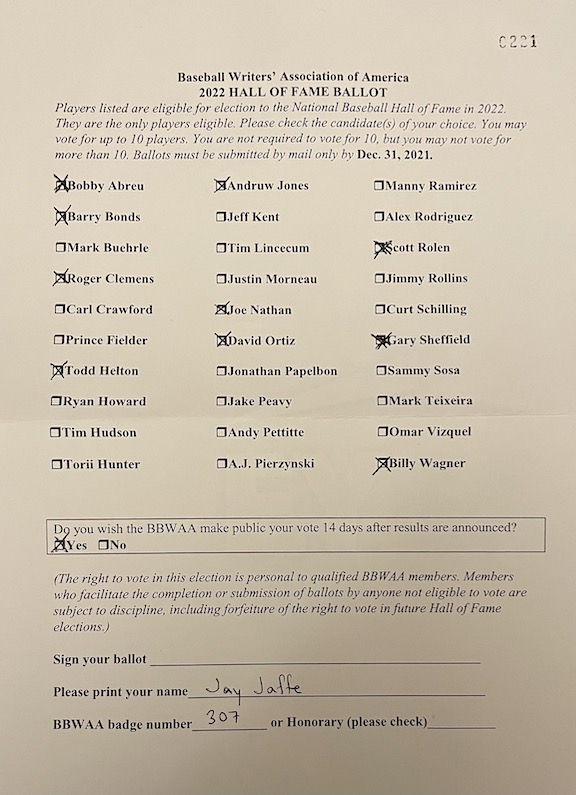 I'll admit I don't entirely love the way this came out, the extent to which my self-imposed rules prevent me from simply voting for the 10 best players on the ballot. I still think the line I've drawn with regards to PEDs is a reasonable one, and I'm entirely at peace with my decision to bypass Schilling.
And I'm not about to lose site of the bigger picture: I'm gratified that after covering baseball and analyzing Hall of Fame elections for so long on the outside, I get to cast a ballot. It's still just one vote from among roughly 400, less impactful than my work to sway actual voters and help the likes of Walker, Martinez, Tim Raines, Mike Mussina and others find homes in Cooperstown, but it's also symbolic.
As I said last year, in casting this ballot, I'm standing on the shoulders of giants in the field of baseball analysis, people who entered this industry without going through the traditional newspaper outlets and who either were never admitted to the BBWAA or didn't last long enough within it to vote. People such as John Thorn, Bill James, Rob Neyer, Joe Sheehan, Christina Kahrl, and Steven Goldman were among those who opened my eyes to different ways of viewing baseball decades ago, and their thoughts on the Hall of Fame and its processes inevitably seeped into my own views of the institution and who is worthy of admission. Of that group, only Kahrl, trailblazer that she is — and not just in the encouragement of self-consciously named acronyms — is a BBWAA voter, and Thorn, now MLB's official historian, was recently a first-time Era Committee voter. I'd prefer a voting process that found room for all of the above and other experts from beyond the mainstream, but in the meantime, I'll do my best to represent.
It is with gratitude to those above as well as to too many others to name — though I should also single out past BBWAA presidents La Velle E. Neal III, Jose de Jesus Ortiz, Susan Slusser, and Derrick Goold, all of whom helped me and my Hall expertise find a place within the organization after lobbing so many indelicate critiques from the outside — that I cast this ballot. As in 2020, its arrival has served as a light at the end of the tunnel of a difficult and trying year, and in sending it off, I hope that it lends itself to celebration.