The following article is part of Jay Jaffe's ongoing look at the candidates on the BBWAA 2022 Hall of Fame ballot. For a detailed introduction to this year's ballot, and other candidates in the series, use the tool above; an introduction to JAWS can be found here. For a tentative schedule and a chance to fill out a Hall of Fame ballot for our crowdsourcing project, see here. All WAR figures refer to the Baseball-Reference version unless otherwise indicated.
Mark Teixera was not The Natural, but he was a natural, at least. A switch-hitter who was adept at the game from an early age, he was positioned to be a first-round pick out of high school, but instead went to college, where he became not only the best player in his conference but in the entire country — as a sophomore. Despite missing significant time due to a broken ankle during his junior year, he became a top-five pick, and two years later the game's number one prospect. Forced to learn a new position upon reaching the majors, he won the first of his five Gold Gloves two years later. Upon reaching free agency at age 28, he received the sport's fourth-largest contract ever, then helped his team to a championship in the first year of that deal.
Teixeira wasn't flashy or particularly colorful. He was rarely controversial, except when agent Scott Boras was locking horns with owners and general managers on his behalf. He was especially consistent at the plate, reeling off eight straight seasons with 30 homers, 100 RBI, and an OPS+ of at least 120; during his 14-year career (2003-16) with the Rangers, Braves, Angels, and Yankees, only Miguel Cabrera, David Ortiz, and Albert Pujols had more such seasons, and only Pujols did so while playing good defense. That Teixeira kept his streak intact despite changing teams three times in a three-year span from 2007-09 was a testament to his focus and professionalism.
Through his 20s and perhaps even his early 30s, Teixeira appeared to have a shot at making it to Cooperstown. But between the trend towards defensive shifts against pull hitters and a seemingly endless string of injuries — calf, wrist, shin, neck, knee — he was derailed in his mid-30s, and chose to walk away upon completing his eight-year contract with the Yankees. Retiring at 36 years old left his career totals short of the type of numbers that would generate consideration for Cooperstown; indeed, through 52 ballots published thus far in the Ballot Tracker, he's received just one vote. Still, it's worth remembering what he did accomplish in his exceptional career.
| Player | Career WAR | Peak WAR | JAWS |
| --- | --- | --- | --- |
| Mark Teixeira | 50.6 | 38.0 | 44.3 |
| Avg HOF 1B  | 66 | 42.4 | 54.2 |
| H | HR | AVG/OBP/SLG | OPS+ |
| 1,862 | 409 | .268/.360/.509 | 126 |
SOURCE: Baseball-Reference
Teixeira was born in Annapolis, Maryland on April 11, 1980, and grew up in nearby Severna Park, across the street from fellow major leaguer Gavin Floyd, who is three years younger. By age three, he was watching entire baseball games, and by six or seven, he had seized upon the Yankees' Don Mattingly as his favorite player, even going so far as to wear Yankees shirts and caps to Camden Yards, where he of course got an earful from older fans. "Guys were saying words to me that I didn't understand at that age," he told the New York Times' Jack Curry in 2009.
Teixeira played baseball, basketball, and soccer in Severna Park's Green Hornets youth program, and began switch-hitting while still in elementary school. His father John, a high school teammate of Bucky Dent, played four years of baseball at the Naval Academy before becoming a pilot and coaching several of his son's teams. His mother Margy, a schoolteacher, was diagnosed with breast cancer when he was a freshman at Mount St. Joseph High School. While in high school, one of his best friends, Nick Liberatore, was killed in a car accident. "For the next year, every Wednesday night Teixeira and his friends would eat dinner with the Liberatore family, and he has since endowed a scholarship in his friend's name," wrote the New York Times' Ben Shpigel in 2008. Those events helped to shape Teixeira's ability to keep baseball in perspective amid the success that followed.
Teixeira earned High School All-American honors at Mount St. Joseph, and received a scholarship offer from Georgia Tech as well as significant interest from teams with picks in the middle of the first round of the 1998 draft. The Red Sox, under general manager Dan Duquette, had the 12th pick, and told Teixeira and his father that they'd select him if he agreed to their offer of a $1.5 million bonus prior to the draft (a bit low, as the four other picks in the 11-15 range wound up getting $1.675 to $1.85 million). When Teixera, on the advice of Boras, declined the offer, the Red Sox spread the word that he wouldn't sign, yet still selected him in the ninth round. Teixeira wasn't happy, as he told Baseball America's Alan Schwarz in 2006:
"They said take it or leave it. It was a decent bonus, but it wasn't what we were looking for, and we didn't want to cap our negotiation before the draft even happened… It's unfair and illegal to go to a kid and say, 'We haven't drafted you yet, we may or may not draft you, but if you don't take 1.5 we're not going to draft you.'"
Instead Teixeira accepted the scholarship offer to Georgia Tech. He earned an armload of accolades there as a third baseman, becoming a two-time All-American, an Academic All-American, the Atlantic Coast Conference Player of the Year, and the Cape Cod League's Outstanding Pro Prospect Award. He capped that by winning the Dick Howser Trophy as the national collegiate baseball player of the year for 2000, when he hit .427 with 18 homers.
A broken right ankle limited him to 16 games in 2001, his junior season, but the Rangers still chose Teixeira — whom Baseball America considered "the best pure hitter and the best power hitter available" — with the fifth pick in the amateur draft, one pick after Floyd was taken by the Phillies; the duo was just the third pair from the same high school to be drafted in the first round in the same year. The Rangers signed Teixeira to a four-year, $9.5 million deal, including a $4.5 million signing bonus.
Already the 10th-ranked prospect in the game according to Baseball America, Teixeira had to wait until 2002 to begin his professional career due to his ankle injury. After rupturing a tendon in his left elbow while running into a wall in pursuit of a foul popup during spring training, his debut was further postponed until June, but he made short work of the Rangers' High-A Port Charlotte affiliate, playing just 38 games there before before being promoted to Double-A Tulsa. He hit a combined .318/.413/.592 with 19 homers in 83 games that year, and was anointed the number one prospect in the game by BA heading into the spring of 2003:
Teixeira's tools, approach and strength make him the best hitting prospect in the minor leagues. He has well-above-average power–40 homers a year is no stretch–and hitting ability from both sides of the plate, in part because he's in tune with his abilities and has sound fundamentals. Powerfully built, he has a short swing with leverage from both sides, excellent pitch recognition and an advanced two-strike approach. Athletic and instinctive, Teixeira also works hard on the deficiencies in his game. Teixeira takes pride in not being a base clogger, but speed is his weakest tool.
Teixeira made the Rangers out of spring training in 2003, but went 0-for-3 with a walk in his debut against the Angels on April 1. In fact, he started his career 0-for-16 with three walks before doubling off Oakland's Mark Mulder on April 9; the next day, he hit a three-run homer off Ted Lilly. Because the Rangers preferred the hot corner defense of 22-year-old Hank Blalock, Teixeira played mainly first base — a position he hadn't manned since the Cape Cod League — with some time at third and the outfield corners. He hit .259/.331/.480 (102 OPS+) with 26 homers as a rookie and — if the metrics are to be believed — added a whopping 19 DRS at first base, for a solid 2.7 WAR.
Teixeira bashed 38 homers in 2004, improving to .281/.370/.560 (131 OPS+) and 4.6 WAR. His performance helped the Rangers, who had traded Alex Rodriguez three years into his 10-year, $252 million deal, improve from 71-91 to 89-73. Teixeira topped that performance in 2005, with 43 homers and a .301/.379/.575 (144 OPS+) line; he made his first All-Star team and won his first Gold Glove (with 13 DRS), no small achievement given the recency of his conversion to the position. His 370 total bases led the league, while his 144 RBI set a record for switch-hitters and ranked second, his 7.2 WAR third, his homers fourth, and his slugging percentage sixth.
The 2005 season marked the final one of Teixeira's initial contract. The Rangers approached him about a long-term contract, but when Boras sought a 10-year deal for his client, the two sides could only find common ground on a two-year, $14.5 million extension. His play took a step back in 2006 (33 homers, 126 OPS+, 4.4 WAR). He still won a second Gold Glove, but the Rangers dipped to 80-82, and fired manager Buck Showalter.
The Rangers continued to struggle under first-year manager Ron Washington in 2007, and continued to fret over the possibility of losing Teixeira to free agency after the '08 season. On July 31, the Rangers traded him and lefty reliever Ron Mahay to the Braves for five players: shortstop Elvis Andrus, pitchers Neftalí Feliz, Matt Harrison, and Beau Jones, and catcher Jarrod Saltalamacchia. Though the last of those, a switch-hitting rookie catcher who had been a supplemental first-round pick, was considered the centerpiece of the trade, Andrus, Feliz, and Harrison — all in A-ball at the time — would grow to become key parts of the Rangers' 2010 and '11 teams that won back-to-back AL pennants. Days after the trade, Rangers owner Tom Hicks told reporters that Teixeira turned down an eight-year contract extension worth $140 million shortly before being dealt.
Teixeira clouted 17 homers and slugged .615 for the Braves in 54 games, finishing with 30 homers, a 149 OPS+ and 4.6 WAR overall. Nonetheless, the Braves, who were still in transition from their long-running NL East dynasty, finished just 84-78, five games out of first place. For as much sense as the return to Georgia made for Teixeira given his college stardom, he wasn't long for the place. After avoiding arbitration with a one-year, $12.5 million deal, he lasted only until July 29, when the team, which was bound for 90 losses, dealt him to the Angels for Casey Kotchman and a minor league reliever. Again Teixiera went on a post-trade tear, hitting .358/.449/.632 for a 181 OPS+ and finishing with a .308/.410/.552 line, 33 homers, a 152 OPS+, and a career-best 7.8 WAR (third in the majors). The Angels, who already owned a double-digit lead in the AL West when they acquired Teixeira, cruised to 100 wins and a division title, but despite the first baseman going 7-for-15 with four walks in the Division Series, they were knocked off by the Red Sox.
Still, having averaged 35 homers, a 140 OPS+, and 5.7 WAR over the previous five seasons, the 28-year-old Teixeira hit free agency on a very high note. The Red Sox pursued him heavily, with owner John Henry and general manager Theo Epstein — neither of whom had been part of the organization when the team drafted Teixeira — even traveling to Texas to court him. But as Teixeira, who was also generating interest from the Orioles, Nationals, and Yankees, told Fox Sports' Ken Rosenthal in 2016, the team was "offering the same contract as everyone else."
Though the Nationals made a late run, the Yankees, who were coming off their first playoff miss in the Wild Card era and heading into their new ballpark, landed Teixeira with an eight-year, $180 million contract, part of a spending spree that also included CC Sabathia's seven-year, $161 million deal and A.J. Burnett's five-year, $82.5 million deal. At that time, the contract was the fourth-largest in baseball history behind Rodriguez's 10-year, $275 million deal, the $252 million deal it replaced when he opted out, and Derek Jeter's 10-year, $189 million extension. Including Sabathia, the Yankees had the game's top four contracts on their payroll simultaneously.
The investments quickly paid off, as the Yankees improved from 89 wins to 103, with Teixeira hitting .292/.383/.565 (141 OPS+) while leading the league in homers (39), total bases (344), and RBI (122). He made his second All-Star team, won his third Gold Glove, and finished second (a distant second) in the AL MVP voting behind Joe Mauer. While he batted just .180/.282/.311 in the postseason, he did collect some big hits, starting with his walk-off solo homer off the Twins' Jose Mijares in Game 2 of the Division Series.
Teixeira went on to drive in the first three runs in a six-run rally that temporarily gave the Yankees the lead in Game 5 of the ALCS against the Angels (the bullpen did not hold), hit a game-tying solo homer off Pedro Martinez in Game 2 of the World Series against the Phillies (a game I attended), and drove in runs in the team's victories in Games 4 and 6 as well. He recorded the final out, clutching the throw from Robinson Canó after Mariano Rivera induced Shane Victorino to ground to second base, sealing the Yankees' 27th title.
Unfortunately for Teixeira, a league-wide trend started to catch up in a way that would impact his offensive contributions: defensive shifting, designed to neutralize the game's most pull-happy hitters. For Teixeira, whose pull rate on batted balls was generally around or even over 50% (particularly from the left side), this was trouble, and it would cut into his batting averages on balls in play. Where he managed a .308 BABIP from 2003-09, he would dip to .253 over the next three seasons, before the endless string of injuries took its real toll, and to .246 over the life of his Yankees contract.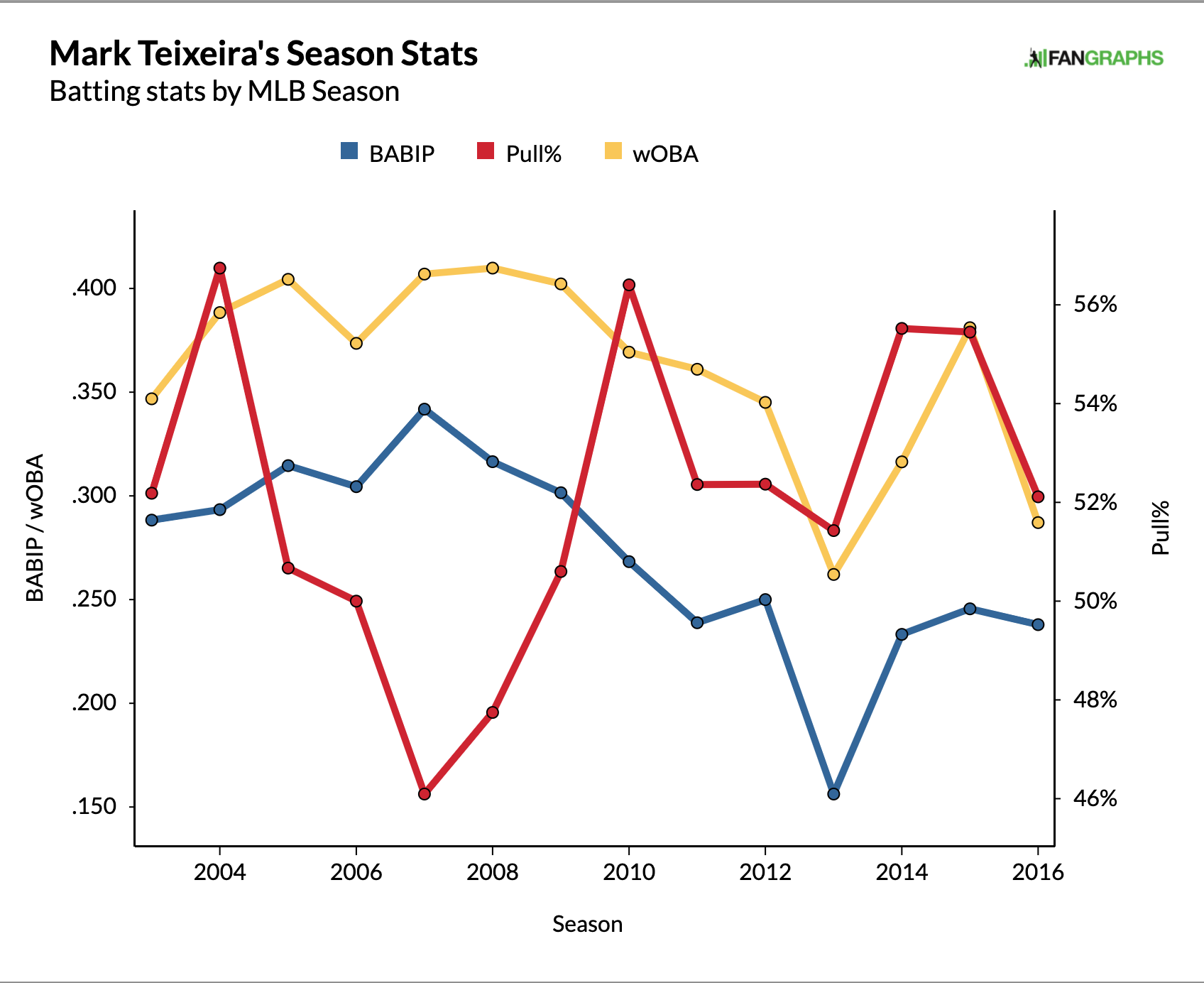 Still healthy enough to play in 314 of the Yankees' 324 games in 2010-11, Teixeira slipped to a combined .252/.353/.487 (122 OPS+) in those two seasons, with home run totals of 33 and 39, and WARs of 4.1 and 3.4. The Yankees won the AL East in both seasons, and Teixeira's two-run seventh-inning homer off Jesse Crain provided the margin of victory in the Division Series opener against the Twins, whom the Yankees swept. He went 0-for-14 in the ALCS against the Rangers, however, as the Yankees were eliminated. In the Yankees' 2011 Division Series defeat by the Tigers, he went just 3-for-18.
Teixeira had been a picture of durability though his first nine seasons in the majors, averaging 153 games and hitting the disabled list only for an oblique strain in 2003 and a quad strain in '07. He wasn't far off that pace in the 2012 season until late August, when a left calf strain limited him to a single game in September, and just four of the Yankees' final 34 games. He finished with "only" 24 homers and a 115 OPS+, his lowest mark since his rookie season, though outstanding defense (17 DRS) helped him win his fifth Gold Glove. Teixeira rushed his return to play in the postseason and hit a light .281/.425/.313 with one double and one RBI in 32 PA while the Yankees beat the Orioles in the Division Series but were swept by the Tigers in the ALCS.
Teixeira's problems were only beginning. While training with Team USA for the 2013 World Baseball Classic in March, he suffered what was initially diagnosed as a right wrist strain but turned out to be a partially torn tendon sheath. He didn't debut until May 31, and went just 8-for-53 with three homers in 15 games before discovering that the injury "had not adequately healed," as the Yankees explained. He underwent season-ending surgery, but the wrist continued to hamper him in 2014, as did a hamstring strain and a slew of minor injuries. Though he slugged .573 through the first quarter of the season, and wound up with 22 homers, his .216/.313/.398 line and 0.8 WAR underscored the extent of his struggles.
Against the odds, the 35-year-old Teixeira regained form — his 2010-12 form, at least — in 2015. He homered 22 times in the first half of the season en route to All-Star honors and the occasional mention in MVP discussions, and he spoke openly of his goals: winning another World Series, reaching 500 home runs, and making the Hall of Fame. On July 31 against the White Sox's Carlos Rodón and Matt Albers, he homered from both sides of the plate in the same game for the 14th time, temporarily retaking the all-time lead from former teammate Nick Swisher, who re-tied him three weeks later.
On August 17, 2015, Teixeira fouled a ball off his right shin. Initially diagnosed with a bone bruise, he sat out for a week, but the pain persisted. He played in just two more games before landing on the DL, a rarity for September; soon, doctors discovered that his tibia was actually fractured, ending his season. Still, his .255/.357/.548 (144 OPS+) line with 31 homers offered some optimism heading into the final year of his deal.
That optimism proved unfounded. He started slowly, and between neck, knee, and foot ailments, struggled for most of the season, hitting .204/.292/.362 with 15 homers thanks only to a late-season surge. On July 3, he did hit the 400th home run of his career, off the Padres' Carlos Villanueva; he added no. 401 in his next plate appearance. He was just the fifth switch-hitter to reach 400 homers, after Mickey Mantle, Eddie Murray, Chipper Jones and Carlos Beltrán.
Despite the milestone, Teixeira was coming around to the realization that his body wouldn't let him continue. "In my mind, I'm still the 160-games, 30-home runs, 100-RBIs guy — that's what you always think of yourself as," he told Rosenthal. "My body is telling me, 'No, you're not.'" In August, he revealed his plan to retire at season's end.
…
By retiring at age 36, short of the 2,000 hit mark, Teixeira all but ruled himself out of serious Hall of Fame consideration. Between the writers and the small committees, voters have elected only one player from the post-1960 expansion era with fewer than 2,000 hits, namely 2022 Golden Days Era Committee honoree Tony Oliva. It's fair to wonder if Teixiera would have come closer to that milestone by adjusting to the constant defensive shifting, which by FanGraphs' numbers held him to a .230 BABIP and 35 wRC+ in that context. Likewise when it comes to Teixera's near-constant early-season struggles, via which he managed just a 105 wRC+ in March/April, compared to 130 in the other months.
The hit total aside, Teixeira's credentials are stronger than you might think. Though he only made three All-Star teams, his five Gold Gloves, five playoff appearances, regular play for a World Series winner, and routine 30-homer, 100-RBI seasons help him to a Hall of Fame Monitor score of 109, somewhere between "a good possibility" and "a virtual cinch."
Though he missed out on the 500-home run club, Teixeira's 409 homers are more than all but eight of the 22 enshrined non-Negro Leagues first basemen. That low total of enshrinees does owe something to the position's sluggers from the Deadball Era — Roger Connor retired in 1897 as the all-time leader with 138 — as well as those whose links to PEDs have kept them out. Of the players at any position with at least 400 homers and five Gold Gloves, he's one of just four outside the Hall, along with current candidates Barry Bonds and Andruw Jones, plus the not-yet-eligible Adrián Beltré, who's a lock.
Leaving the traditional milestones aside, Teixeira cracked his league's top 10 in WAR just once, plus once in the majors' top 10 after being traded between leagues. His 50.6 career WAR ranks 32nd at the position, ahead of five of the 22 non-Negro Leagues Hall of Famers, including Orlando Cepeda and Gil Hodges. His 38.0 peak score, which ranks 27th, outdoes seven such Hall of Famers, including the BBWAA-elected Tony Perez as well as Cepeda and Hodges. His 44.3 JAWS is one point below both Perez and Ortiz; he's tied with Fred McGriff — a possible future Era Committee selection — for 31st, again ahead of five of the 22 enshrinees, not to mention popular outsiders such as Mattingly and Carlos Delgado.
None of this is to say that Teixeira is worthy of a spot in the Hall, so much as it is to point out that he was better than several first basemen who are already enshrined. With better luck in the injury department, he might have played a few years longer, reaching that goal of 500 homers and putting the cap on a career worthy of a spot in Cooperstown.