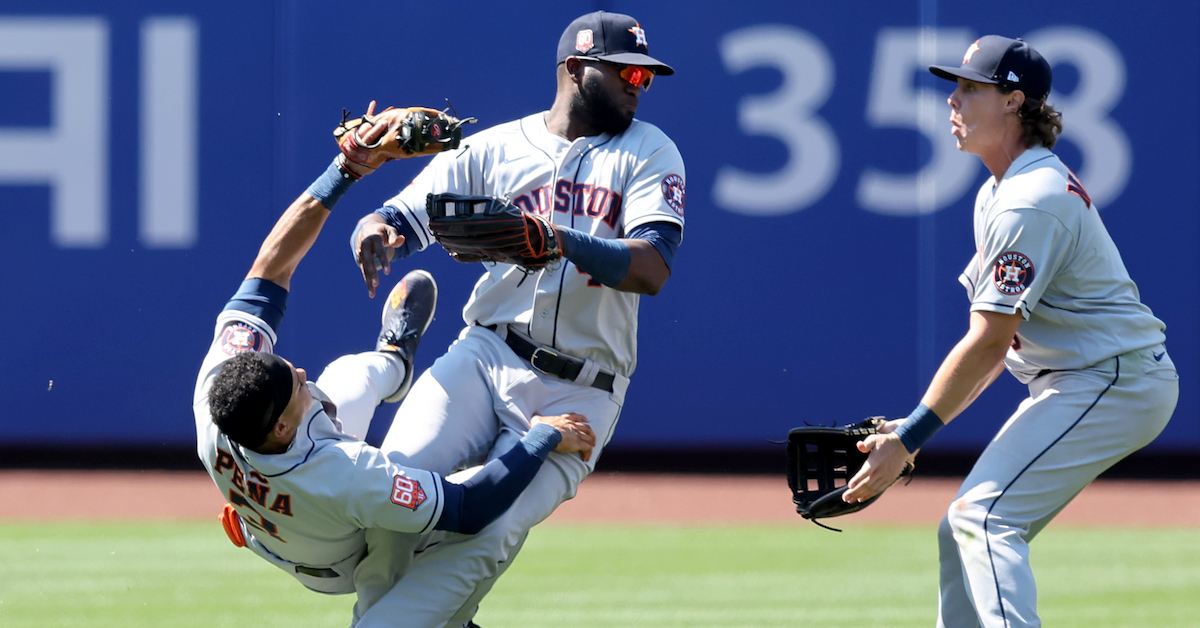 The Yankees and Mets have the best records in their respective leagues, but both teams took their lumps in the past week when the Astros came to town. Houston even threw a combined no-hitter at Yankee Stadium last Saturday while splitting a four-game series, halting the Yankees' streak of seven straight series wins dating back to the end of May, then held the Mets to a grand total of one run in their two-game sweep. Yet the Astros didn't escape from New York unscathed, placing Michael Brantley on the injured list due to right shoulder discomfort and shuddering as left fielder Yordan Alvarez and shortstop Jeremy Peña left Wednesday's game after colliding in the outfield.
Alvarez and Brantley have split the left field and designated hitter duties pretty evenly this season; with the latter sidelined, the former got the call on Wednesday afternoon. In the eighth inning, Peña and Alvarez converged towards a shallow fly ball off the bat of Dominic Smith, with the shortstop making an over-the-shoulder grab but running into the much larger left fielder (Alvarez's listed five-inch, 23-pound advantage seems conservative). Peña's left arm hit Alvarez's face, while Alvarez's right arm hit Peña's face. Both players got tangled up, went down hard, and stayed down for a few minutes while the Astros' training staff tended to them.
Both players remained responsive and wanted to stay in the game but were pulled, with Alvarez, who missed all but two games in the 2020 season due to a torn patellar tendon, carted off the field; Peña walked off under his own power. Both players were evaluated for concussions, with Peña known to have additionally suffered a laceration in his mouth. Chas McCormick took over in left field for the remainder of the game while Mauricio Dubón assumed shortstop duties.
There's no word as of this writing as to whether either player will miss significant time, but when clubhouses opened in Houston on Thursday, both remained in concussion protocol and were still undergoing testing; they were not in the lineup for the evening's game against the Yankees. Both players have been central to the Astros' accomplishments this year. The 25-year-old Alvarez, who earlier this month agreed to a six-year, $115-million extension, is hitting a sizzling .316/.412/.658. His slugging percentage and 203 wRC+ lead the American League, his 23 homers is tied with Mike Trout for second in the league behind Aaron Judge, his on-base percentage is third, his 3.6 WAR fifth, and his batting average sixth. Along with his hitting the stuffing out of the ball (his 96.1 mph average exit velocity trails only that of Giancarlo Stanton, while his 61.8% hard-hit rate trails only J.D. Davis), he's cut his strikeout rate from last year's 24.2% to 16.5%, that while boosting his walk rate from 8.4% to 13.4%. Already an exceptional hitter, he's now an elite one.
As for Peña, the 24-year-old rookie was playing in just his third game since returning from a 10-day stint on the injured list due to a left thumb injury suffered while making a diving catch on June 13. Tasked with filling the shoes of departed free agent Carlos Correa even before he'd played a single major league game, he's done a commendable job so far, hitting .275/.327/.461 with nine homers, a 127 wRC+, and 2.4 WAR. That last mark is third on the team (Kyle Tucker is second with 2.8) and fifth among all players with at least 50% of their games at shortstop. While Correa has hit for a 143 wRC+ with the Twins in slightly more playing time (he too has spent time on the IL), Peña has the edge both in DRS (9 to 0) and RAA (5 to -2) as well as WAR (Correa has 1.9). Additionally, Peña is tied with Julio Rodríguez for the lead in WAR among rookies, setting up an intriguing AL Rookie of the Year race.
The 35-year-old Brantley left Sunday's game against the Yankees in the eighth inning, yielding to pinch-hitter J.J. Matijevic; he'd gone 0-for-3 with two strikeouts, just his fourth multi-strikeout game of the season. His right (non-throwing) shoulder is the same one on which he had two surgeries in 2015-16, the first to repair a torn labrum and the second to alleviate chronic biceps tendonitis; he played in just 11 games in 2016.
Neither Brantley nor manager Dusty Baker have offered much in the way of details. "Asked whether the injury occurred on one play or whether it had been a season-long problem, Brantley replied, 'A little bit of both,'" according to the Houston Chronicle's Chandler Rome. "As competitors and baseball players you want to be out there with your teammates," continued Brantley. "You try as much as you can to stay on the field, but at this time, it was best for myself and for this organization and this team to get back 100 percent healthy."
Even given his balky shoulder, Brantley remains Mr. Consistency, hitting .288/.370/.416 with five homers and a 130 wRC+, his fifth straight season with a wRC+ in the 123 to 133 range. While his power numbers are down — his slugging percentage is his lowest mark in substantial playing time since 2013 — he's walking at a career-best 11.2% clip, up from last year's 6.5% and a career mark of 7.9%. The spike in walk rate raises the possibility that he's been protecting his shoulder, particularly given that it's been accompanied by a 41.5% swing rage, his lowest since 2012 save for the pandemic-shortened 2020 season.
Brantley was replaced on the roster by McCormick, who was recalled two days after being optioned to Triple-A Sugar Land to make room for Peña. As a rookie, McCormick hit a solid .257/.319/.447 (109 wRC+) with 14 homers in 320 plate appearances last year, but he's dipped to .215/.290/.386 (96 wRC+) with six homers this year. With Astros center fielders having hit just .190 /.249/.327 (66 wRC+) this season, the team had demoted him to make room for Jake Meyers, who's 26 (a year younger than McCormick) and like McCormick bats righty and throws lefty; he hit .260/.323/.438 (111 wRC+) with six homers in 163 PA as a rookie last year. With Brantley out, there's room for both Meyers and McCormick in the lineup, and all the more so if Alvarez misses any time. As for the shortstop situation, if Peña is out, Aledmys Díaz is the likely fill-in, though he's hit an uncharacteristically limp .215/.259/.296 so far and has already played the position more than in any season since 2018.
Thus far, the Astros are tied with the Dodgers for second in the majors in wRC+ at 114, trailing only the Yankees' 117. They're the only team in the majors with six players with a 120 wRC+ or better in at least 200 PA (the Mets, Yankees, and Dodgers all have five with at least a 115 wRC+). But sequencing has been a problem; they're only seventh in the AL in scoring at 4.32 runs per game, and the gap between that rate and the 4.60 runs per game projected by BaseRuns is the majors' second-largest. Between Alvarez, Brantley, and Peña, three of the Astros' six most productive hitters are now at the very least banged up, and if their absences are prolonged, they could exacerbate those sequencing issues given the lack of production the team has gotten from center field, catcher (34 wRC+ between Martín Maldonado and Jason Castro) and first base (85 wRC+ between Yuli Gurriel and friends).
The good news is that the Astros have the league's second-best run prevention at 3.35 runs per game, and a rotation that rivals that of the Yankees as the AL's best. Justin Verlander has pitched more like a vintage version of himself than a 39-year-old who missed the better part of two seasons due to Tommy John surgery; his eight innings of two-hit shutout work on Wednesday lowered his ERA to 2.03 (second in the AL) and his FIP to 3.40. Framber Valdez (2.65 ERA, 3.33 FIP) is pitching like an All-Star, and Cristian Javier, whose seven-inning, 13-strikeout performance provided the bulk of the heavy lifting in Saturday's no-hitter, has been strong as well, with a 3.33 ERA and 3.11 FIP. Luis Garcia has been more or less league average but is trending slightly upwards since April, with José Urquidy (4.36 ERA, 4.82 FIP) the weak link, though he's totaled 13 innings and two runs allowed in his past two starts against the Mets (in Houston on June 21) and the Yankees (on Sunday). Jake Odorizzi, out since mid-May due to a right foot and ankle injury that was initially believed to be a ruptured Achilles tendon, is on a rehab assignment, though how the Astros will configure things once he returns is an open question.
That's a nice problem to have, particularly for a team with a 12-game lead in the AL West and a 96.8% chance of clinching the AL's other first-round bye besides the Yankees according to our Playoff Odds. Hopefully they can count themselves lucky that both Alvarez and Peña avoided major injuries, but they're not out of the woods yet.