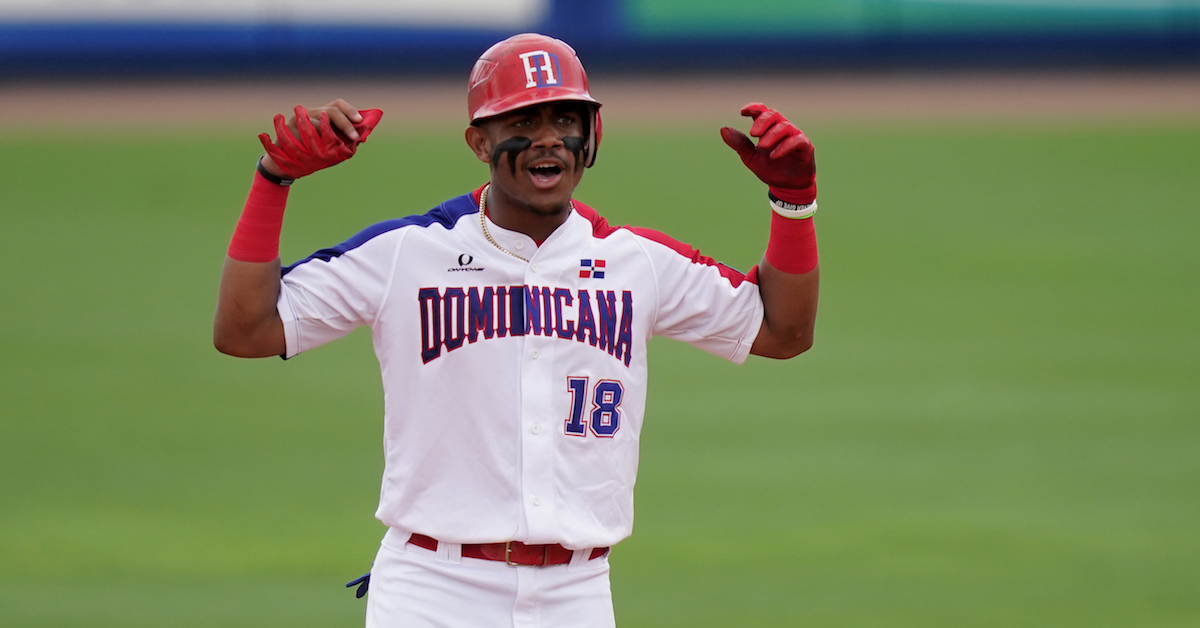 A sub-theme of this year's Prospects Week content was the sausage-making, a peeling back of the curtain to give you a look into the process itself. To put a bow on this year's content, I wanted to spotlight some of the list-making procedures specific to the Top 100 list. This might be helpful to anyone looking to perform a similar exercise, be it baseball prospects, NFL draft prospects, or in a bar room argument around SNL cast members. Accompanying this fairly brief post is an episode of Yeoman's Work, a lo-fi, multimedia presentation that focuses on the prospect analysis here at FanGraphs, paired with single-camera footage from my baseball video archives. Below is Episode 2 of Season 2, which features some of what you're about to read, as well as a look at our in-progress Twins, Red Sox, and Rays lists, and footage of some 2022 draft prospects I've seen recently.
Most of my narration and video archive are very quiet, low-sensory experiences without music or crowd noise, which I think will appeal to those of you who enjoy Baseball Sounds, as they are front and center in the footage. If this tone appeals to you, my biggest "musical influence" in this department is Kathleen De Vere's online pirate radio show, Brave New Faves. I recognize not everyone has an hour and a half to devote to this, so I've fleshed out the concepts related to the construction of the Top 100 below, if the video isn't your thing.
Content Advisory: This video contains adult language and subject matters.
The end-of-year overall prospect list is the sourdough starter for that offseason's list. At the end of 2021, Adley Rutschman and Bobby Witt Jr. were ranked first and second on our overall list, with Julio Rodríguez and Grayson Rodriguez in the 60 FV tier with Witt and about 10 other players. Our first course of action when constructing the Top 100 is to elevate the players we considered particularly great, players who have both special physical ability and have performed statistically, especially if that statistical performance reinforces our confidence in their ability to hit. This group eventually comprised most of our 55 FV and above tier, where we're distinguishing between "very good" and "great" in some regard: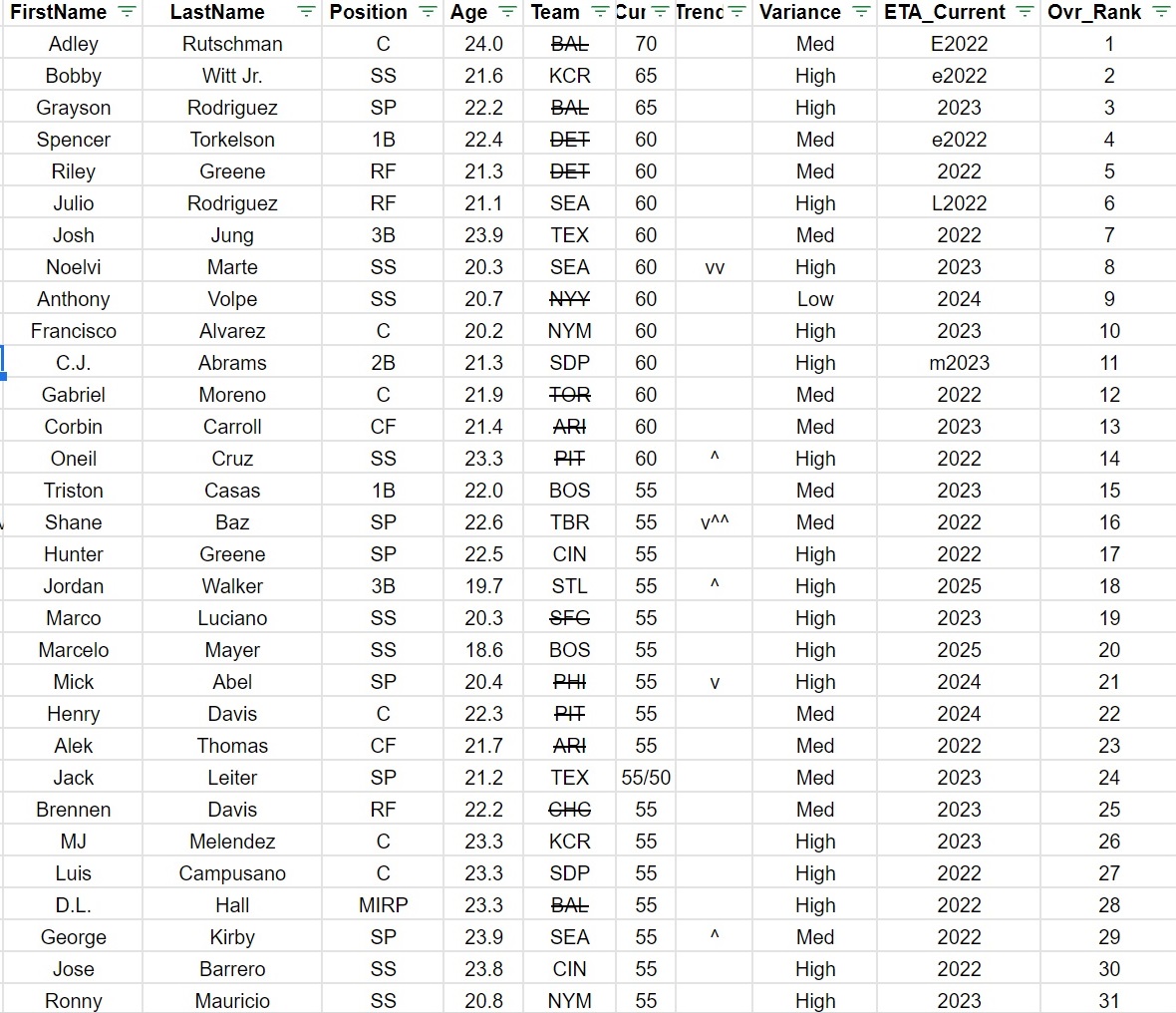 An aside: The classification nomenclature that is becoming most common for the way teams grade prospects is similar to the verbiage of the CEFR language proficiency scale, except in reverse. On the CEFR scale, an A1 speaker of a language is a beginner, while on this increasingly utilized baseball scouting scale, an A1 would be an elite player, which to me feels more intuitive. Organizations helmed by executives branching from the Theo Epstein tree tend to be the ones who use this verbiage.
Eight of the 29 players who ended 2021 as 55 FV or above prospects moved out of that tier and into the 50s, while a few (like Oneil Cruz and Josh Jung) were immediately integrated into the pool of elite players based on our group's (Kevin Goldstein, Tess Taruskin, and me) sense that they obviously belonged for the reasons stated in the opening paragraph. Two others (Keibert Ruiz and Jose Barrero) were removed because they'd graduated from rookie eligibility.
We then ranked that relatively small bucket of 55 and above FVs (about 30 players) over the phone. It was during this discussion that the group of Witt, Grayson Rodriguez and Julio Rodríguez began to separate from the rest of the 60 FV tier in our eyes. That trio's combination of proximity and potential impact felt meaningfully different than the rest of the 60s, save for Cruz, whose approach-related bust risk made us want to keep him in the tier below. We started circulating that rough chunk of the list to some high-level sources for feedback. The people who have the greatest incentive to know and care about this group of players will be rebuilding clubs' Assistant Pro Director and above types, or analysts on teams more likely to have thought about trading for prospects recently.
I have taken to breaking down the huge collection of 50 FV prospects below this tier into prospect "phenotypes," clustering them in a way that allows us to make apples-to-apples comparisons. I find this much more manageable than dealing with the next 75 or so players all at once; since moving to this approach, I'm much less likely, later on in the process, to feel like I've got players wildly out of place or have intellectual inconsistencies littered throughout the list. For instance, here's a cluster of power-hitting prospects toward the bottom of the defensive spectrum (highlighted in blue), and a group we called "high-variance arms" (highlighted in purple). This screenshot was taken about two weeks out from list publication: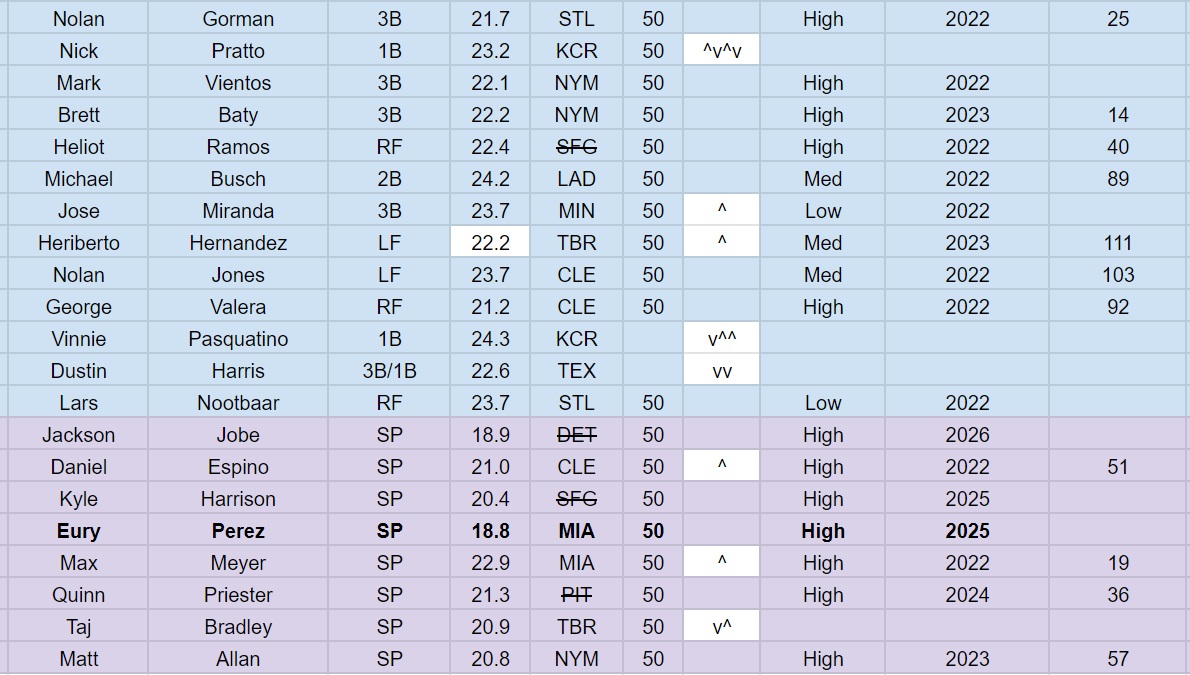 We assembled these groups and added fresh players who were not end-of-year 50 FV prospects but who had either performed in an elite fashion on paper or generated big scouting buzz on the complexes. We aim to over-include names at this stage and, again, order them within those groups amongst ourselves before we shuttle this part of the list around to sources.
Grouping the players can help facilitate discussions with scouts, analysts, and executives. For instance, an exchange with a source might go something like this:
Scout: I'd say Michael Busch is about as good a defensive second baseman as Nolan Gorman, and I'd rather have Busch's contact and power combo than Gorman's strikeout-heavy profile.
Me: Gorman is three years younger and at the same minor league level, and is viable at third base, whereas Busch is in the LF/1B area when you're not able to hide him at second. How would you rank Jose Miranda, Mark Vientos, Busch and Gorman in terms of their ability to actually play an infield position well?
It's easier for a source to offer these comparisons when they see these names right next to one another, rather than spread across 50 or so spots on the list. We ask sources to re-order the names within a group, alert us to missing players who'd fit within it (this is how Vinnie Pasquantino first appeared within that corner group above), and indicate if anyone from these groups belongs up in the ordinally-ranked 55 or above FV tier. We take notes on the players throughout these discussions and then bring those notes back to the group before taking action to reorder the names in any way.
Once we're in a spot where there isn't much movement occurring anymore, we start to fold together the phenotype groups until we have two huge groups, one of pitchers and one of hitters. By this point, we've all thought about every player so much that there's very little discussion around evaluation and player movement and much more gut feel, this-or-that snap decision-making within our crew, zippering the pitchers and hitters together into the final list.
var SERVER_DATA = Object.assign(SERVER_DATA || {});