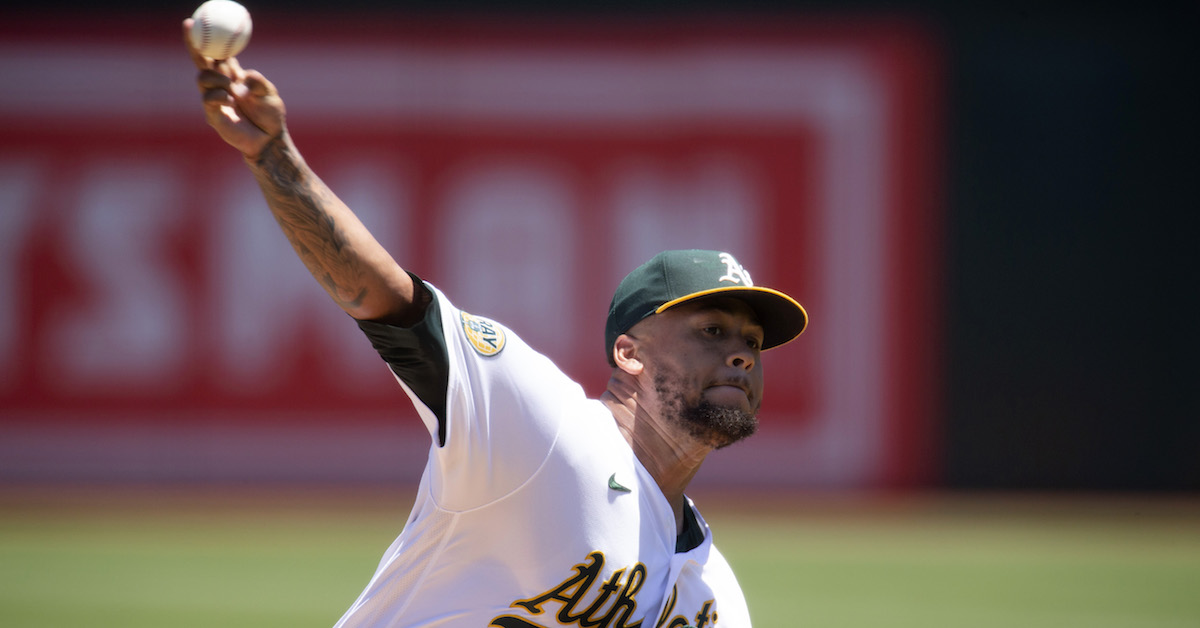 Frankie Montas took the mound to start the eighth inning yesterday afternoon with a chance at history. He hadn't allowed a hit all game, and looked to be picking up steam; his last pitch of the seventh inning hit 99 mph on the stadium gun, one of his hardest pitches of the day. He cut down the first two batters of the eighth in short order – four pitches, two grounders – leaving him only four outs from the first no-hitter of his career.
Montas is one of the best pitchers in baseball. A year ago, he put together his first full season, 32 starts of 3.37 ERA excellence. This year, he's cleaning things up around the edges: fewer walks, more grounders, and more innings per start. His 3.21 ERA, 3.15 FIP, and 2 WAR are all in the top 20 among starting pitchers.
One small downside: Montas plies his trade in Oakland. That 2 WAR is more than every other player on the A's has amassed combined (that rest-of-roster total comes in at 1.8 WAR, if you're keeping score at home). Baseball is a team sport, even if many of the interactions feel individual; Montas sports a 3-7 record despite his sterling numbers.
Yesterday, it looked like Montas might overcome his supporting cast. Robbie Ray, often an excellent pitcher in his own right, had a slight hiccup in the first, surrendering a run on two singles and a walk. That's all the A's offense could muster, and it's no wonder; the only hitter in Oakland's lineup with even a league average batting line is Ramón Laureano, and his .243/.327/.361 line isn't exactly setting the world on fire.
For Montas, that meant that only a shutout would suffice. It probably needed to be a complete game shutout, too; Oakland's bullpen is the fourth-worst in baseball. As Athletic after Athletic took ineffectual hacks against Ray and a parade of Seattle relievers, Montas held the course.
The Mariners have a fearsome lineup by comparison; six of their regular hitters have a higher wRC+ than Laureano, who again has been Oakland's best performer this year. Montas had a much tougher task than Ray, but he accomplished it with aplomb. He walked two batters, but otherwise was hardly troubled; through seven innings, the hardest contact he allowed was a routine fly ball by Julio Rodríguez.
Alas, the no-hitter eluded Montas. After those first two outs in the eighth, Adam Frazier stepped to the plate. He's not one of the aforementioned six Seattle regulars outperforming the entire Oakland squad; his .222/.287/.297 line would be right at home in the East Bay this year. But baseball is a probabilistic game; bad hitters beat good pitchers from time to time, and vice versa. Frazier's not even a bad hitter, though he's having a bad season; he kept his bat level and fought off a four-seamer – 98 mph on the gun – above the strike zone:
Just like that, the no-hit bid was over. It's incredibly hard to pitch a no-hitter. Great pitchers throw every day. Bad lineups bat every day. Most of those matchups end with hits – thankfully, given how tedious low-offense baseball can feel when it's the norm rather than the exception.
For a moment, it looked like Montas might allow the enormity of the letdown to shake him. He hung a slider to the next batter, Luis Torrens, and Torrens smashed it into left field for Seattle's second hit of the game. The A's, naturally, hadn't added any runs; one more hit could be the difference between victory and defeat.
Montas rose to the occasion. He battled J.P. Crawford for nine pitches, pounding the strike zone with four-seamers and splitters, before a well-placed sinker induced an inning-ending grounder. One lapse, one tiny hiccup, could have been the difference between leaving the game with a lead and surrendering everything he'd worked so hard for, but his resolve (and stuff, and command) held.
With the no-hitter off the board, Mark Kotsay pulled Montas before the ninth inning. It was the responsible thing to do; he'd thrown 102 pitches on the day, only three fewer than his highest total of the season. If you're feeling charitable, it was to protect Montas's future; one inning in mid-June in a lost season probably isn't worth adding risk, however slight, of missed time in the future. If you're feeling less charitable, it's hard to deal Montas if he's injured, so encasing him in bubble wrap now might be the safest bet for Oakland's long-term interests.
If you're reading this, you probably already know what happened. The bullpen, inspired by the twin muses of Montas chasing a no-hitter and their own woeful season, managed to allow two runs without a single hit. After Zach Jackson walked two batters and retired two, Kotsay played the platoon game and brought in A.J. Puk.
To say that Puk didn't have it yesterday would be a gross understatement. He walked pinch hitter Kevin Padlo on four pitches. He followed that up with a wild pitch that tied the game. He followed that up with – well, this one you have to see:
That wasn't just ball four; it was the second wild pitch of Abraham Toro's plate appearance, and the second run the Mariners scored without the benefit of a hit or an RBI. If you were writing baseball fiction, your editor would throw this inning out. Two wild pitches? Four walks? Can't you at least give them an RBI groundout or a single or something?
True to their anemic 2022 form, the Oakland offense didn't put up a fight in the bottom of the inning. Christian Bethancourt managed to reach the outfield with his fly out, but Chad Pinder could only muster an infield pop up, and Seth Brown was called out on strikes. Another day, another Oakland loss; at 23-48, they're the worst team in the majors.
There's something unfair about watching Montas pitch so well and get so little out of it. He and Sean Murphy are the only holdovers from the offseason fire sale that turned the team from a playoff contender into a laughingstock. In a perfect world, he'd be pitching alongside Chris Bassitt and Sean Manaea in a tight AL West race. In a differently imperfect world, he might be plying his trade in St. Louis or Boston right now, a star on a team filled with other good players.
That might – and probably will, in fact – still happen. The A's aren't good this year, and they won't be good next year, the last season before Montas reaches free agency. The front office will ask for a big return in trade, and rightly so. Montas probably won't have many more days like this one. But for now, at least, watching Montas pitch is a singular baseball experience. He's capable of greatness every time he takes the mound, but the margins are vanishingly thin. Eight shutout innings wasn't enough. Pitching is individual until it isn't; I can guarantee you Montas feels differently after this game than he would if the team held on to win. Catch him in Oakland while you can; one man's struggle against the opposition is compelling viewing, even if the rest of the A's aren't holding up their end of the bargain.