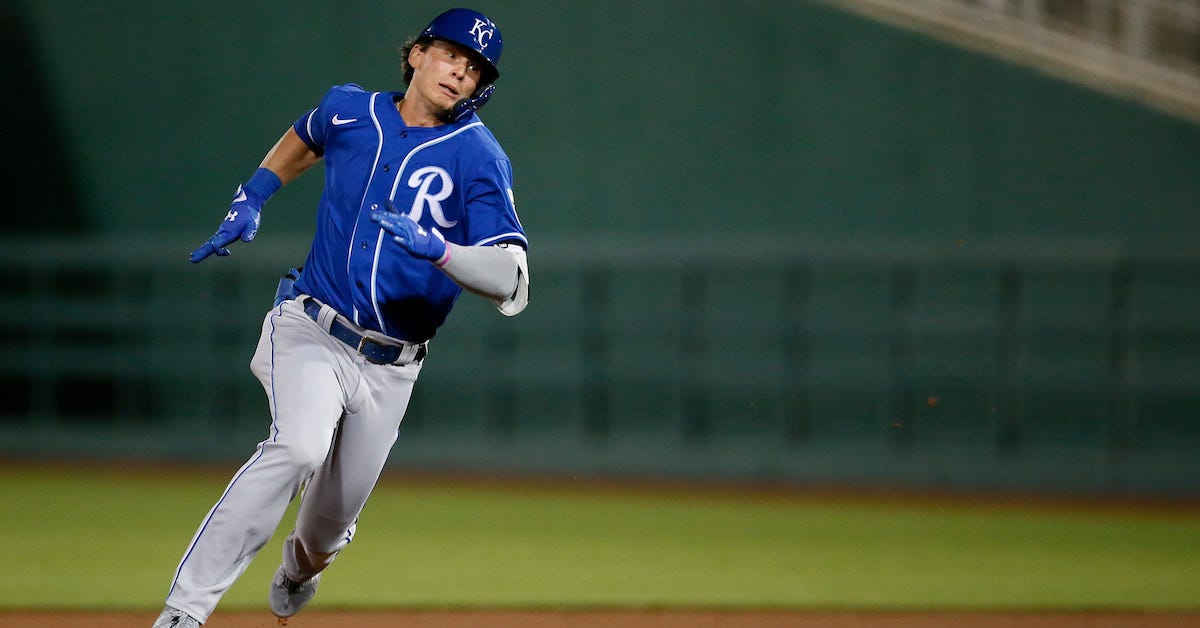 Prospects have become increasingly important to winning re-draft fantasy leagues. Of course, they have always been major in-season acquisitions, but now they're making their presence felt at the draft table, too. With more fantasy managers aware of the prospects who are likely to make an impact in a given season, the battle for their services has become much more fevered, leading some managers to stash desirable prospects for a month or two rather than try to pluck them off the wire once they are called up and risk missing out.
These 27 guys aren't draftable in every format, but I wanted to cast a wide net so that the list has utility across many formats. All of them should be in the majors for a substantial portion of the 2022 season. It is worth familiarizing yourself with them so you are ready to bid on the ones who aren't draftable in your particular league.
These rankings are now available on The Board on the 2022 Fantasy Rankings tab, where you can also see the Top 130 Dynasty Rankings!
The average draft position (ADP) included is from Draft Champions leagues from January 20 to February 20 at the NFBC, which you can find here. These leagues draft 50 players and that's all they get for the year — no pickups or drops. That means all the relevant prospects get selected, which helps give us an idea of how the market views them.
Hitters
Bobby Witt Jr. | SS, KCR | 90 ADP
The market is remarkably excited for Witt, making him a consistent top 100 pick in winter drafts. From a talent perspective, it's easy to understand why. A dominant effort at Double- and Triple-A saw Witt come up just shy of an insane 30/30/100/100 season, as he hit .290/.361/.576 with 33 HR, 29 SB, 97 RBI, and 99 R in 564 PA. There is some swing-and-miss to his game that will likely be exposed at the big-league level, but his power and speed are remarkably tantalizing for many fantasy managers. The question is when will Witt debut? We don't know for certain, especially with the CBA in limbo during the lockout, but the consensus seems to be that he will be up within the first month of the season, leaving more than enough time to make a substantial impact.
Seiya Suzuki | OF, FA | 209 ADP
The NPB star would likely already be adjusting to his new city and team stateside if not for the lockout, but instead he waits. As Dan Szymborski adeptly pointed out in his recent piece on Suzuki, Tyler Austin (1.006 OPS in 439 PA) and Domingo Santana (.895 in 425 PA) were NPB stars last year, too, so be careful making too much of Suzuki's 1.069 OPS and 38 HR in 538 PA. That doesn't mean he can't be good upon arrival, though, and ZiPS agrees, projecting a capable .287/.351/.480 line for his first season with 23 HR, 12 SB, 85 RBI, and 81 R. Where Suzuki lands could alter that some, but he is an expected contributor at a very fair price.
Adley Rutschman | C, BAL | 204 ADP
Prospect catchers are a tough class for fantasy players. The appeal of an elite hitting backstop is very high given the dearth of game-changing options and Rutschman certainly seems generational, with an excellent eye at the plate, developing pop, and plus-plus catching skills. Rutschman comes at a premium as the ninth catcher off the board, but if you like the ATC projection of a .254/.338/.425 line with 14 HR, 49 RBI, 50 R, and 2 SB in 421 PA, it might be worth it; he checks in as the 11th catcher in that system. Rutschman is best drafted in the Draft Champions-style leagues where you already need 3-4 catchers, meaning you can slide your third catcher up a bit to cover the time Rutschman is expected to spend playing in the minors.
Oneil Cruz | SS, PIT | 208 ADP
Cruz made the most of his 70 games in 2021. He decimated Double-A for 62 games, posting a 136 wRC+. He was rewarded with a cup of coffee in Triple-A (370 wRC+ in 6 games) and shot of espresso in the majors (164 wRC+ in 2 games). Known for his extreme size as a shortstop – well, 6-foot-7, 210 pounds is extreme anywhere, but especially so at short – Cruz is a power/speed colossus who many see making an immediate impact with the Pirates. While he is already on the 40-man roster and we have him penciled in to the starting shortstop role on RosterResource, the Pirates could still give the 23-year-old more time at Triple-A. Still, the projections like him to play over 110 games.
Spencer Torkelson | 1B, DET | 257 ADP
The stage is set for the first overall pick of the 2020 draft to debut and have a substantial impact in the majors. He blitzed through three levels (171 wRC+ in High-A, 148 in Double-A, 129 in Triple-A) and likely won't need much more time in Triple-A before his call-up. The Tigers can pretend his declining batting average at each level (.312, .263, .238) is something that needs work, but his plate discipline skills largely held with each jump. The upside here is a power-hitting star who should seriously contend for AL Rookie of the Year.
Julio Rodríguez | OF, SEA | 289 ADP
It's hard not to be over-the-top excited about Rodríguez in all fantasy formats even though he is just 21 years old and has all of 46 games at Double-A on his ledger. If the raw numbers from his 74-game season split between High- and Double-A – .347/.441/.560, 13 HR, and 21 SB in 340 PA – don't excite you enough, check out this tidbit from his capsule in the Top 100 Prospects list regarding his Double-A work: "On only two occasions did he go two or more consecutive games without recording a hit, and never more than three." The elite plate discipline skills (19% K, 13% BB) might be the most impressive aspect of this remarkable profile.
It is always dangerous to start talking "can't-miss" about someone who has been able to legally secure a drink in this country for all of two months, and yet even the most pessimistic outlook would still include a host of 50s and 55s across his scouting report. In actuality, that report is littered with present 55s/60s and his power has a future 70 on it. Don't let the slow start of Jarred Kelenic influence how you feel about Rodríguez. They are organization mates but have no real bearing on one another's development. Rodríguez will require patience from the intrepid fantasy manager who takes the plunge with him, but the upside is a summer double-double on a playoff contender.
Riley Greene | OF, DET | 298 ADP
The Tigers could be adding two impact bats very early in 2022, completely changing the makeup of their lineup. Greene tore up Double-A for most of the season (145 wRC+, 16 HR/12 SB in 373 PA) and was even better in his 185 PA stint at Triple-A, hitting .308/.400/.553, good for a 153 wRC+ with 8 HR and 4 SB. He did that as a 20-year-old. There was some noticeable swing-and-miss (27% K%, 12% SwStr), but some of that can be chalked up to his youth; the expectation is that that area of his game will improve as he matures. He will likely spend more time in Triple-A than Torkelson to start this year, but he can deliver a high impact in half a season. I would be careful drafting him in leagues with smaller reserve rosters, as he might not make it up until the summer.
Vidal Bruján | OF/MI, TBR | 324 ADP & Josh Lowe | OF, TBR | 445 ADP
I am a big fan of both Rays prospects, though neither has a clear role or even a substantial chance to win one in Spring Training… whenever that happens. That said, we know the Rays are keen on moving Kevin Kiermaier, and Manuel Margot and Yandy Díaz haven't really established themselves as immovable objects in right field and at third base, respectively. Both Bruján and Lowe enter their age-24 season on the heels of a strong showing at Triple-A, with Bruján featuring a strong hit tool and premium speed (.262 AVG, 15% K, 44 SB in 441 PA), while Lowe is more of a standard power-speed guy (22 HR, .244 ISO, 26 SB in 470 PA).
Bruján couldn't get off the ground in his tiny 26 PA debut (-63 wRC+). Lowe, meanwhile, had a blink-and-you'll-miss-it 2 PA debut in early September, though he still out-produced Bruján with a hit, walk, and stolen base. Bruján's positional flexibility makes him the better bet for drafters, as he could be the answer at any of six different spots on the diamond should something open up (all three outfield spots plus second, short, and third), while Lowe is outfield-only. Neither has much left to prove at Triple-A and either would become an all-formats option with a role because of their speed, an ever-dwindling asset league-wide.
Alek Thomas | OF, ARI | 525 ADP
The 2020 season should have been a key year of development for the then 20-year-old Thomas, but we all know how that turned out. Given his great performance in the high minors in 2021, you wouldn't know he missed it, though. He posted a 134 wRC+ in 329 PA at Double-A before a promotion to Triple-A, where he was even better, with a 168 wRC+ in 166 PA. Thomas' do-everything profile has fantasy managers drooling at his potential as a power-speed outfielder. While he is stretched a bit in center, he can flourish in left and will likely spend more time there, especially once Corbin Carroll reaches the majors. His gaudy .439 BABIP certainly aided his Triple-A performance, and the D-backs will no doubt give him a bit more seasoning to ensure he's ready for primetime, but 4.5-5 months of playing time is more than enough to have a substantial fantasy impact. You could be rewarded with an April call-up, but it is unlikely, so only draft Thomas if you are patient with prospects.
Jose Miranda | 3B, MIN | 385 ADP
I am still trying to figure out why Miranda didn't get a call-up in 2021 despite completely tearing the cover off the ball at Double- and Triple-A, posting 162 and 156 wRC+, respectively. Sure, the Twins were bad, but it's hard to believe in the idea of baseball being a meritocracy when a performance like that from a 23-year-old doesn't get the call. This newfound power (30 HR, .228 ISO across 591 PA) could change Miranda's outlook if it is legitimate, making 2022 a definite "prove it" year for him, as he had never displayed that kind of power in his previous four seasons. His bat-to-ball skills have never been in question, though, with a career 12% K rate across 2086 minor league plate appearances, and just holding some of those power gains could pay big fantasy dividends.
Bryson Stott | SS, PHI | 425 ADP
Stott put together a strong three-level campaign during the 2021 regular season (.299/.390/.486 in 487 PA), then went down to the Arizona Fall League, where he added 119 PA of .318/.445/.489 ball to his ledger. If he picks up where last season left off, he won't need much more time at Triple-A despite logging just 10 games there in 2021. While he is still developing, particularly in the power arena, Stott could probably hold his own in the majors starting Opening Day. Alas, the Phillies will likely give him a month or so back at Lehigh Valley to continue fine tuning his skillset while they closely monitor Didi Gregorius to see if he is still a major-league caliber shortstop. His 89 wRC+ over his last 989 PA since 2019 isn't terribly encouraging, though.
Geraldo Perdomo | SS, ARI | 665 ADP
In a lot of ways, Perdomo can already handle himself in the majors, mostly by way of his defense, speed, patience at the plate, and raw contact ability. But the severe lack of punch in his bat undercuts the value of that abundant contact, as evidenced by the fact that he has topped a .128 ISO just once in his six stops with at least 100 PA (and even then, it was .155 back in 2018 at Low-A). Still, Arizona saw fit to give him a 37 PA taste in the majors last season and he acquitted himself well (104 wRC+). Let's not make too much of such a minuscule sample, though. He essentially skipped over Triple-A (14 PA before his major league debut), so he will almost certainly head back there to continue his power development. At present, he isn't tangibly better than Nick Ahmed, but there is still a rich fantasy upside for the 22-year-old thanks to his patience and speed.
Travis Swaggerty | OF, PIT | 661 ADP
Swaggerty was cut down by a shoulder injury after just 12 games last season. Pair that with the missed 2020 season and you have a 24-year-old with just 801 minor league PA under his belt. And yet I still like Swaggerty for re-draft consideration because of his speed. You may have noticed the speed theme in this hitter section by now, but it is just so scarce on the fantasy landscape that I prioritize it when drafting prospects. Swaggerty has a 65 grade on his wheels, which pairs with a 60-grade glove that could land him in Pittsburgh sooner than later despite the abundance of missed time recently. He has the raw power to make an impact with his bat, but as Eric Longenhagen noted in this year's Pirates list, Swaggerty has to show he can consistently lift the ball off the ground to make good use of that pop. The Pirates may opt for on-the-job training for Swaggerty: neither Ben Gamel nor Anthony Alford should be legitimate impediments to his call-up once the team deems him ready for the show.
Brennen Davis | OF, CHC | 544 ADP
Davis enjoyed a good 2021 season spent primarily at Double-A (76 of 99 games), where he raked (135 wRC+) but also finally saw his swing-and-miss catch up to him a bit in the form of a 31% K rate. A .222 ISO and 11% BB rate helped him overcome the whiffs, but it is worth monitoring. He shaved his strikeout rate back down to 22% in 68 PA at Triple-A, but he still had a 14% swinging strike rate. That is a remarkably small sample to draw from – though if we are going to mention the whiffs, we should mention the 150 wRC+, too. But again, tiny sample.
Davis will head back to Triple-A to start the year for more seasoning, and if the whiffs don't prove to be a major roadblock to his production, he should be up relatively early (late-May/early-June?) and have plenty of time to make a fantasy impact. Despite the fact that he hasn't exactly burned up the basepaths (18-for-24 in 692 PA), he has the plus speed to be a double-digit base stealer. There is a ton of upside here both this year and long-term, and the Cubs should have no trouble clearing a path once they are ready to promote their 22-year-old future star.
Kyle Isbel | OF, KC | 444 ADP
Isbel had two tiny, disparate samples bookend his season, with a meager 36 PA in April (72 wRC+) and then a strong 47 PA (138 wRC+) to cap off the year. The combined sample isn't enough to take much from, let alone those two snippets, but his Triple-A work gives us a better idea of what he could be at peak: 116 wRC+, .269 AVG, 15 HR, and 22 SB in 451 PA. We have him penciled in for the strong side of a right field platoon and his present skills are capable of a double-double (10+ HR/SB) season as long as he reaches 400 PA.
Seth Beer | DH, ARI | 540 ADP
I can't prove the rumor that Beer sent multiple emails every day to both Tony Clark and Rob Manfred lobbying for the NL DH, but few guys stand to benefit more from the move than Beer does. Don't forget about the shoulder injury that prematurely ended his season last year, though, as it could have lingering effects into 2022. When healthy, Beer projects as a plus bat thanks to his power foundation (.217 ISO in 1264 PA) and solid contact skills (19% K%). At 25-years-old, he doesn't have much projection, but could be a .260 AVG/20+ HR bat this year.
MJ Melendez | C, KC | 397 ADP
While Melendez is blocked by one of the league's best catchers in the game in Salvador Perez, I just couldn't leave him off this list after his excellent 2021 season, which was essentially a Perez imitation: .288/.386/.625, 41 HR, 103 RBI, and 95 R in 531 PA. Realizing what they have in Melendez and how firmly blocked he is by Perez, the Royals let him get some time at third base and DH, though neither of those positions are exactly wide open in the majors, either (See also: Witt Jr., Bobby). Melendez is probably more of a watchlist guy unless you are in a Draft Champions-style league, but if the Royals outline the path to get him to the majors somewhere within the first 4-6 weeks, he becomes a lot more intriguing in any two-catcher format.
Pitchers
Shane Baz | TB | 122 ADP
Baz made up for the lost 2020 with a fantastic three-level season, capped off with a postseason start against the Red Sox (a pretty bad one, but still). He simply embarrassed the competition at Double-A (41% K, 2% (!!!) BB in 32.2 IP), was nearly as good in Triple-A (36% K, 6% BB in 46 IP), and acquitted himself very well in three major league starts (37% K, 6% BB in 13.1 IP) before getting knocked around in that ALDS start (3 ER on 6 H and 1 BB in 2.1 IP). There are still some questions about his ability to consistently turn the lineup over and push beyond five innings per start, and you never know how Tampa Bay will handle their arms, but he should remain a starter for at least the 2022 season, though if they did decide to push him toward the 'pen, it might be in the closer's role, which would keep him very fantasy relevant. If he stays a full-time starter this year, I expect something like the Shane McClanahan path for his innings (approx. 120-125) with the upside of matching his teammate's ratios from last year: 3.43 ERA, 1.27 WHIP, 27% K, and 7% BB in 123.1 IP.
Joe Ryan | MIN | 214 ADP
The Rays cashed Ryan in for two months of Nelson Cruz. In return, the Twins got a developed middle-of-the-rotation starter who should be ready for a full season workload in 2022. The 26-year-old righty doesn't have overpowering stuff (91.3 mph fastball), but what he lacks in radar gun readings he makes up for with deception on the fastball and command of his entire arsenal. You can't really fake your way to 37% K and 6% BB rates in 226 minor league innings, so it wasn't too surprising when he debuted with 30% K and 5% BB rates in 26.2 innings. He works up the zone with that fastball, which does leave him a bit homer-prone (1.3 in Triple-A/the majors in 2021) though his elite control can help mitigate the damage done and keep the bases clear often (0.87 career WHIP in the minors, 0.79 in his major league sample).
Aaron Ashby | MIL | 266 ADP
Ashby has more upside than Ryan, but a much wider range of outcomes, especially in 2022. He could spend a lot of this year relieving, as the Brewers have a firm five to start the season. Of course, in this era we know that no team makes it through an entire season with just five starters, so there should be some opportunities for Ashby to prove himself and perhaps even overtake someone for a consistent rotation role. He is more of a prototypical pitching prospect, with nasty stuff but little idea of where it might wind up from pitch-to-pitch. Adrian Houser will definitely be looking over his shoulder if he posts another 7% K-BB rate, as I doubt he can finagle another 3.22 ERA with such paltry skills and his could be the spot Ashby eventually takes. Plan for a bad WHIP (1.30+), though Ashby should have strikeouts regardless of his role and has a good shot at a sub-4.00 ERA.
Roansy Contreras | PIT | 422 ADP
Contreras came over in the Jameson Taillon deal and is part of a very deep system in Pittsburgh that should start paying major league dividends this year. In the Pirates prospect list, Eric detailed how Contreras spiked some extra velocity (into the 95-98 mph range) early on but was then sidelined with a forearm strain before returning and sitting more comfortably in the 94-96 range. Even the latter is enough to expand his projection beyond the backend starter tag he had as a Yankee. Now many see a path for him to become a mid-rotation arm, especially if he can find a reliable pitch for lefties, whether that's his modest (at-present) changeup or one of his two breaking balls. He could break camp and contribute all year for fantasy folks, which slots him ahead of guys with a brighter overall future, like Reid Detmers and Hunter Greene.
Reid Detmers | LAA | 404 ADP
The 10th overall pick from 2020 didn't do much in his 20.2-inning debut (7.40 ERA, 1.79 WHIP), but he isn't being judged too harshly off that given the fact he had all of 60 pro innings prior to that run with the Angels. It was too big a leap for the 22-year-old lefty, so he will start the season in Triple-A and continue to refine his arsenal, especially his fastball command. Finding a spot for him shouldn't be an issue, as I am pretty sure Mark Langston is slotted in the No. 5 spot in LA right now, though if you aren't prepared to wait into May for Detmers, let someone else draft him.
Hunter Greene | CIN | 426 ADP
Drafted second overall back in 2017, Greene was one of the prospects most affected by the lost 2020 season, as he had already missed 2019 due to Tommy John surgery. If you saw any of his Double-A work in 2021, though, you probably didn't think this was someone coming in rusty, as he tore apart the league with a 37% K rate, 9% BB rate, 1.98 ERA, and 1.00 WHIP in 41 IP before a promotion. Triple-A offered a real challenge (29% K, 9% BB, 4.13 ERA, 1.29 WHIP in 65.1 IP) mostly by way of home runs – his 1.5 HR/9 was well beyond the 0.44 mark from Double-A – though it is worth noting he was just 21 years old.
After all the tumult with injuries and figuring out if he was going to be a two-way player or not, Greene is now on the cusp of the majors at age-22, yet it feels like it took forever to get here. With a heater that sits upper-90s/low-100s and a nasty slider, Greene should be no worse than a late-inning reliever. If he can get the changeup working consistently, he has frontline starter upside. The Reds can make room for Greene at the backend of their rotation or in the bullpen once they deem him ready. Since he needs some more Triple-A work, he will require some patience if you draft him this year. Few can match his potential upside, though.
Cody Morris | CLE | 559 ADP
Morris didn't get going until July due to shoulder soreness but he was electric in the 61 innings he logged, posting a 39% K rate, 8% BB rate, 1.62 ERA, and 1.00 WHIP at Double- and Triple-A (plus his first start of the season in Rookie ball). The gaudy swing-and-miss all but ensures a major league role at some point, but it's still an open question whether it'll be as a starter or a multi-inning reliever. Morris' biggest hurdle to starting is refining his command so his pitches hold up a third time through the order. Cleveland's track record of starter development has fueled some of the Morris excitement, as they have done a lot with skill sets worse than his. He doesn't need to be drafted in shallower formats, but now you know the name so you can be prepared once he is called up this summer.
Max Meyer | MIA | 490 ADP
The size questions tied to Meyer (6-foot listed height) didn't really hurt him in the draft, as he went third overall to the Marlins in 2020. He then debuted in Double-A and showed no real signs of struggle (27% K, 10% BB, 2.41 ERA, 1.23 WHIP in 101 IP) before a 10-inning cup of coffee at Triple-A to cap off his first season as a pro. He has a major league arsenal already, highlighted by his elite slider and mid-to-upper 90s fastball. Those two pitches alone would allow him to survive in the back of the Marlins bullpen, but they see a bright future as a starter, so he will remain on that path for now. He will be sent back to Triple-A to start 2022 with the goal of improving his command and control so that he's ready for a summer call-up. Pitching is Miami's strength, but "you can never have too much pitching" is a saying for a reason, so don't let their depth deter you from Meyer's talent.
Matthew Liberatore | STL | 613 ADP
Liberatore feels a bit under the radar. The gem of the Randy Arozarena deal, he skipped over High- and Double-A, going right to Triple-A for the Cards and posting a solid full season of work: 24% K, 6% BB, 4.04 ERA, and 1.25 WHIP in 124.2 innings. The ratios are likely why he didn't get a lot of fanfare for the season, but like I said, he skipped over two key levels and he was just 21 years old! The 6-foot-5, 200-pound lefty would likely be penciled into the backend of many rotations after such a season, though he will have to wait a little bit in St. Louis. Johan Oviedo probably gets first crack once the Red Birds need somebody since he is already on the 40-man roster, but Liberatore has a great chance to be up by Memorial Day, contributing quality workhorse innings with that elite defense covering some of his rookie mistakes upon arrival.