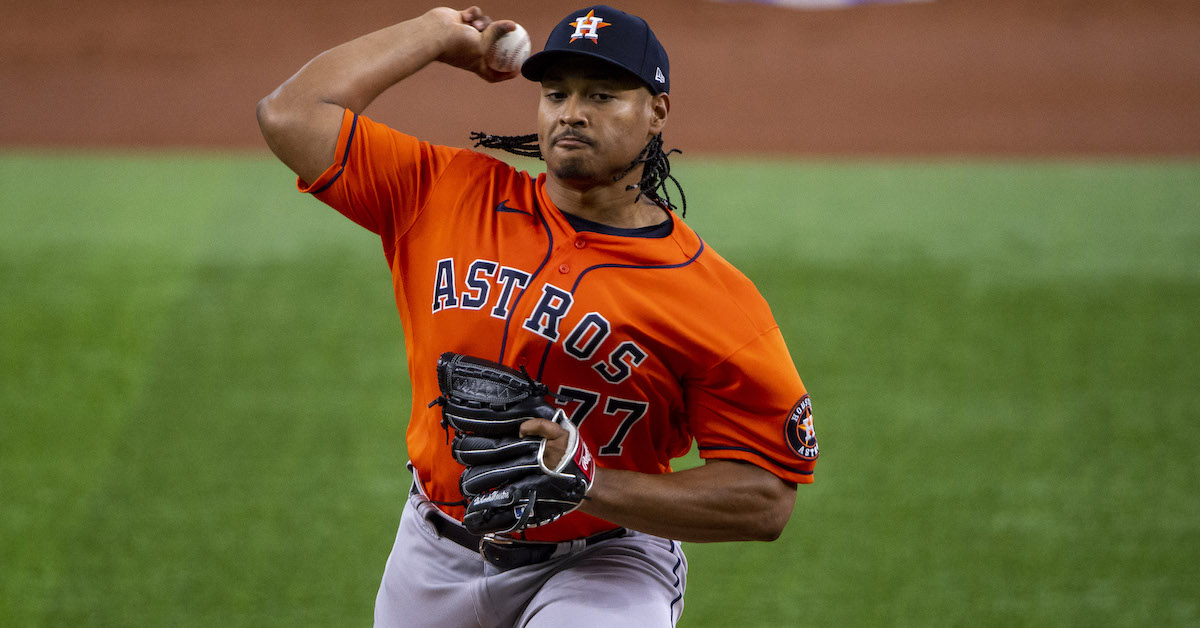 On Wednesday, the Astros easily handled the Rangers. They won, 9–2, with Luis Garcia's strong start backed by a typically robust offensive performance. The Astros are very good. The Rangers are significantly worse. There are baseball games like this every day, multiple of them even. But this game stands alone, for one singular feat.
Er, well, dual feat. In the second inning, Garcia was simply too much for the Rangers. He faced Nathaniel Lowe, Ezequiel Duran, and Brad Miller, and wasted no time in setting them down:
LUIS GARCIA IS IMMACULATE. pic.twitter.com/9YwSW06uIp

— Houston Astros (@astros) June 15, 2022
That was the 107th immaculate inning — nine pitches, three strikeouts — in baseball history. It wasn't the most recent one for long, however. In the seventh, Phil Maton came on in relief of Garcia and got right down to business. He faced Nathaniel Lowe, Ezequiel Duran, and Brad Miller, and wasted no time in setting them down:
SAME GAME. SAME BATTERS.

PHIL MATON IS IMMACULATE. pic.twitter.com/xg53FGAJ02

— Houston Astros (@astros) June 15, 2022
Hey, that was really convenient! I got to use the exact same sentence again, because Maton exactly repeated Garcia's feat; he tore through the three Rangers in only nine pitches for the 108th immaculate inning in history. It was, as you'd expect, the first time the same team has accomplished the feat twice in one game, as well as the first time it's happened twice on the same day, to give you an idea of how out of the ordinary this was.
You didn't need FanGraphs to tell you that was remarkable, though. Everyone else already has. Instead, I thought I'd take a look at perfect strikeouts — three pitches, one strikeout, no beating around the bush — and see whether this game still stands out if we remove the "innings" part of immaculate innings.
Garcia had those three perfect strikeouts in the second inning, but he actually managed another one in the game. It was, in fact, the next batter he faced: Leody Taveras went down on consecutive pitches before Marcus Semien took a first-pitch ball to end Garcia's streak. Four three-pitch strikeouts in a game sounds quite impressive, but it's not even the most in a game this year. Zach Eflin reeled off six perfect strikeouts in his start on May 22. Six other players have notched five such strikeouts in a game, including Garcia himself on April 22.
Extending our lens backwards in time to 2007, the earliest year in the pitch-by-pitch database I used, you'll be unsurprised to learn that Max Scherzer holds the single-game record. On May 11, 2016, he tied a far more visible record with 20 strikeouts in a nine-inning game. He also struck out nine batters on exactly three pitches. Scherzer might just have a knack for this; he also notched two separate games with seven three-pitch strikeouts (May 26, 2017 and September 20, 2018).
There have been 11 games since 2007 where a pitcher recorded seven or more three-pitch strikeouts. No one else has more than one. Scherzer, it turns out, is the master of the efficient strikeout. Other good pitchers have approached those heights, but only rarely. Here are those 11 games:
Most Single-Game Three-Pitch Strikeouts, '07-'22
That's neat, but focusing on that fact highlights only Garcia, and not particularly well at that. If we're focusing on team perfect strikeouts, the Astros mustered seven; Garcia's four and Maton's three were the only ones of the game. That's part of a three-way tie for most in a single game this year. The Rays notched seven on April 14, and the Astros did it again on April 24. If you'll recall from above, that's the game where Garcia had five perfect strikeouts. He's the standard-bearer for the feat this year.
Zoom out, and things get Rays-y. On August 17, 2019, they struck out ten batters on three pitches apiece, the only team (!) to eclipse Scherzer's nine-strikeout effort. Houston pitchers certainly looked dominant yesterday, but they needed an entire extra immaculate inning to match the standard Tampa set.
Are you less interested in the specific game and more interested in Garcia's three-pitch-strikeout prowess? He has 17 of them on the year, which certainly sounds impressive, but only places him in a tie for seventh among pitchers in 2022. Shane McClanahan is first, with a whopping 23. Nestor Cortes, of all people, has 18. Scherzer has 15, and he hasn't pitched in a month. Garcia is certainly one of the best pitchers in baseball when it comes to going right after the batter and setting them down, but he's not the best in the business.
Did I succeed in exhausting everyone's interest in three-pitch strikeouts? Who knows! I find them quite interesting, but then, I find a lot of things about baseball quite interesting. I found yesterday's Astros feat amazing, but giving it a little more context just makes Scherzer's feats stand out even more. The three-pitch strikeout is the ultimate expression of pitcher dominance — no waste, just three straight strikes, next please — and it stands to reason that the marquee strikeout pitcher of our generation is also the marquee three-pitch-strikeout pitcher of our generation.