If a lifetime of watching baseball has taught me anything, it's that you only need about a week to predict how the rest of the season will go. It's science.
Well, at least, for pitchers it is. Hitters are their own kind of nature and when voodoo is involved, best to let things settle for a bit longer. With that said, here is my general advice for handling hitters who have started really cold (or hot, or just mediocre): Do nothing. Barring injury or situation change, it's far too early to make strong judgments about hitters you were totally fine with about 35 PAs ago.
Pitchers, on the other hand, can throw up flags early that might not be red but perhaps a pinkish hue that you should at least be monitoring. The shortened spring has brought even more naysayers than usual from out of the woodwork, who are happy to throw everything into the bin of: "nothing matters early, short spring, yada-yada-yada". And on many things, they're totally right. Most small decreases in velocity, spin, performance, etc, just aren't (or at least, shouldn't be) very actionable right now (see: voodoo, pitchers). But to ignore large changes in multiple areas (whether for the good, or bad) is to put aside valuable information.
Apathy Al may sit on their hands but Foresight Freddie is always ready for a rainy day.
Shane Bieber, CLE
Next Two: vs CHW, @ NYY
Now, Nicklaus, this is exactly the type of hot-takery that we hate to see from touts early in the season. I mean, Bieber hasn't exactly looked sharp but he also has a 2.70 ERA and 0.60 WHIP through his first two starts. Are you really going to get bunched up because his velocity is down a little? Don't you know that spring training was shortened?
Yes, I'm aware. And a pitcher's velocity being down early in the season isn't always a good reason to get all jacked up on doubting dudes. But it's not just the velocity that has me questioning the riskiness of Bieber: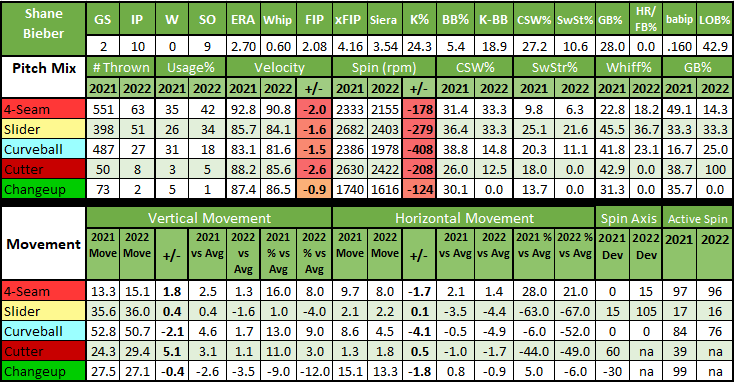 Bieber's velocity, spin, and movement are down virtually across the board and not by insignificant amounts. And while the vertical movement on his fastballs has technically increased, that's just gravity, baby, and it isn't necessarily a good thing.
His four-seamer is still getting rise that's well above average but isn't in the elite tier that it has resided in for three straight seasons, while also losing some of its horizontal wiggle. And the nasty curveball (38.8% CSW% and 20.3% SwStr% in 2021) from seasons past has looked very different in 2022:
Here's the curveball in 2021:
And again in 2022:
But even with multiple signs of trouble in his pitch specifications, that's still not enough to go all crazy on doubting a starter who has put up elite results for multiple seasons. No, the reason to stop being a Belieber is that all of this coming on the heels of a 2021 shoulder injury and it's easier to connect the dots between lingering issues in the most troublesome of areas and problems repeating his desired mechanics leading to wholesale changes in velocity, spin, and movement.
I have Bieber on one team but there is no trading so my options are to just roll with him, betting on his talent to figure things out quickly, while hoping we don't get an update along the lines of, "Shane Bieber to skip next start while dealing with minor discomfort in his throwing shoulder". But I'm looking for a ship out in leagues where trades are allowed.
It's not that I think it's more likely than not that his value craters out, it's more about risk. I don't see Bieber as a worse stock (if you will) after two starts, just a much riskier one. And I'm also not saying I'd trade him for a discount – given his results so far, you shouldn't have to. There are plenty of pitchers who were drafted in the same range that you could likely pull something off that would feel like a lateral move for value. But sometimes you have to move laterally in order to get around a looming booby trap.
Casey Mize, DET
Next Two: vs NYY, @ MIN
But he's coming off of his best start of the season! Well, I don't know how much cache a line of 5 IP – 2 SO – 3.60 ERA – 1.60 WHIP should buy you but again, this isn't just about results. And it's not about velocity, as Mize's is in a perfectly acceptable range for this time of the year. The problem now is the same problem Mize has had since, oh, I don't know, about June 15th of last season?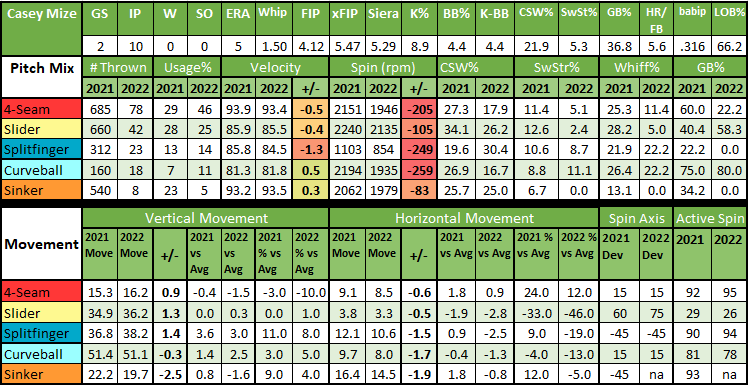 Mize had significant decreases in his spin rate following MLB's original "sticky stuff memo", with the dips continuing all season. And through two starts of 2022, they're going even lower:

We're seeing more of the exact same things from last year, with Mize using decreasing spin and getting even fewer whiffs. Until we see something different, I see no reason to start him – and the Tigers schedule certainly doesn't do him any favors. In his next three starts, Mize lines up to face the New York Yankees at home before going on the road against Minnesota and the Dodgers. Time to ride the fantasy pine, Casey.
Yu Darvish, SD
Next Two: vs ATL, vs LAD
We can debate whether Darvish should've even been allowed to take that big of a collar in his last time out, allowing 9 ER on eight hits in just 1.2 IP, and he wasn't bad in his first start, allowing no runs over six innings in a no-decision.
But much like the two previous pitchers we've discussed, someone flipped the spin cycle to low in 2022: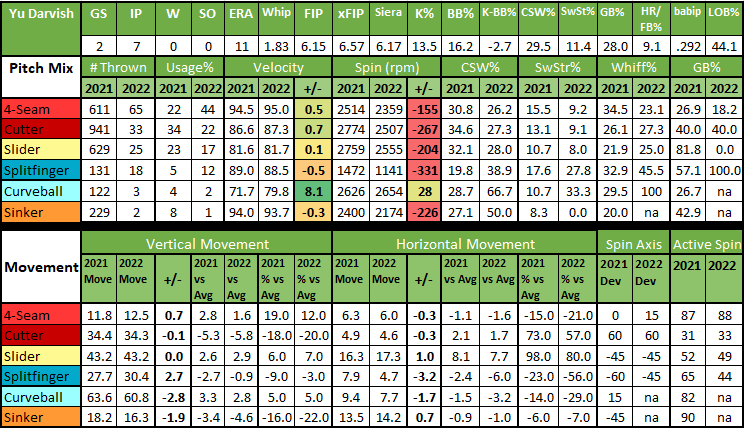 Those are some notable dips in rpm with some requisite drops in movement coming along for the ride. But should we be worried?
I'm personally not, even though the drop in his spin rates seems to loom larger than Bieber and Mize. But that's why you have to be careful when parsing early changes in pitching results. Bieber's drops wouldn't be so concerning if they didn't also come with large velocity dips and after a season where he missed a large amount of time with a shoulder injury. And Mize's drops wouldn't be that concerning if this was the first time we'd seen it. But after a substantial drop following the sticky-stuff crackdown and seeing the exact same thing in 2022, it shouldn't be controversial to start ringing some warning bells.
But Darvish doesn't come with all of the baggage that the two others are towing and that makes it really easy (and reasonable!) to chalk up any early dips to "it's only the middle of April and there was a shortened spring".
If you have a league mate still feeling sour about that 9 ER debacle, there is nothing wrong with sending out some feelers on trying to acquire him at even a relatively small discount. Except, maybe not right this second. With starts against Atlanta and the Dodgers are the horizon, it might be best to wait a tick or two and see if your hypothetical trade partner really gets puckered after any less than stellar results.