For this series, I want to focus on pitchers going after pick 300 in the NFBC ADP. It's just some more grinding away.
Starting and Relievers, Part 1 & 2($$):
Deep League Starting Pitchers
Corey Kluber (372 ADP)
After being one of the game's few aces, injuries ravaged his career and he's only thrown 116 IP with a 4.40 ERA over the past three seasons. While the bone he fractured in 2019 might be considered a freak accident, the shoulder issues from the past two seasons are more concerning. Here are his velocity readings over the past four seasons.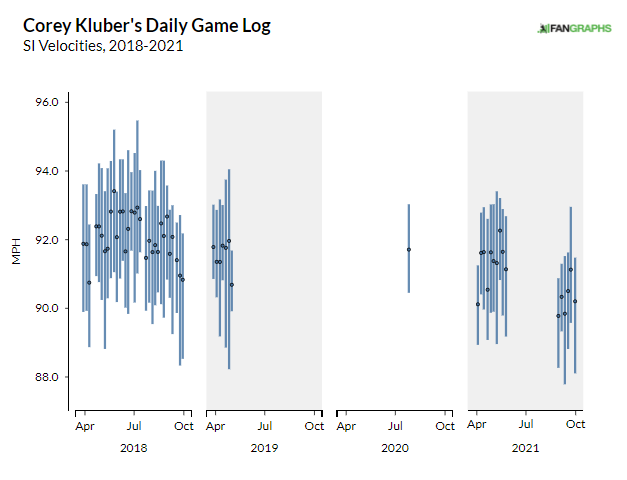 Last season, he had two velocity groupings with the shoulder injury separating the two. Here are his results:
Corey Kluber's 2021 Results
| Time Frame | IP | ERA | WHIP | K%-BB% | xFIP | FBv |
| --- | --- | --- | --- | --- | --- | --- |
| Mar to May | 53 | 3.04 | 1.20 | 15% | 4.26 | 90.4 |
| Aug to Sep | 26 | 5.40 | 1.61 | 14% | 4.61 | 89.8 |
I think he can be around a 4.00 ERA pitcher if throwing over 90 mph. That talent level is playable in all formats, at least as a streaming option. Problems start occurring when his velocity drops and he starts becoming hittable.
For me, I'm not looking to roster him in any format. If/when Spring Training starts, I'll check in on his velocity and might consider him a late addition in redraft leagues. If he's struggling, I want to move on to another pitcher.
Hunter Greene (394 ADP)
Greene has all the velocity (touches 104 mph). How can people not be excited about stuff like this:
Hunter Greene, casually throwing 103 MPH just off the inside corner 🔥 pic.twitter.com/yqVFbDtNsu

— Prospects Live (@ProspectsLive) December 28, 2021
Additionally, The Reds prospect's cutter and/or slider grade out at average or better so there could be something special here. The only issue would be that he does allow a few too many passes (3.1 BB/9 in AA, 3.4 BB/9 in AAA, and 3.6 BB/9 for a Steamer projection).
He threw 106 IP (21 starts) last season and dealt with a small shoulder issue near the season's end. I think 26 starts is a reasonable estimate that will give him around 130 IP next year. With the limited starts, he's either going to ramp up slowly or be shut down before the season ends.
I acknowledge the potential upside, but the playing time could be up in the air. The narratives surrounding him in camp will be key to see if he needs to be rostered for early season innings or if he'll be sitting on a manager's bench waiting to contribute.
Dane Dunning (411 ADP)
Dunning was nothing close to the pitcher he was in his mini-2020 breakout. Texas had him ditch his four-seamer (13% SwStr%, 38% GB%) and focus on his sinker (5% SwStr%, 57% GB%). His surface stats went downhill (1.12 to 1.44 WHIP and 3.97 ERA to 4.51 ERA), while his underlying stats improved (4.16 to 3.87 xFIP).
The parts are there for a decent pitcher. Here are the five pitches he threw last season.
Dane Dunning's 2021 Pitch Mix
| Pitch | SwStr% | GB% | Zone% | Usage |
| --- | --- | --- | --- | --- |
| Sinker | 5% | 54% | 63% | 53% |
| Slider | 20% | 56% | 31% | 22% |
| Changeup | 18% | 57% | 42% | 13% |
| Cutter | 7% | 42% | 50% | 8% |
| Curve | 8% | 40% | 33% | 4% |
It looks like a perfect case of dropping the cutter and curve and upping the usage of the changeup and slider. The issue is that he hasn't thrown his slider or change in the strike zone. It seems like he doesn't have the confidence to do so as he goes with his fastball when behind in the count (h/t to Brooksbaseball.net).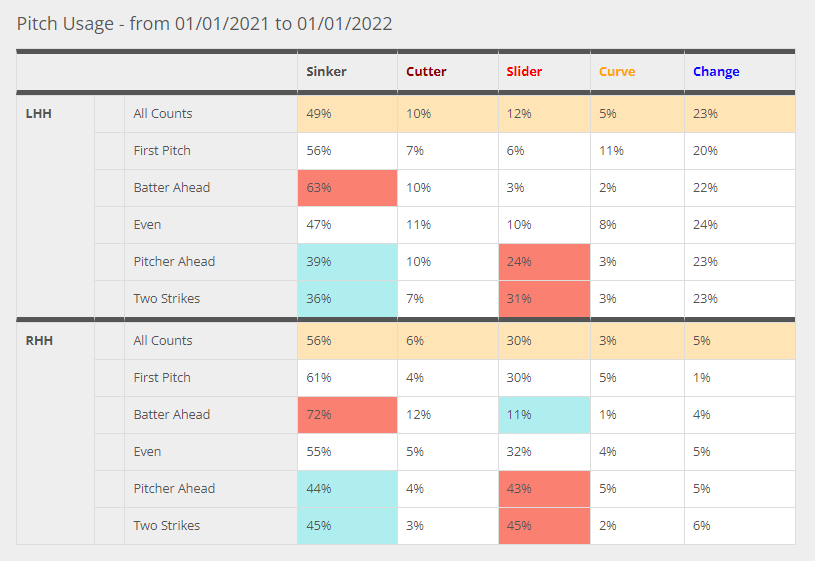 He could easily transform himself into a pitcher with a 55% GB and about 10 K/9 (see Lance McCullers Jr. and Luis Castillo). I'm 100% willing to take that chance with a post-400 pick.
Michael Pineda (413 ADP)
Pineda has struggled over the past couple of seasons. This past season, he went on the IL for three separate injuries (oblique, forearm, thigh). He was OK (2.79 ERA, 3.98 xFIP) before the first IL stint, but performed a bit worse after it (4.08 ERA, 4.46 xFIP).
He remains the same pitcher being a fastball-slider guy with a show-me changeup (17% usage). His strikeouts (8.4 K/9 to 7.2 K/9) were down with his fastball and slider both losing over 1 mph. While he has limited the walks, he's basically turned into a low-walk, low-strikeout guy like Wade Miley or Tyler Anderson with flyballs instead of groundballs.
It's a streamable profile with little to no upside unless he can regain some velocity.