Some more veterans to slog through. A few interesting rookies are coming up.
Deep League Starting Pitchers
Merrill Kelly (457 ADP)
Kelly's 2021 season can be broken up into three sections, pre foreign substance ban, between the ban and an IL (COVID, 36 days) stint, and after the IL stint.
Merrill Kelly's 2021 Season
| Time Frame | ERA | xFIP | WHIP | K/9 | FBv |
| --- | --- | --- | --- | --- | --- |
| Pre-Ban | 5.04 | 4.06 | 1.35 | 8.1 | 91.5 |
| Ban to IL | 3.69 | 4.19 | 1.14 | 6.9 | 92.1 |
| After IL | 5.74 | 5.28 | 1.79 | 6.9 | 91.2 |
From the season's start until the IL stint, Kelly pitched like he always has with an ERA just over 4.00. The ban brought down his spin rates by about 50 rpm, but nothing major to degrade his results.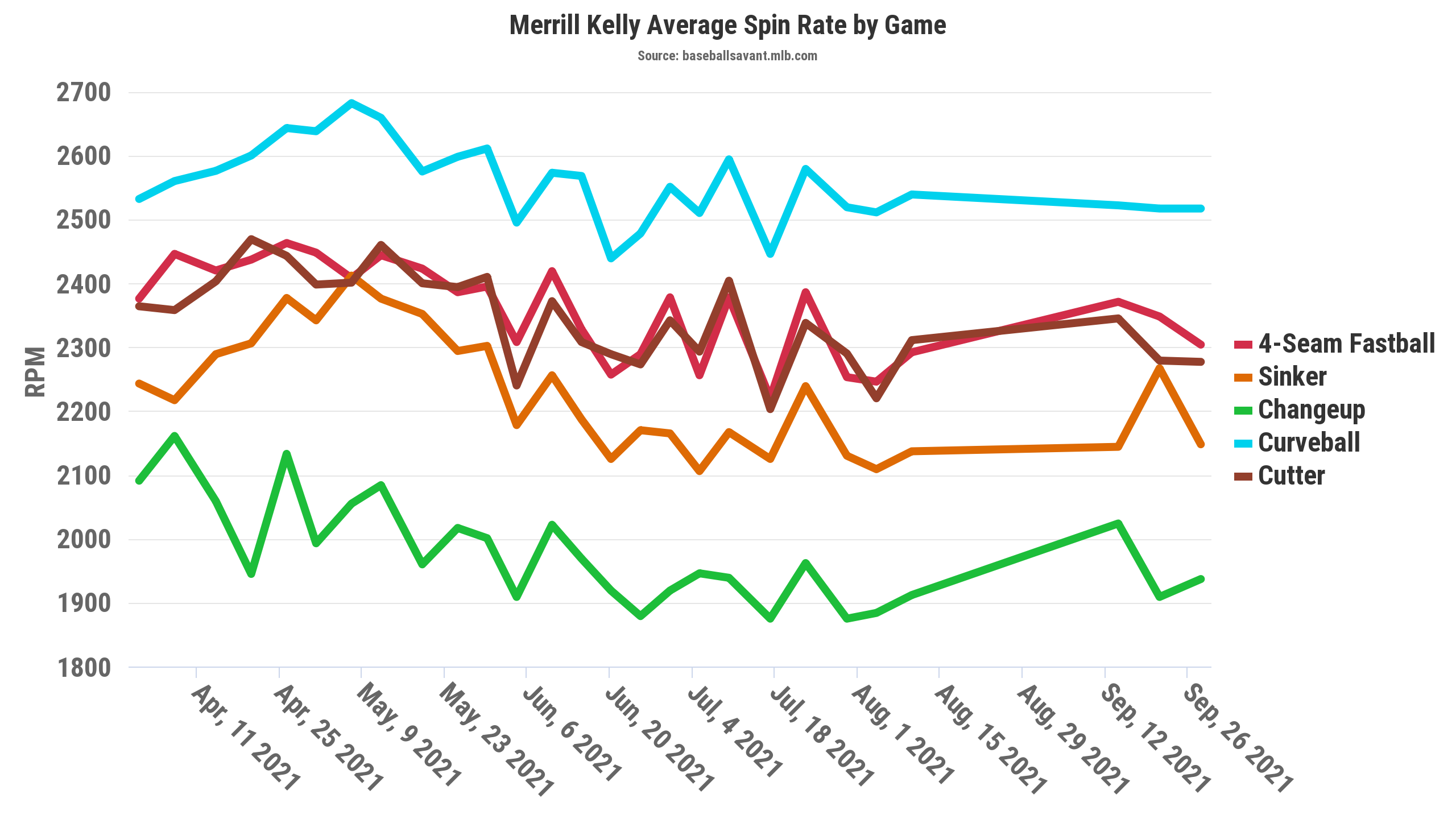 He just lost all control when he returned with a 4.6 BB/9 over that last month.
I just don't see much upside for the 32-year-old coming off a subpar season with a horrible finish. Without a major velocity bump, his best bet is to get his useless fastball usage back down under 40% and focus on his changeup (15% SwStr%), cutter (11% SwStr%), amd curve (11% SwStr%). Maybe he can make himself into a high-3.00's ERA pitcher. Otherwise, he's simply a streamer against weak opponents.
Mike Minor (466 ADP)
I've never been able to pull the trigger on drafting Minor so far this year even though he works his way to the top of my rankings. Most of his value lies in throwing a bunch of innings and racking up Strikeouts and some Wins. While he has posted a reasonable 1.24 WHIP for three straight seasons, his ERA has been over 5.00 the last two years. Most of the damage is because he has posted the league's worst 66% LOB% (min 180 IP) over the past two seasons.
He's been extremely hittable with runners on base. With no one on, batters hit .220/.276/.399 against him and .305/.347/.528 when someone was on. I tried to find out why and failed. I went to my resident expert on everything Royals and she was informed that he can't hit his targets out of the stretch and just groves pitches across the plate. This can be verified in the numbers. While he doesn't walk anyone once a runner is in scoring position, the hits just keep coming. His 2.4 HR/9 and .348 BABIP the past two seasons point to this struggle when someone is in scoring position.
Putting aside the LOB% issues, he's projected for an 8.0 K/9 and 2.5 BB/9 with a low groundball rate (38%) that will lead to a higher than average home run rate. Those numbers were comparable to Anthony DeSclafani is going over 250 picks early in drafts compared to Minor. Maybe I'll be more willing to take a chance on Minor in redraft leagues because I can drop him if everything heads south.
Jake Odorizzi (471 ADP)
Even though Odorizzi's 2021 results ended up in line with his career numbers, his season was up and down with early season forearm injury and late-season foot injury. With so many pitchers needing just one average or better fastballs, he has two. The problem for him is that he doesn't have one average non-fastball. They are all pretty pathetic. For this reason, his strikeout rate will always hover around 8.0 K/9.
In between his two IL stints, the enforcement of the ban of foreign substances started and his elite four-seamer lost over 200 rpm. He was able to eventually find a way to regain some of the spin, but the drop in results can be seen with his strikeout rate dropping from 28% in June to 15% in July. His xFIP was even more drastic with a 3.74 xFIP in June and 5.32 xFIP in July. He's always been able to post a lower ERA (career 3.95) compared to his xFIP (4.46), but his xFIP stayed in the low 5.00's because of his high flyball rate (33% GB%). Taking his normal 0.50 ERA suppression, he is likely to post an unacceptable 4.75 ERA (4.71 ERA in the 2H) if his talent stays the same.
Finally, his average fastball velocity bounced around and was down almost 1 mph from the previous two seasons (92.9 to 93.0 to 92.2). He's at his best when his fastball spin rate is over 2200 rpm and is traveling at least 93 mph. Those are the benchmarks I want to see in Spring Training until I buy back in.
Zach Eflin (479 ADP)
The reason Eflin is being taken so low is that he'll miss at least part of the season recovering from surgery.
Zach Eflin is having surgery on Friday to repair his right patellar tendon for the second time in five years, the Phillies said.

Team says expected recovery is 6-8 months, meaning Eflin will likely not be ready for start of 2022 season.

— Matt Breen (@matt_breen) September 8, 2021
When he had the same injury in 2017, he came back in 2018 and had a 4.26 ERA with a 1.30 WHIP over 128 IP.
Last season he looked primed for a breakout with some 2020 improvements (e.g. increased velocity and improved pitch mix). His velocity tanked (93.9 mph to 92.6 mph) causing his strikeout rate to drop from 10.7 K/9 to 8.4 K/9. It's tough to know how he'll perform once he returns to the diamond with so many variables in play.
I'm not interested in rostering him unless it's in the last couple of rounds of a league with a long IL bench, preferably unlimited spots. He can immediately be stashed and a potential breakout rostered.