With the projection analysis out of the way, it's time to start finding some starting pitcher gems for those arms being drafted at pick 300 or later according to NFBC's ADP.
For reference, here are the pitchers I've already profiled:
Starting and Relievers, Part 1($$): Alzolay, Quantrill, J. Suarez, Thompson, R. Suarez, Thompson, C Hernandez
Starting and Relievers, Part 2($$): Javier, Lamet, Rasmussen, Steele, M. Perez, Cortes, Espino, Stripling, Long, Houck
James Kaprielian (300 ADP):
Kaprielian didn't start the season in the majors but was recalled in mid-May to join the A's rotation. He was likely kept from throwing too many innings since he's returning from Tommy John surgery, but he showed signs of life.
To start out, his velocity dropped 2 mph from 2020 but that 2020 value was from just 3.2 IP of bullpen work. In 2021, he was sitting 93 mph with a steady climb from averaging 92 mph up to 94 mph. This value is in line with his 2016 Baseball America report of "… sits in the low 90's and topped out at 96."
Like many pitchers, he struggled in the middle months when the foreign substance enforcement started with his fastball spin dropping about 300 rpm.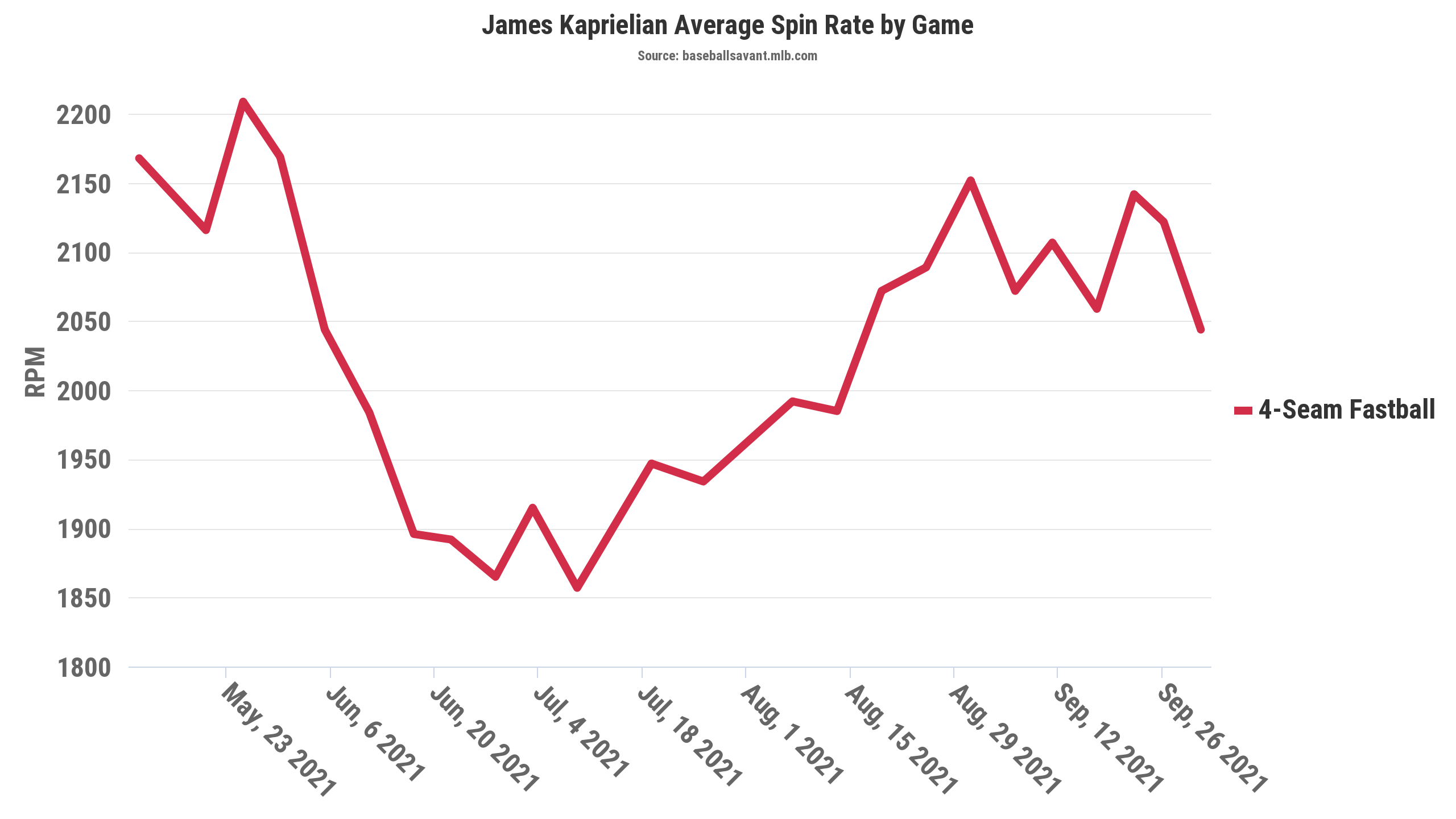 His fastball became less effective with his strikeout rate dropping to 18% K% in August but was back at 24% in September.
Looking at his pitch mix, he could tighten it up for better production.
James Kaprielian Pitch Usage
| Pitch | SwStr% | GB% | Usage |
| --- | --- | --- | --- |
| Four-seam | 11% | 27% | 53% |
| Slider | 15% | 36% | 18% |
| Change | 10% | 53% | 16% |
| Curve | 7% | 44% | 8% |
| Stinker | 5% | 36% | 6% |
The curve and sinker need to go. That combined 14% usage could go to pitches that actually get good results. The ban might have affected his ability to throw certain pitches since he moved away from the slider and threw his curve more.
Two issues are limiting his upside and are why reasons projections don't like him (Steamer projects a 4.51 ERA), he allows too many walks and home runs. A 3.1 BB/9 is pushing the line of acceptability. When the walks are paired with a low 35 GB% and the corresponding home runs (1.4 HR/9), some blowups will occur. I don't see the flyballs stopping with the flyball nature of his fastball, but dropping the walks could help.
I'm not sure if he needs to move up, but there are worse pitchers being drafted ahead of him.
Jameson Taillon (306 ADP)
Taillon had offseason ankle surgery that needs at least five months to recover from.
Injury updates from Cashman:
*Taillon to have surgery Oct 28 – five-month recovery
*Hicks hoping to play winter ball, should be fine by December
*Voit expects to be ready for spring training

— Mark Feinsand (@Feinsand) October 19, 2021
Five months puts him at April 1st to begin his ramp-up. Then he'll need at least one month to get to the majors. Maybe a couple more weeks until he is throwing enough to get a Win. And all those benchmarks come with no setbacks. This fantasy manager will be expecting a June 1st return to full production. In leagues with a short bench and no IL slots, he'd be tough to roster to start the season. In leagues with deep benches or IL slots, I think he's worth adding at this late price.
As for his talent, a repeat of 2021 is in the cards. The Yankees changed pitch mix by having him throw his four-seamer (15% SwStr%) more while ditching his sinker (6% SwStr%). One issue with his latest pitch mix adjustment is that he's going to allow home runs (33% GB%, 1.5 HR/9). The home runs shouldn't bother him too much with his 2.7 BB/9.
With his non-fastballs, he needs one to take a step forward with all three (change, slider, curve) having a swinging-strike rate between 9% and 11%.
If rosterable, he's worth an add.
Carlos Carrasco (310 ADP)
Carrasco was a frustrating pitcher to roster last season with the time lost because of his elbow injury. He's had surgery to get the bone chip removed and might be ready to start the season.
While injuries had always been an issue with him, he was at least productive (career 9.4 K/9, 3.86 ERA, 1.21 WHIP). All that went to hell in 2021 with a 6.04 ERA, 1.43 WHIP, and 8.4 K/9. The main issue was that he leaned more on his flyball-inducing (29% GB%) fastball (39% to 51% usage) and was more home run prone (2.0 HR/9). He pretty much dumped his curveball (5% usage) even though it has been a good pitch for him (17% SwStr%).
As with every season, his fantasy value comes down to health and a fantasy team's bench size. I'm not going to roster him until I see him start throwing with no restriction in Spring Training.
Bailey Ober (315 ADP)
My boy, Mr. Ober. He was one of ten pitchers* last season who threw 80 IP with a K/9 greater than 9.0 and a BB/9 less than 2.0. His results didn't come out of thin air with similar minor league seasons.
It seemed like no one was believing his minor league results. He was barely making the Twin's prospect lists based on his fastball sitting 86-88 mph. The velocity jumped almost 5 mph to averaging 92.3 mph and warranted an MLB call-up. He relies heavily on the fastball as it is one of his two best pitches.
Bailey Ober Pitch Usage
| Pitch | SwStr% | GB% | Usage |
| --- | --- | --- | --- |
| Four-seam | 12% | 28% | 58% |
| Slider | 13% | 33% | 18% |
| Change | 9% | 45% | 13% |
| Curve | 11% | 40% | 11% |
He leaned on his slider more and more as the season went on with his overall strikeout rate increasing.
Bailey Ober Monthly Results
| Month | K% | K%-BB% | SL% |
| --- | --- | --- | --- |
| May | 20% | 15% | 16% |
| Jun | 26% | 20% | 14% |
| Jul | 27% | 19% | 18% |
| Aug | 24% | 21% | 21% |
| Sep | 26% | 24% | 21% |
Now for the big wart, home runs… a lot of them. In the first half, he posted a 2.5 HR/9 (5.45 ERA) and had it down to 1.7 HR/9 (3.49 ERA) in the second half. He can give up home runs as long as he keeps his walks down as seen with his second-half performance.
With the Twins rotation in shambles at this point of the offseason, his spot in the rotation is safe and I'd not be surprised to see his ADP jump 50 spots once everyone starts diving into his profile. The one concern I have is if he can maintain the velocity jump and if it goes back down, how much will his performance suffer.
* Kershaw, Scherzer, Eovaldi, Wheeler, deGrom, Urias, Green, Nola, and Burnes.