For this series, I'm focusing on pitchers going after pick 300 in the NFBC ADP. This group is a little more interesting compared to the previous group.
Starting and Relievers, Part 1 & 2($$):
Deep League Starting Pitchers
Rich Hill (436 ADP)
When on the mound, Hill has been a decent pitcher, but he has taken a step back the past two seasons. After his comeback, he was posting strikeout rates around 11 K/9. They've been closer to 8 K/9 over the past two seasons. One reason for the decline is that he lost over 2 mph off his fastball from 2019 to 2020. He gained a bit of velocity back this past season, but it is still over 2 mph away from his recent highs. During the season, he was seeing a little up and down so there is no obvious trend going forward.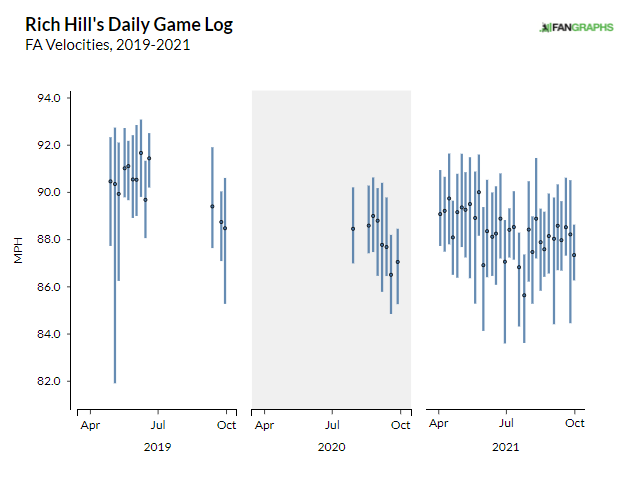 Another issue was that Hill started throwing other pitches besides his curve and fastball this past season. Not one's usage stood out but they ended up totaling 11%. He's been his best when he focused on just the fastball and curve.
On the positive side, he did make 31 starts and threw for 158 IP, the most since 2007.
He did sign with the Red Sox and I feel that's a double-edged sword for the 42-year-old. The Rays will extract the most from him, but that might mean that Hill only throws two to three innings (2.20 ERA the 1st TTO last year, 5.62 ERA the 2nd TTO) in each outing.
Overall, I think the talent might be there for a couple more seasons, but his role might keep him from being fantasy-relevant.
Dakota Hudson (439 ADP)
Hudson is interesting as he returns from Tommy John surgery. Unlike some other pitchers coming off the injury, Hudson provided a nice end-of-season two-game sample of his talent. His average fastball velocity was down to a career-low 92.1 mph leading to career lows in swinging-strike rate (6% SwStr%). He was able to generate a 65% GB% (58% GB% on his career), but the sample is too small to consider.
The hope is that he returns to his subpar 2019 form (7.0 K/9, 4.4 BB/9, 57% GB%) and the Cardinals defense can bale him out.
One item I'm not 100% sure how to measure is his ability of him to limit the damage once runners are on base. Normally, high strikeout pitchers lead this category, but Hudson has the highest LOB% of any starter with a sub-8.0 K/9 over the past four seasons.
He's been able to leverage this potential skill into a way to consistently outperform his ERA estimators. It's just not known how predictive is the "skill".
He could have some upside, like an increase in velocity or not walking everyone, but a step forward can't be expected. I'm going to ignore him until he starts throwing in Spring Training.
Wade Miley (443 ADP)
Miley was having a great season until September rolled around. He was ineffective in 18 IP with an 8.35 ERA and was eventually shut down with a neck injury.
For the season's first half, he was on fire with a 2.79 ERA and 1.17 WHIP. Then, two events happened and he was never the same. First, the foreign substance ban started getting enforced. Second, he messed with his pitch mix adding a slider.
The slider did miss a good number of bats (17% SwStr%), but its low groundball rate (31% GB%) brought down his overall average from the first half (53% GB%) to the second half (45% GB%). The change saw his home run rate jump from 0.6 HR/9 to 1.5 HR/9.
He has the potential to be a usable starter, especially if he focuses on his groundball-inducing cutter (50% GB%) and changeup (61% GB%).
Reid Detmers (450 ADP)
Detmers had all the makings of a breakout prospect and failed miserably in the majors. He dominated AA with a 16.2 K/9 and a 3.50 ERA over 54 innings. After a brief stop in AAA, he struggled in every facet of his MLB game. His strikeout rate got cut in half to a disappointing 8.3 K/9. His walk (4.8 BB/9) and home run (2.2 HR/9) ballooned.
He shouldn't be this bad. Here are some stats on his pitches (pERA is an estimate of the pitch would perform if only it was used).
Reid Detmers Pitches
| Pitch | SwStr% | GB% | Usage | pERA Proj |
| --- | --- | --- | --- | --- |
| Four-seam | 8% | 12% | 45% | 5.00 |
| Curveball | 12% | 77% | 26% | 4.50 |
| Slider | 18% | 35% | 24% | 3.00 |
| Changeup | 17% | 43% | 5% | 3.60 |
| | | | Weighted Total= | 4.32 |
Just for the record, his Steamer projected ERA is 4.30. While his slider and changeup are serviceable, the big surprise here is his poor-performing curveball. It was supposed to be his best pitch according to scouts. Here is a look at the curve.
Reid Detmers, Beautiful 74mph Curveball. 😍 pic.twitter.com/O5jVrEcsjK

— Rob Friedman (@PitchingNinja) August 8, 2021
I hate these slow loopy curves. They make look pretty but they get crushed. Here are the best comps I have for it.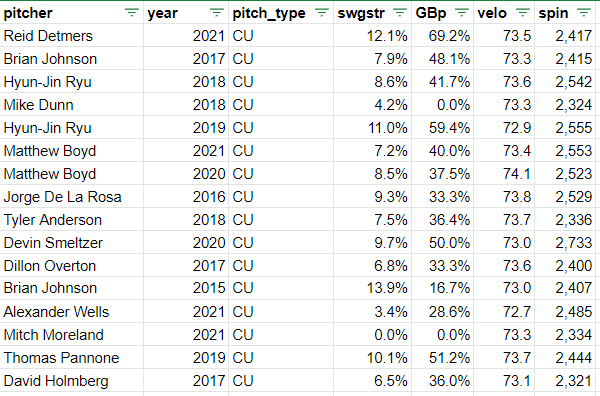 It's not an inspiring bunch.
I can see the possible upside with Detmers, but right now, he has too many wrinkles to iron out.