For this series, I'm focusing on pitchers going after pick 300 in the NFBC ADP. It's just some more grinding away.
Starting and Relievers, Part 1 & 2($$):
Deep League Starting Pitchers
Domingo Germán (397 ADP)
German has developed into a fine starter and a better reliever. When starting, he should be expected to have an ERA just over 4.00 and about 9.0 K/9 after several years of steady production.
On the downside, he had an inflamed right shoulder that cost him most the season's second half. He did come back to make one appearance at the season's end where he upped his fastball velocity by over 1 mph. I'd be a little more excited if he threw that hard for a few innings. He's always been able to ramp up the velocity for short stints out of the bullpen.
His pitch mix is nearly ideal with him throwing his elite curveball (19 % SwStr%) the most and dropping his sinker (11% SwStr%, 63% GB%) usage down to the point it's a surprise to hitters. The problem is that he allows too many flyballs and home runs thereby limiting his upside. He could easily run hot or cold on the home runs allowed and see his fantasy appeal fluctuate. Overall, he seems more like a streamer against weak competition.
Patrick Corbin (406 ADP)
For the past two seasons, Corbin has been pathetic (5.50 ERA, 1.50 WHIP) comparable to 2018 and 2019 (3.20 ERA, 1.12 WHIP). Is there any hope or optimism coming into this season? Some.
His fastball velocity did creep up during last season.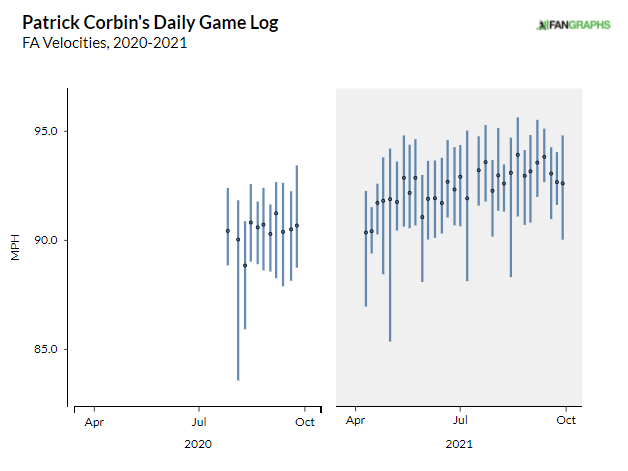 His strikeout rate did improve from 7.0 K/9 in the first half to 8.0 K/9 in the second half. An 8.0 K/9 is a far cry from the 10+ K/9 he was posting in '18 and '19.
The reason for the lack of strikeouts is that his slider has seen its swinging-strike rate drop from 28% to 21%. The drop in production came at the same time his slider (and other pitches) lost ~150 rpm of spin to start the 2020 season.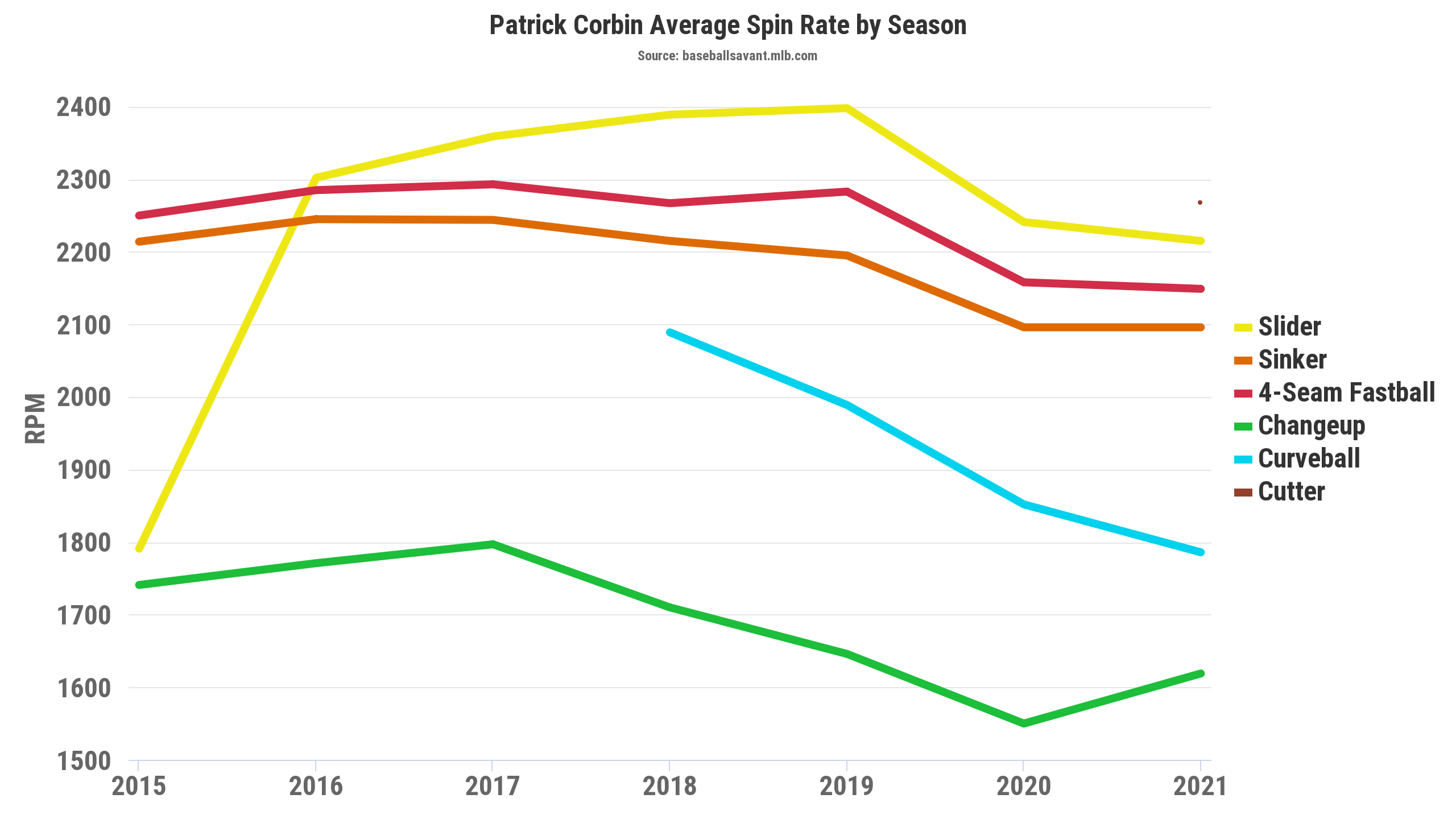 There were no late-season signs of him regaining the spin to hope for continued improvement.
He might just be a two-pitch pitcher who eventually got figured out by the league and has become irrelevant. The only hope is to see if the spin and velocity are up in Spring Training and he can get back to his old ways.
Nate Pearson (414 ADP)
Pearson has all the talent and none of the health. After missing most of the season with a leg injury, he returned to make 12 appearances to end the season. He averaged 98 mph on his fastball and a respectable 5.0 BB/9 (1.34 WHIP and 2.84 ERA) making him a decent bullpen option. His season-long 7.2 BB/9 was inflated by a 2 IP start where he walked five batters while striking no one out.
In those relief appearances, he remained fastball (12% SwStr%) and slider (14% SwStr%). When hitters did make contact, it was solid (.324 BABIP, 1.2 HR/9) since neither of his pitches generate an above-average number of flyballs or groundballs.
The plan is for the Jays to give him one more chance at the rotation. I'm not going to count on him sticking. Maybe he's worth a shot in a FAAB league where he can be dropped once he starts struggling.
Adrian Houser (419 ADP)
I usually find pitchers with Houser's high groundball profile to be undervalued, but Houser bucks the trend. His 4.1 BB/9 never improved during the season. Those walks are just too high for a pitcher with a sub-7.0 K/9.
After diving in, his talent level looks even worse. He banked a few relief innings with a 2.67 xFIP while posting a 4.40 ERA as a starter. Additionally, he fell apart in the second half with his xFIP going from 3.99 to 4.81.
I see very little upside in him besides the whole, not walking batters thing. None of his pitches have average or better swing-and-miss potential. He's very underwhelming and at best, a potential streamer against the Cubs and Pirates.