Three pitchers who I'd have no issues rostering even in 12-team leagues.
Dual role pitcher profiled at RotoWire.
Deep League Starting Pitchers
The 22-year-old Conteras threw three impressive innings in the majors last season. He started the season by dominating AA with a 2.93 xFIP in 54 IP. He made a quick stop in AAA to meet the COVID protocols before his MLB debut.
It's just three innings, but comparables can be pulled on his three pitches based on shape, speed, and handedness.
Fastball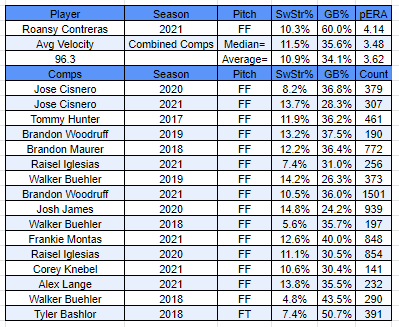 Slider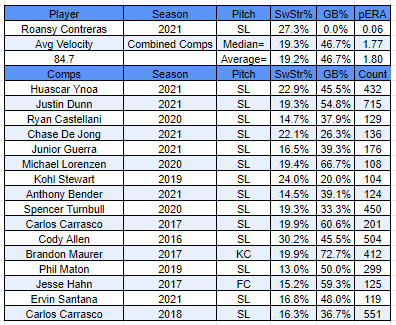 Curve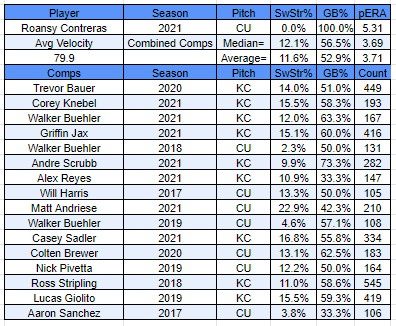 Those comps are arousing, to say the least. His fastball wasn't just playing up in the short start. Its velocity ticked up as noted in the newest Baseball America Prospect Handbook.
SCOUTING REPORT: Contreras has worked diligently to add strength and refine his pitch mix, and the result is an attack rooted in brute force. His fastball now tops out at 98 mph after operating primarily in the low 90s with the Yankees, and it explodes out of his hand at an angle that confuses hitters.
And finally, he showed decent control with a 2.0 BB/9 in AA. The only question, for now, is how much will the Pirates let him throw (60 IP total in 2021), and will he start the season in the majors. Talent does not seem to be an issue. If in the majors, a must roster.
It took a while for Wacha to get going last season, but over the last two months his 19% K%-BB% ranked 23rd and his 3.81 xFIP was 25th (min 50 IP, n=74).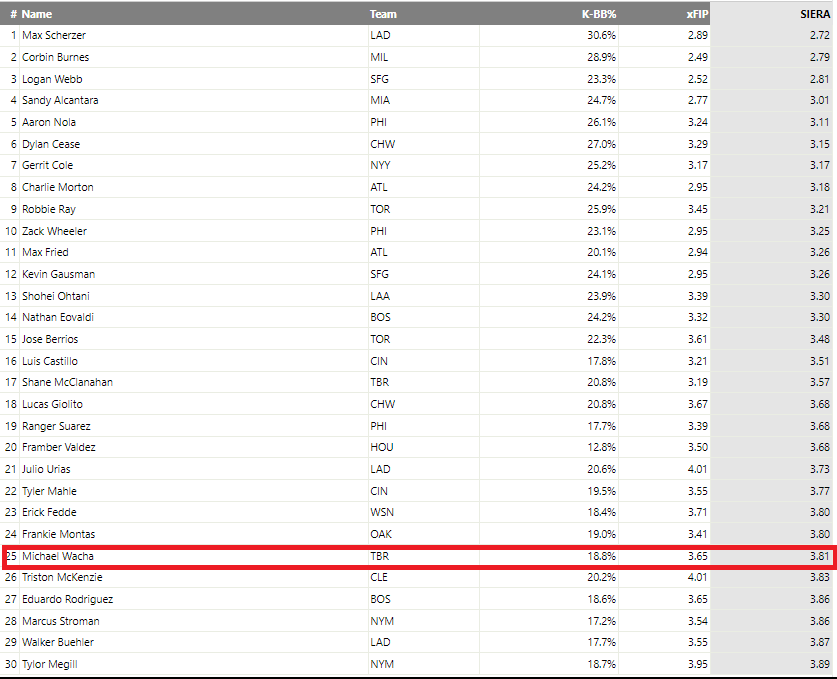 A few factors were at work. First, he raised his average fastball velocity from 93.6 mph to 94.4 mph. Next, he introduced a worm-killing curveball (71% GB%, 10% SwStr%). Finally, he raised the usage of his elite changeup (20% SwStr%, 52% GB%) from 27% to 32%.
Last season's 5.05 ERA is scaring off fantasy managers, but under the surface, he was decent in the first half, and one of the game's best arms in the second half.
His injury history is a concern with him missing time in four straight seasons.
I know some people can't get past that I'm touting a Michael Wacha breakout, but all he has to do is perform as he did over the last two months of last season. A potential top-30 arm going at pick 175. I'll let others add Luke Weaver and Dakota Hudson and I'll gladly draft Wacha.
I should have probably lumped Brubaker in with Wacha since they were ranked 42nd and 43rd in K%-BB% this past season (min 120 IP, n=96).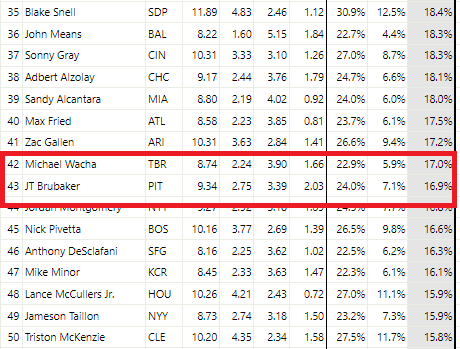 Most of those pitchers listed around him are being drafted over 100 picks earlier. But Brubaker had a 5.36 ERA. A pitcher's ERA should be the last factor used, if at all, when evaluating a pitcher. I looked at the 2021 breakouts and found the following.
19 starters provided positive fantasy value and were taken after pick 400 in the NFBC. Of the major leaguers, their average ERA was 9.57 (median = 6.49 ERA).

Happy hunting: https://t.co/hgMXpBhGLs

— Jeff Zimmerman (@jeffwzimmerman) January 24, 2022
Carlos Rodón had an 8.22 ERA. Ranger Suárez with a 20.25 ERA. Logan Webb's was 5.47. Alex Wood was at 6.39. If anyone is looking for a breakout, ignore the ERA and look for underlying stats.
Enough of a rant on the what should be obvious
Brubaker comes at hitters with the kitchen sink (5 pitches) and should like to focus on just his best. Here are his pitches for comparison.
JT Brubaker's Pitches
| Pitch | Usage | SwStr% | GB% |
| --- | --- | --- | --- |
| Slider | 34% | 24% | 39% |
| Sinker | 25% | 4% | 56% |
| 4-seam | 25% | 6% | 32% |
| Curve | 10% | 12% | 40% |
| Changeup | 7% | 7% | 43% |
Simply, his changeup has to go with a 1.033 vsOPS. He might be able to push up the slider usage som but its usage is already high. He doesn't need a complete makeover but just a couple of fine adjustments.
Lynch is another pitcher with a high 2021 ERA (5.69) last season but his is deserving (5.22 xFIP). Besides being a hyped prospect (74th overall), he didn't show much talent last season. His 7.3 K/9 is below average. His 4.1 BB/9 is above average. He didn't generate any weak contact as seen by his 1.2 HR/9 and .335 BABIP. After struggling early in the season, he was demoted and then promoted later in the season. The results didn't change that much with a 5.50 xFIP the first time up and a 5.19 xFIP the second time.
The deal is, he has a few useful parts. Here are his pitches:
Daniel Lynch's Pitches
| Pitch | Usage | SwStr% | GB% | Zone% | vsOPS |
| --- | --- | --- | --- | --- | --- |
| 4-seam | 44% | 5% | 36% | 55% | .983 |
| Slider | 29% | 21% | 53% | 37% | .583 |
| Change | 16% | 15% | 35% | 49% | 1.058 |
| Sinker | 9% | 3% | 32% | 47% | .785 |
| Curve | 3% | 9% | 50% | 56% | .000 |
His slider gets a ton of swings-and-misses but it can't be thrown for a strike, so he has to use other pitches when behind in the count. His change can be thrown for strikes and misses bats, but when hitters make contact, the ball flys. There were some rumors out there that he might be tipping the pitch. And his fastballs (94 mph) and curve don't do anything useful. They are basically BP pitches. I could see a better mix working but he's even got other issues to deal with.
A 4.1 K/9 is completely unacceptable especially with just a 39% GB%. All the projections have his 1.2 HR/9 regressing upward into the 1.3 HR/9 to 1.4 HR/9 range. Free passes and home runs don't mix and the projections have his ERA around 5.00. Just too much has to go right for him to be considered here.