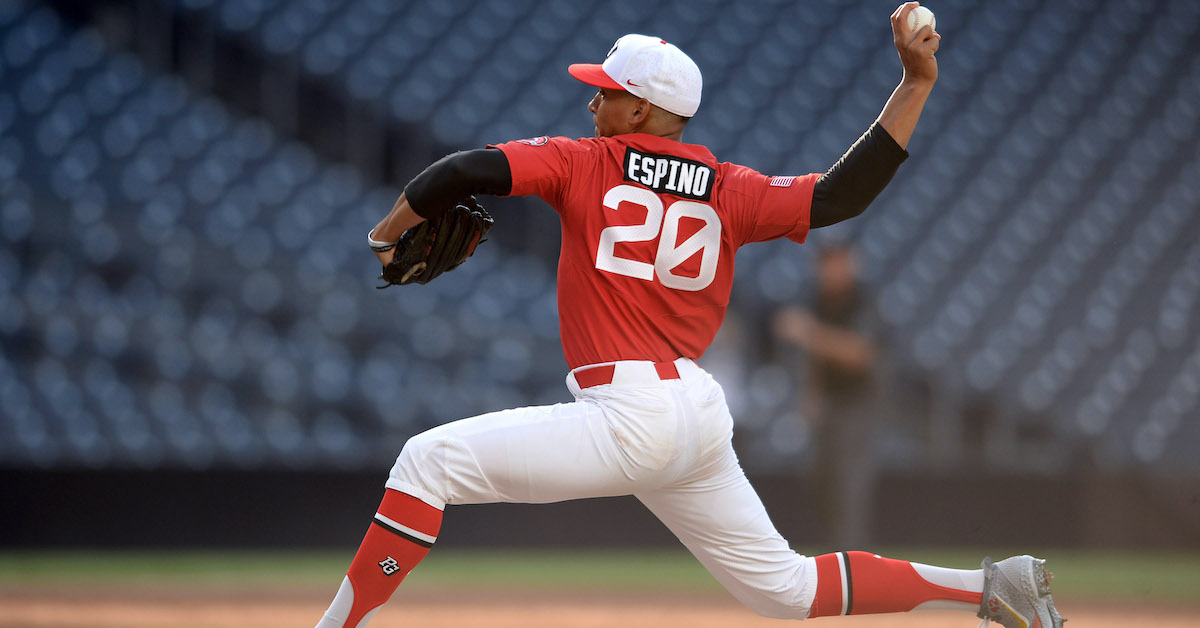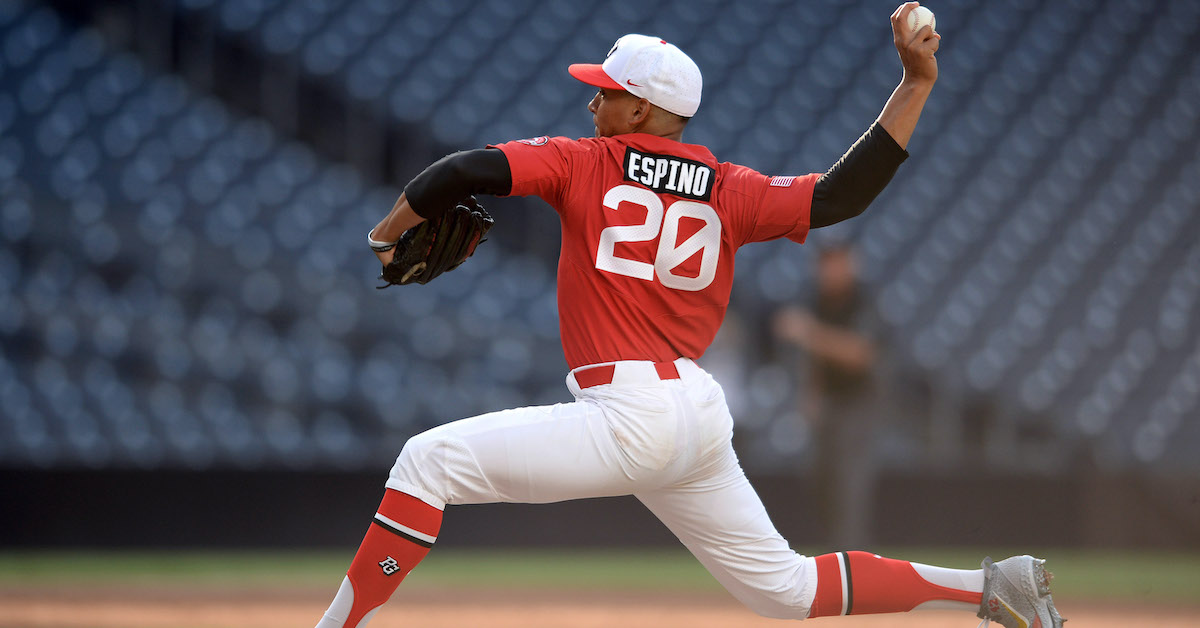 Current work on the team-by-team prospect lists is being complemented by lots of live looks in Arizona as we work on the West Valley cluster of teams (Reds/Guardians/Dodgers/White Sox), so the info in those lists is fresh out of the oven. As I've been targeting teams with West Valley facilities who come east and talked to scouts on my side of town, some players have popped up this spring from clubs whose prospect lists we've already done, and I'm not wasting time adding them to their org lists just because others aren't finished. Those changes are noted beneath some notes on Daniel Espino and are indicated on The Board's "Trend" column, as they're the only players to have "up" arrows at this stage.

On Saturday in Goodyear, I saw some of the most impressive stuff I've ever seen from a pitching prospect rocketing out of the hand of Espino, a 21-year-old Cleveland righty. In terms of my own in-person looks, his stuff over about three innings of work in a minor league spring game against Cincinnati — the Reds' list will be next out the door here, by the way — ranked up there in sheer power and dominance with what I saw from Gerrit Cole in the 2011 Fall League, Stephen Strasburg's first home start at Double-A Harrisburg (which was so heavily attended that the stadium sold out of food and suffered a brownout), and (hesitates to type the following) a Jacob deGrom start in Arizona last year. It was ridiculous enough that I felt compelled to move Espino up on the Top 100 — more on where and why in a minute — and write about him immediately.
Espino sat 98–100 mph for three innings, and while I was often too busy stuffing my eyeballs back into my skull to note the vertical movement on each pitch, several of his fastballs had between 20–23 inches of vertical break. His arm slot has changed since high school and is now more vertically oriented than before, helping create this kind of carry on his heater: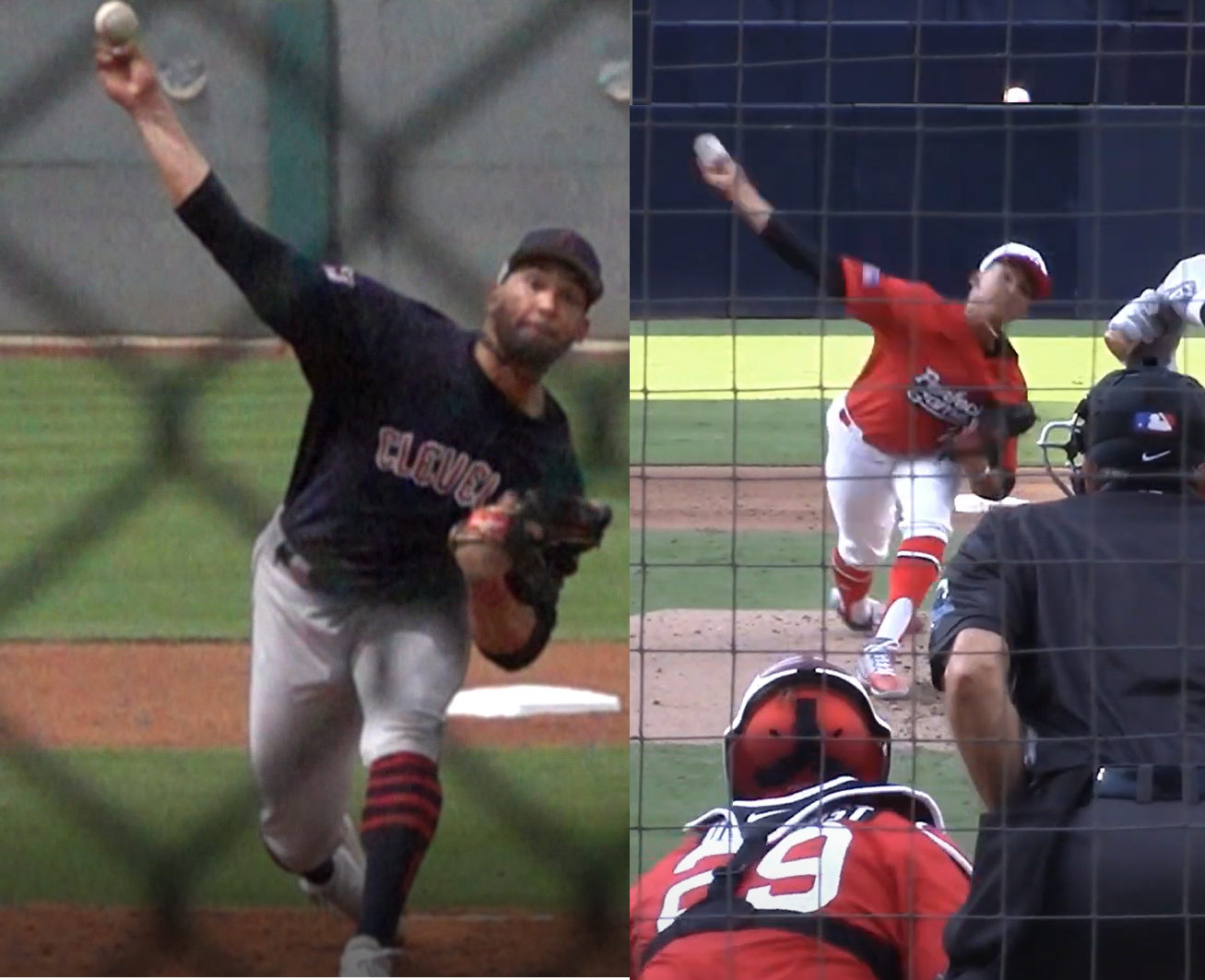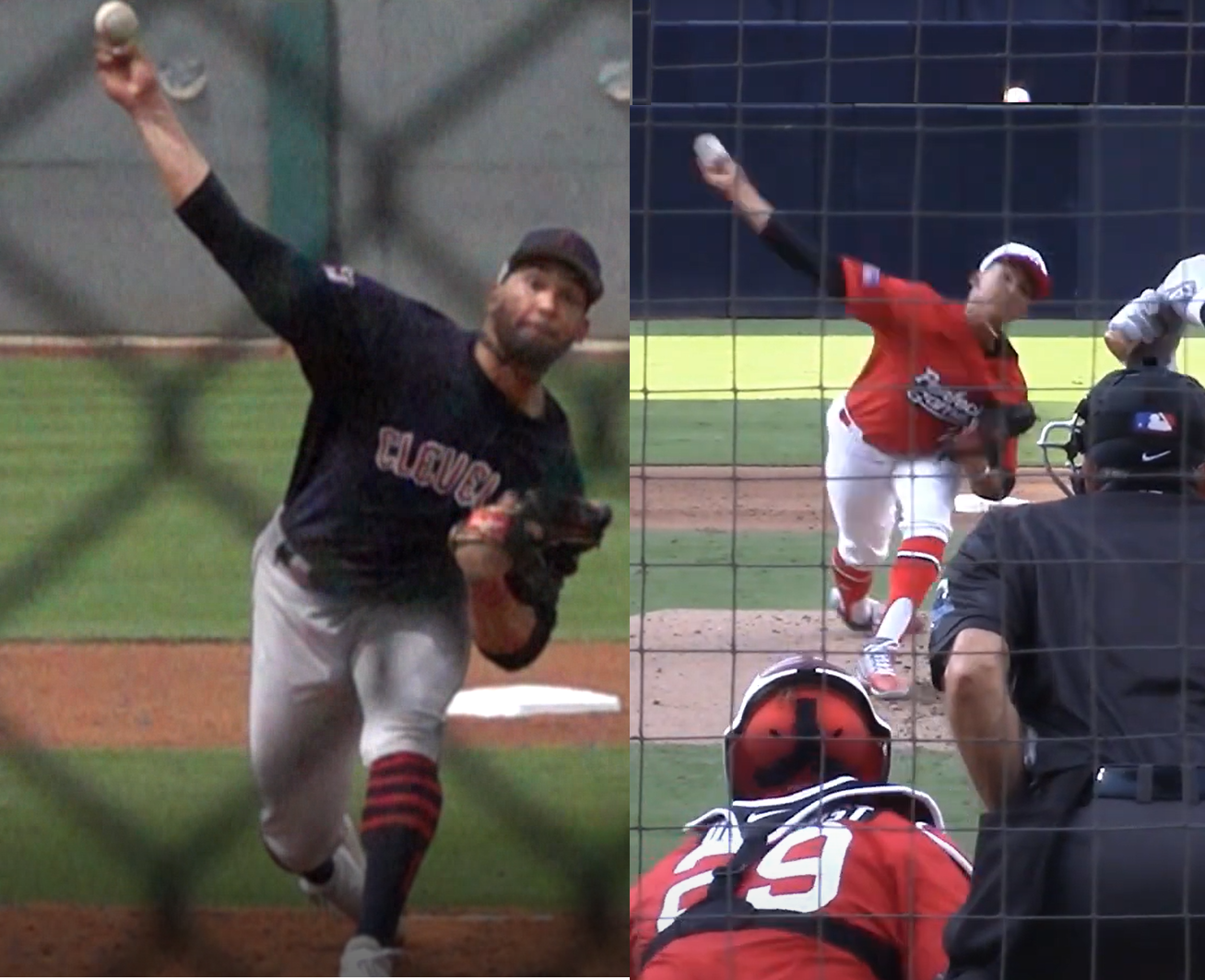 It took Espino about halfway through his second batter to find feel for his fastball, and after that he had no issues commanding it to either side of the plate, blowing it right past most of the hitters he faced, including Reds catcher Matheu Nelson, who led the NCAA in homers last year. More striking than the velocity itself is the ease with which Espino generates it. Even as he has become more and more muscular entering his twenties, he has maintained a freaky level of flexibility, which a Cleveland front office member told me he attained by stretching four times per day. These things help Espino reach and maintain an elite level of velocity.
In the context of this look (which was just three innings early in the year coming off several weeks of relative rest), seeing elite velocity from Espino is not all that shocking; most of his 2021 fastballs were in the 96–98 mph range, after all. What was most impressive and somewhat surprising was the depth and quality of his repertoire, as both his curveball and changeup, which he used a combined 7% of the time in 2021, flashed plus. His slider, meanwhile, bent in between 92–94 mph and had late, two-plane finish. It would be an above-average pitch were it simply in the low-to-mid-80s, but at this velocity, this is a 70-grade weapon, and Espino has consistent feel for locating it down and to his glove side. His curveball has 12–6 shape and plus depth and power, used during this appearance as a way of garnering called strikes. It has enough depth to have bat-missing utility below the zone and generate ground balls even when hitters figure it out in mid-air. He only threw a few changeups, all in the 90–92 mph range, but again I was struck by his feel for locating those in an area that was enticing to hitters. This pitch has bat-missing action as well:
Espino is bucking trends. The recent track record of high school pitching prospects, especially those who are already physically big and throwing very hard before their draft, is not good. He has been a workout warrior for years and was already sitting in the mid-to-upper-90s for long stretches during high school; I compared Espino to Brady Quinn at the time, worried he was getting too big too fast and was liable to stiffen up, and he's even bigger and stronger now. But the note about his flexibility and drive to maintain it is a separator. On top of that, he has had very little in the way of health-related hiccups or velocity swoons and has performed at a high level on paper amid changes to his delivery (his arm action has also been shortened since high school).
I'm at a point where I think Espino is a unicorn of sorts, and I'm totally buying into his ability to look consistently like he did on Saturday. What would the buzz around him be like if we were talking about a 21-year-old sitting 99 with four potential plus pitches at Vanderbilt, and some of his sliders had been GIF'd? His stuff is comfortably better than Jack Leiter's, and his command is too, and he's further along the minor league ladder. His velocity and track record of health are better than those of recent No. 1 pick Casey Mize. In a typical draft, a college pitcher like Espino would be the heavy, heavy favorite to go first overall.
So where does he fit on the universal prospect continuum? His repertoire is very similar to that of Shane Baz, who has reached the majors but who also recently had an arthroscopic elbow surgery, and so they're now stacked together on the Top 100. Part of this terrifies me, as Espino is perhaps still a couple of years from the big leagues, leaving plenty of time for things to go wrong as they have with so many pitching prospects before him. He doesn't have to be added to the Guardians' 40-man roster until after the 2023 season, and Cleveland has tended to handle prospect promotions in ways that maximize the length of team control rather than considering MLB readiness as the primary driver — a strategy enacted in response to budgetary restrictions imposed by ownership. But if the Guardians are in the thick of the Central race in July or August and Espino continues to look like he did on Saturday, he's going to force the issue.
Beyond that, I've made two little tweaks to the Top 100. Josh Jung falls behind Corbin Carroll and CJ Abrams, two other star-level talents who are further along in recovery from shoulder injuries (Jung had surgery shortly after the Top 100 initially went live). His FV hasn't changed, though. The same is true of Dodgers righty Bobby Miller, who has been sitting 99–102 this spring with a plus slider and changeup and moves up to 59th. He and Marlins righty Max Meyer (who are now back to back on the Top 100) feel like the two pitchers in their mid-20s who might find their way into the 55 FV tier within a few weeks due to a combination of stuff and proximity to the big leagues.
I also made a couple of additions to the Giants list: Ian Villers, Julio Rodriguez, and Mat Olsen. They're three of a few San Francisco pitchers who have had velo spikes upon entry to camp, and on whom I have enough background — Rodriguez has been at the complex for a while, Villers went to Cal, Olsen to Central Arizona — to know they've changed. Their full scouting reports are now on the Giants list over on The Board. Apologies also to our editorial staff, which now has to deal with another Mat Olsen and Julio Rodriguez.
In other news, Rockies righty Riley Pint has unretired and been nails on the backfields. Injuries (oblique, forearm, shoulder) and wildness have made it difficult for the former top-five pick to develop at all, and he briefly retired before returning to the field for 2022 minor league spring training. He still has tantalizing stuff, sitting 95–98 with a bevy of plus-flashing secondaries, including a slider in the 88–91 mph range and an upper-80s changeup. There's too much talent here to ignore completely and especially explosive upside if Pint gets a change of scenery.
Speaking of the Rockies, the little second baseman who they traded to Toronto as part of the Randal Grichuk deal, Adrian Pinto, has been added to the Blue Jays list. Scouts had a narrow window in which to scout him here in Arizona before the deal, but he made enough of an impression to prompt some unsolicited texts from scouts covering the Rockies who noted he was missing from their org list. Much more on him here, or over on The Board.