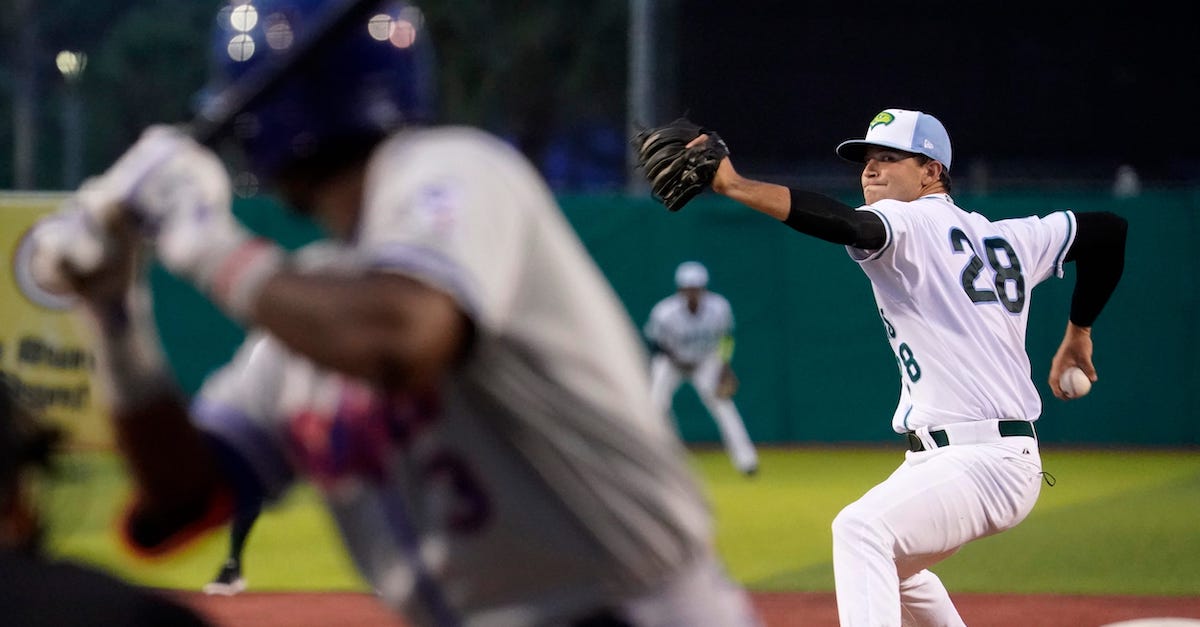 Carson Spiers has quietly thrived since being bypassed in the five-round 2020 draft. Signed that summer by a Cincinnati Reds team that at the time employed Kyle Boddy as their pitching coordinator, the 24-year-old right-hander has done so with a studious approach that he pairs with a bulldog attitude. Featuring a well-rounded pitch mix, Spiers is coming off a season where he logged a 3.55 ERA with 130 strikeouts in 111-and-two-thirds innings spent between Low-A Daytona and (primarily) High-A Dayton.
A senior-sign with a management degree from Clemson University, Spiers — currently on the roster of the Double-A Chattanooga Lookouts — is No. 15 on our newly-released Cincinnati Reds Top Prospects list. He discussed his development, and the debt he owes to Boddy, over the phone in mid-March.
———
David Laurila: Who are you as a pitcher? How would you describe yourself?
Carson Spiers: "I'd say that I'm a competitive guy who likes to attack. I'll fill the zone with four different pitches and let my arsenal work for me. I wouldn't say I'm the most overpowering guy on the mound, but I have a good enough fastball to play at any level. I also have some pretty good off-speed that I can throw in any count; I can create swings and misses with those pitches, as well. But I'd say that my best trait is my competitive edge. I have a strong will to want to win."
Laurila: What is your best pitch?
Spiers: "My best pitch is strike one, for sure. My slider and my changeup are definitely my out pitches, but 'best pitch' is tough to say, because I can throw all four in any count. I wouldn't say I have a best."
Laurila: Baseball America has called your changeup your best pitch…
Spiers: "In college, that was the pitch I'd go to when I needed a swing and miss. But I've developed a good slider, and I'll throw that as many times as I need to. If I had to give you a definitive answer, I guess it would be my changeup and my slider."
Laurila: You obviously throw a fastball. What is your fourth pitch?
Spiers: "A cutter. That's new since pro ball. When Kyle signed me [in June 2020], we kind of started working on it right away."
Laurila: [Dayton pitching coach] Brian Garman told me that you've probably made as many strides as anyone in the organization. What do you attribute that to?
Spiers: "It has a lot to do with Kyle and Brian. When I was in Dayton, they presented their information — kind of what they wanted us to do as a whole staff — and I really bought in to what they were believing in. I mean, a lot of credit goes to myself. I've put in a lot of work, including with Kyle, and it's not all what you see on the mound. There is a lot of behind the scenes work, like tweaking pitch grips and pressure points on the baseball. Those kind of played into it.
"I've learned a ton. I was always a good thrower, but I tell people now that I'm actually a pretty good pitcher. I know how to pitch; I know how to attack batters and how to set up batters. A lot of that is on Kyle, and on [pitching coordinators] Bryan Conger and Casey Weathers. Learning how to actually pitch, rather than just throw, has helped me out a lot."
Laurila: Has that mostly been pitchability stuff — things like sequencing and where best to throw your pitches — or have you also changed any of your pitch profiles?
Spiers: "Definitely both. Early on, like right after I signed, a lot of it was pitch profile. But as I've figured out how my pitches work, now it's kind of transitioned into pitch sequencing, and more of what hitters aren't good at. I kind of attack their weaknesses. It's also about understanding what they want to do in each at-bat. I've kind of… especially this year, with it being my second year starting. A lot of it is sequencing and tunneling pitches off of each other."
Laurila: How much has your velocity gone up?
Spiers: "When I signed, I was anywhere from 90-92 [mph]. Now I'm sitting 93-95, so I've given myself a few miles per hour."
Laurila: It sounds like your M.O. is basically to dissect hitters. That said, are you trying to miss bats?
Spiers: "Oh yeah. I'm always trying to create swings and misses. In any count. The easiest way to get an out is to get three swings and misses; you don't have to rely on an outfielder or an infielder making a play. But like you said, I try to dissect the hitter. I do a lot of homework. I'm a big study guy, I guess you could call it. I study film, tendencies, heat sheets. I like to attack how they don't want to be pitched."
Laurila: When Garman appeared as a guest on FanGraphs Audio a few months ago, he said that had the Reds needed someone to fill a few innings last year, you could have done it. That's high praise given that you were pitching in High-A.
Spiers: "I'm not saying I'm ready, by any means. But I do believe that I have the stuff and the confidence to pitch at that level. You've got to believe in yourself. Where I'm at in my career, you've got to be able to say, 'Hey, I can get anybody out up there.' If not, you're in the wrong industry. [Garman] knows that I think that way. When my name is called, I'll be ready for the challenge."
Laurila: Your name wasn't called in the 2020 draft. Were you taken the previous year, your junior year?
Spiers: "I was not. I was called plenty of times my junior year, but I didn't get the number I wanted. I'd rather have my college degree, so I went back for my senior year. Unfortunately, COVID happened and that kind of put a wrinkle into things, but it all worked out in the end."
Laurila: What about after your senior year? Did teams besides the Reds show much interest?
Spiers: "Yes. I had a number of teams call me when that free-agent kind of thing happened. Ultimately, Kyle Boddy and Eric Jagers had me on a FaceTime call, and they sold me. They told me what I wanted to hear. They said I was going to get plenty of opportunities, and also offered me the highest amount of money. It was a no-brainer for me. Like I said, it all worked out."