After having typically appeared in the hallowed pages of Baseball Think Factory, Dan Szymborski's ZiPS projections have now been released at FanGraphs for a decade. The exercise continues this offseason. Below are the projections for the New York Mets.
Batters
It feels a little weird to be optimistic about the Mets after the season they just had (or perhaps because the Mets are one of the world's most powerful pessimism-inducing entities). But when I look at the offense, there's just not that much to complain about. None of Starling Marte, Mark Canha, or Eduardo Escobar are superstars — though Marte comes close at times — but signing that trio really improved how the lineup looks going into 2022. The team has a credible backup at most positions and even some upper minors depth (Brett Baty, Mark Vientos and, if you believe Steamer rather than ZiPS, Khalil Lee) they can use if the need arises.
Catcher projects as the team's biggest weakness. The Mets put a lot of faith in a season's worth of at-bats from James McCann in 2019 and '20 when they committed to a four-year deal with a catcher who was already 30 years old. Given McCann's .232/.294/.349, 0.5 WAR line in 2021, it's hard to say they were well-rewarded for their belief. But on the positive side, even if it doesn't come into play in 2022, ZiPS thinks that Francisco Álvarez's bat will develop quickly enough to give the Mets a better option before McCann's contract is done.
It's highly likely that Michael Conforto has taken his last at-bat as a Met, though I'm not even sure he's a great fit for the team where they are right now. While I've always been a fan, I have to admit that an injury-laden and generally lousy 2021 makes him a much bigger risk than he was a year ago, and that's a problem for a contending team. While another lefty in the starting lineup would be welcome, it seems unlikely the Mets signed Canha to then immediately re-sign Conforto to take his job back.
Overall, this is likely to be an above-average lineup with solid depth behind it.
Pitchers
I'm confident about the Mets' lineup, but I'm less sure here. Not because of the quality of the pitchers, mind you, but rather their health. We currently have the rotation as the best in baseball in our depth charts, but I happen to think the playing time scenarios are more optimistic than I would be. Given the state of Jacob deGrom's arm and Carlos Carrasco's health record (plus a bone fragment removal procedure), I think the Mets will be quite fortunate to get 296 innings out of the pair. And while you're likely risking your own health and well-being if you suggest this to him, Max Scherzer has looked exhausted at the end of both his recent full seasons, and he's at an age where decline is a serious concern.
Luckily, the wheels won't come off completely in the event of injury. David Peterson is a practical fill-in candidate, and Trevor Williams is still hanging around on the edge of the roster to absorb the occasional start. ZiPS doesn't see much in the way of depth in the high minors to fill in here, but Seth Lugo is still around as a "break glass in case of Mets" option. I wouldn't mind some additional NRIs to fatten the Triple-A rotation here.
ZiPS does think that the Mets should be searching for another handful of relievers after the new CBA is agreed to. While the projections are solid, they're also rather top-heavy; a lot of this is Edwin Díaz. Behind Díaz, Lugo, Trevor May, and Miguel Castro all boast solid projections, but once you get past Castro, there's a whole missing tier of quality, as you drop down about 15 points of ERA+ to the relievers right around replacement level. Williams will eat some mop-up innings in all likelihood, but the team needs to address the back end of this bullpen.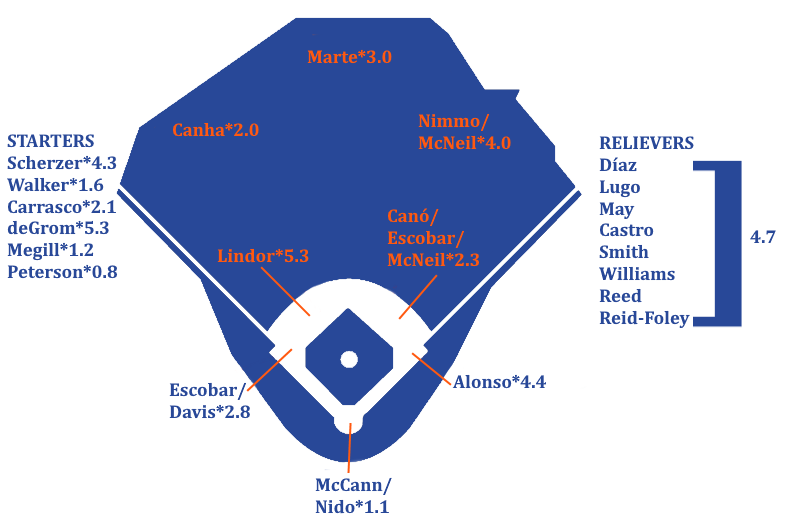 Ballpark graphic courtesy Eephus League. Depth charts constructed by way of those listed here.
Players are listed with their most recent teams wherever possible. This includes players who are unsigned, players who will miss 2022 due to injury, and players who were released in 2021. So yes, if you see Joe Schmoe, who quit baseball back in August to form a big band orchestra that only plays nu-metal versions of baroque cantatas, he's still listed here intentionally. ZiPS is assuming a league with an ERA of 4.36, similar to the post-June substance-enforcement environment.
Both hitters and pitchers are ranked by projected zWAR, which is to say, WAR values as calculated by me, Dan Szymborski, whose surname is spelled with a z. WAR values might differ slightly from those that appear in the full release of ZiPS. Finally, I will advise anyone against — and might karate chop anyone guilty of — merely adding up WAR totals on a depth chart to produce projected team WAR. ZiPS is assuming that the designated hitter will continue in force in 2022.
ZiPS is agnostic about future playing time by design. For more information about ZiPS, please refer to this article, or get angry at Dan on Twitter.